Chatlain Park is located off Carter, Merriam Drive, and Shawnee Mission Park in Merriam Kansas. This park came to be after the 1998 flooding, with it opening in 2000.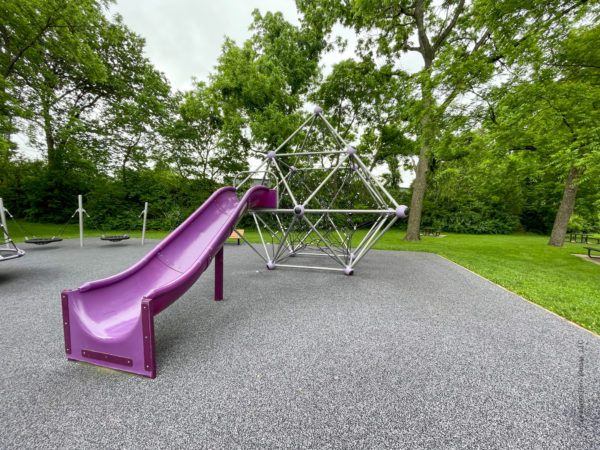 Chatlain Park Playground Features
The playground at this park is in two different sections located near each other. One of the sections was under construction as I was writing this and we hope it will be finished soon so we can update it for you. That section looks like it will be swings. One of the swings was installed and its a handicap wheel chair dual swing. Meaning the wheelchair can wheel on to the swing and go behind the bars and then another person can sit facing them and swing together. Loving that Johnson Country is getting more friendly all around for kids of all types.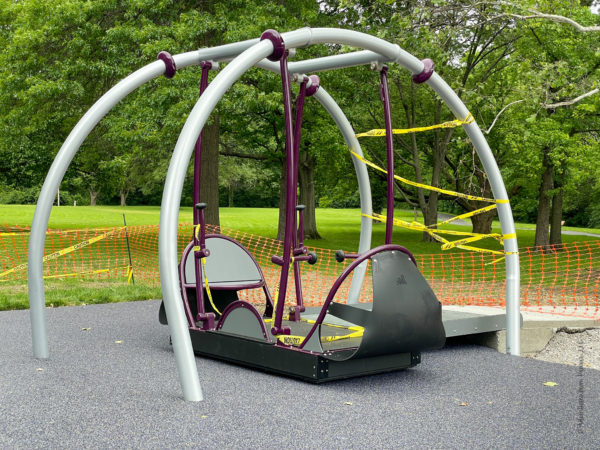 The other playground features at this park include a unique spinning evergreen looking tree, two circle rope swings, and a slide. As much as the slide was unique with the spider web features and ladder climb it would make it difficult for smaller toddler making this part of the park more for older preschooler and children. Rope swings were low to the ground though making it easier for any age to use them. As this is an older park this playground has good shade.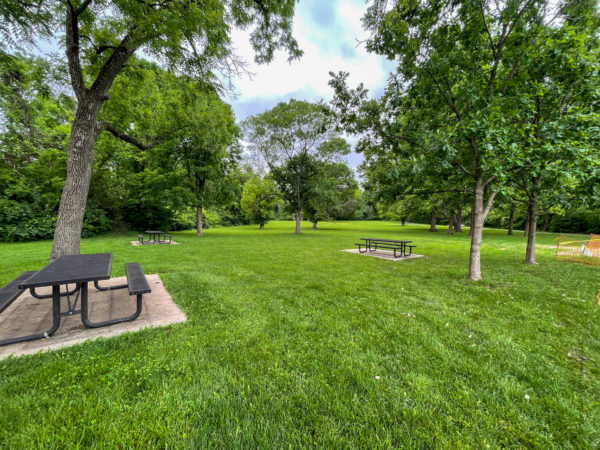 This park also features a shelter, grills, port-a-potties, and access to the many trails that go through Merriam along the Turkey Creek Trail. The main disappointment of this park would be that there are no true restrooms. Otherwise, we really enjoy this park and the unique playground features it has to offer for a quick play area.
If you enjoy watching trains, this park is across the street from two railroad lines, even though we didn't get to see any that morning.
Looking for other parks to visit in the Merriam Kansas area we have a round up post to find them all in one spot.