Oklahoma
So, I know you're thinking it doesn't sound like a day trip when I say Oklahoma. There are many areas of Oklahoma that are reachable for a day trip or a quick weekend trip when you are in the midwestern states. My aunt had puppies and she was meeting an old friend who was taking one of the puppies. So this turned into a quick adventure trip to Oklahoma and what do you do when you find out you're visiting a new state? Find something new or different to do. For us that was Pawhuska, Oklahoma.
Note: We may receive a small commission from the links, but it won't cost you any more. Thanks for the support.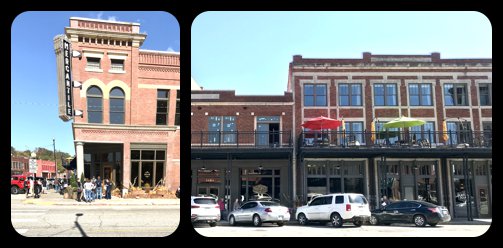 Now, maybe I live under a rock but only about a year ago did I learn Pioneer Women had a restaurant in Oklahoma. It wasn't far from where we were meeting so that is where we decided to continue on our journey.
This trip was me, Elizabeth, my grandma, my aunt, and her daughter we turned it into a girls' day.
Well, let me tell you a few things about Pawhuska. One, parking is a little difficult, everything is closed on Sunday and there isn't many places to stay. You would either need to go to Tulsa or Bartlesville for the closest bigger cities to find a lot more accommodations. They are in the middle of rehabbing an old hotel to be an operating hotel once again. I am not sure of the time line but that is promising for future trips and weekends to the area. Many stores close early on Saturday like around 4pm-6pm with many closing around 5pm.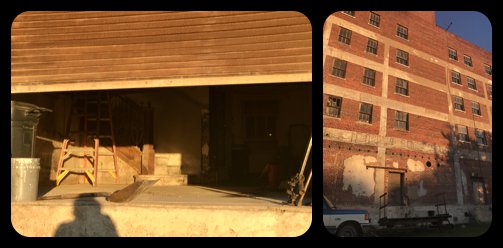 With so much closed on Sunday we decided it was best to just drive home for the night.
So we didn't have a choice of when we could arrive since we were meeting someone else for the puppy. We got to town around 1pm, sadly we didn't get to see all of the town but it was still a fun trip and I am excited to share my experience with you and what I learned. The town stores close early some of them even earlier on Saturday than during the week. So tip one plan accordingly. Since this was more last minute I didn't get to check the hours of the shops, if I did I would of made a list or had an idea of what I would have has top priority of where to go first. Either way it was fun.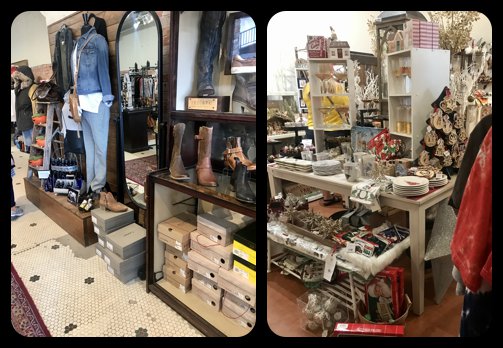 We were starving so we started looking for places to eat, we decided on pizza and went to P Town Pizza which is one of Pioneer Women's restaurants in town. They had about an hour wait so they give you a text so you can go and look around. This was nice so we could visit all the stores near-ish by.
At the start of the street there is a cool building called an Iron Building made like a triangle. I also found these interesting as they are making sure to use up otherwise useless space but with a unique shape. I haven't seen one since New York City so to see one in this small little town was fun.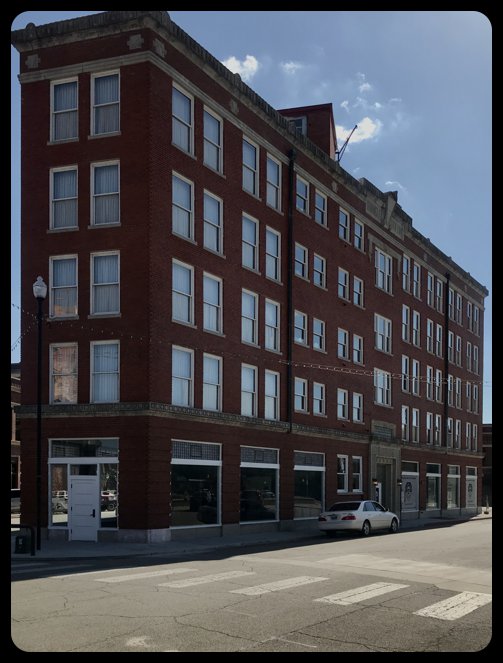 We went to Osage Outfitters they had saddles, horse pads, hats, boots, some clothes, and jewelry too. Salt Creek had more home decor and gift items with jewelry and clothing. Pierce Arrow was clothing, purses, some cooking pieces, and jewelry. The Brick Teepee, which was one of my favorite before lunch, sold shirts, decor, and vintage items. This store was very unique with pieces you don't see everyday. The shirts were fun and homemade, they also had some bows for your little cowgirls. Lorec Ranch was home decor and gifts all the items made here are made in Oklahoma City in there home store. They even had handmade moccasins. This store was also different but not really my style but very cute custom made work.
After a little bit of exploring we decided to use the restroom, they do have a public one that's not far from everything. The branding on the wall was neat but also purposeful. I don't know which places these represent, if you do leave us a comment below. The restrooms left much to be desired though. No soap, very little toilet paper, and no paper towels. Across from the restrooms there is an old bank building I have never seen one that has a robbery alarm like this on the outside. I wish it has some history for it. They also had murals and statues in different locations around the town.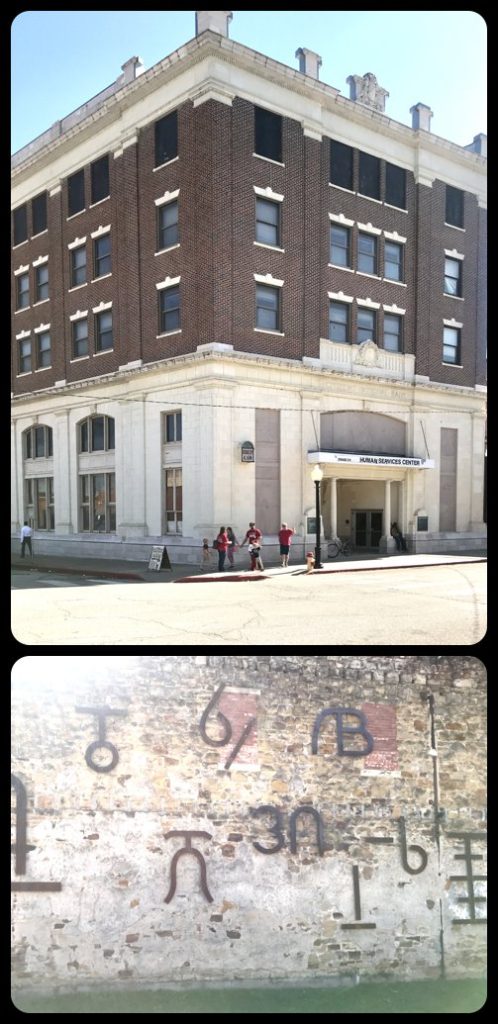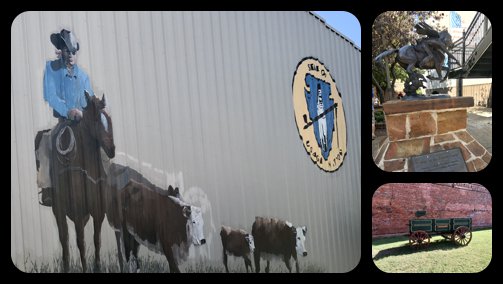 Next we kept going as we still had about a half hour before we could possibly get seated. We visited Mariposa it has clothing, hats, and jewelry. Krazy Kow clothes, jewelry, and shoes….I bet your seeing a theme here. Simply Janes had lots of stretch dresses and blankets and pretty reasonable price leather and plastic jewelry. Turquoise Lilly Boutique loved the turquoise little car out front with matching table and chairs. This boutique had earrings, clothes, and purses.
The jewelry was all over the board from simple plastic or stud pieces to beaded pieces to real turquoise and other stones and beads.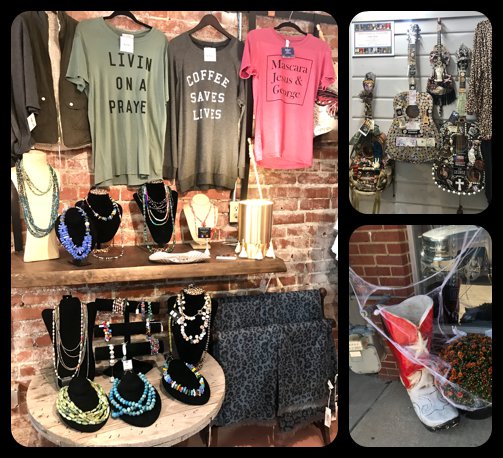 Yay! Time to eat! So, P Town doesn't have normal types of pizza and I would of loved to try some of the special but I wasn't with very adventurous eaters. Very little in town was gluten free so I decided we would eat gluten on this trip. If you are allergic and not just sensitive like my daughter I would eat at the main restaurant it would be the easiest to eat at and stay gluten free. We tried the Garlic Knots as we were driving my aunt said this was one of the items everyone said to try. It is pizza dough that is fresh and comes with ranch dipping sauce. My favorite part was getting to really try the sauce it was good and not too heavy and lighter then most pizza sauces.
The ranch was great too not sure if it was homemade or from a bottle and I had a ranch expert with me that dips everything in it. I am normally a water drinker at restaurants but when I see they have homemade lemonade for only $2 (when we went in 2019) with free refills I am going to get. It was really good. At my table someone got the strawberry lemonade which was good though I preferred the original. I did like that the favors looked real rather than bottled. Another had the raspberry tea and they said was wonderful too. I will take the word for it as I don't drink tea. My grandma said the sweet tea with raspberry was too sweet so she watered it down. So if you're not into too sweet make sure you get unsweet tea with your flavoring.
They had a small area with a couch and giant TV with the game on for waiting. I found the plates funny, they look like paper plates but they are plastic. Service was on the slower side but it was sort of busy. I think we were the after lunch crowd. The crust was thin but not too thin and had light sauce and toppings that were fresh. The girls got pepperoni and bacon and us adults got the veggie and Italian sausage. Overall I would eat this pizza again, even though I wish it had a gluten free option. Click for the menu.
Next we went to Bucking Flamingo, it was metal work art which is always fun to look at and works great if you're looking for a new piece for your garden or home. They would make great gifts too. Spurs and Arrows had home goods and jewelry and a few other options. Sister Attic I didn't get to go in sells Native American Art and also has lot of other items like an attic. Another I only got to see the store front of is Gypsy Cowgirl it looked like it had modern but with a western spin on their clothing. As you can guess, I hope to go again to visit these stores and the others I didn't get to on this trip.
Next was the Mercantile and Bakery. We got the Gluten Free Lemon Blueberry Pound Cake and the Gluten Free Chocolate Muffin. You guys, I can't tell you how excited I was to try gluten free items from the bakery and the pound cake didn't disappoint. The lemon blueberry pound cake was moist and a nice crumble topping. I loved how this was packaged because it made it easy to buy and take with you for another day. They also had lemon which I didn't purchase this trip. The chocolate muffin didn't taste much different or special and was very crumbling but if you have to have gluten free at least you have this option as well. I would pick the pound cakes over the muffin in a heartbeat though.
We figured if we were being bad about our eating habits why not just have a little more fun we shared a White Chocolate Macadamia Nut Cookie this was amazing loved that they cut the nuts up smaller to make eating easier. We also shared a M&M Chocolate Cookie It was okay but drier then the other and something like I could get at a bakery back home. The kids found this one a hit though so if your wanting to take something back home to some kiddos this would be a favorite.
The actual Mercantile was nicely and easily organized for how big it was. They must have people going around and putting stock out all day long. When you walked the streets everyone had a bag of some size and shape. I was surprised to not find tourist prices. The prices were very favorable in my opinion. They had lots of kitchen items, but also had her iconic turquoise beads and bracelets, some of the flowery lightweight jackets, and the biggest surprise a Barbie set that was made like Pioneer Woman. Lizzie bought a beautiful bracelet to remember the trip and I love that it's a usable item.
I actually found a black and flowered piece that I fell into love with. I am still trying to learn my style but I loved how it could dress up any shirt and looked great with even a t-shirt. Here is me styling the one I picked for me. My grandma bought a new phone case so she can keep track of her phone. (Side note she recently broke her phone and ended up with my husband's old black phone and she kept misplacing it. She says now she has something pretty and it will make it easier to not misplace.)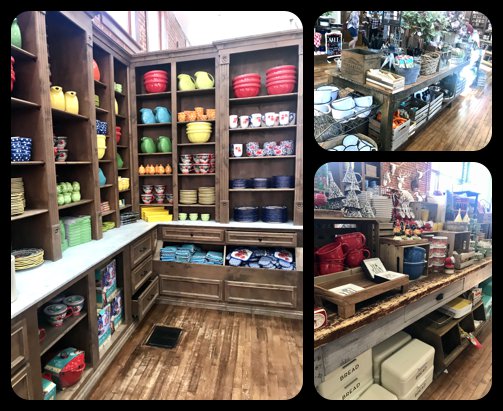 We also had dessert at Charlie's Ice Cream Shop. This shop is also another of the lovely Pioneer Woman, named for the dog Charlie who, as the wall says is a sweetheart. I just loved the logo of this restaurant. The prices were very reasonable here I felt like. You could share a big sundae or you could get a cone. They had kiddie cones and up.
I got a one scoop, it was lots of ice cream. Lizzie said who cares that my tummy hurts, I'll let it hurt more. She had a cake cone that was dipped in chocolate and then sprinkles. They also had nuts or vanilla versions. I had a mud slide on a waffle cone. The others in our party said they really enjoyed it, including grandma who got mint chocolate chip. She was sure they served her the wrong one cause it wasn't green it was white and chocolate chips. She said it was very minty for not looking like a mint ice cream.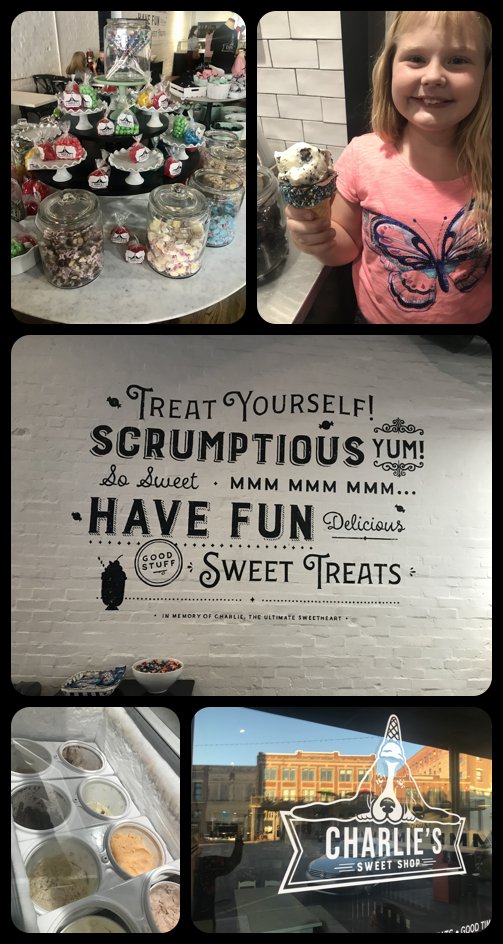 Last but not least, something about this little town it has an over 100 year old swinging bridge. It is 30 feet above the river. It used to be the only way to get to the town, no wonder it was small back in the day. This was very fun and scary, it's only about 3 blocks south of the Mercantile so you can easily walk to it. I wouldn't walk it at night. Its almost basically in someone's backyard now but you can walk across and back over. There is a small space so you can park a few cars at a time. Here's a few pictures of us doing this. Here is more info about the bridge and other things to do in the area. I would have loved to visited the church.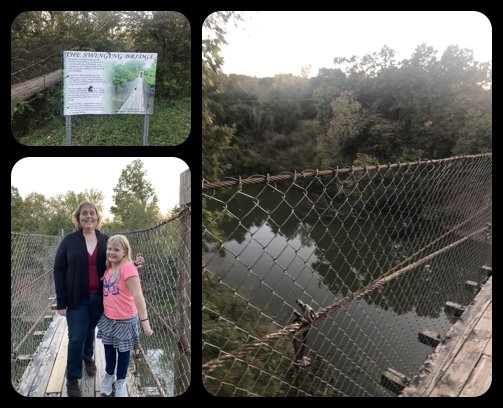 If you know you're going, look at her website here to see when the farm tour is. We sadly were not visiting during a time they were offering this but it would be a fun experience.
If you are wanting to enjoy some Pioneer Women but can't get to Oklahoma, check out her cookbooks and other items here on Amazon.
All opinions are my own. If you purchase anything thru some of the links on my website I might receive a small commission. Don't worry, it doesn't make it any more expensive for you. It just helps keep the blog running. My family and I thank you for your purchases to support us.