The Regal Princess food options made it a struggle eating gluten free while traveling. I figure out my options and remain gluten free. But, that was a little harder this time. Before boarding the ship, you have a check list to get to a green lane. This green lane includes selecting any diet or restrictions. I chose wheat restriction and called before this point and stated I was gluten-free. So, there are a few restaurants including main dining, Horizon's Cafe, Alfredo's, specialty dining, Trident's Grill, Swirls, and International Cafe.
International Cafe on Regal Princess
International Cafe is on deck 5 in the Piazza and included in your dining. I found several people who didn't realize this while on board. The food available is already made and in display cases that you pick and go on with your choice. This is a great place to grab breakfast sandwiches, sometimes I had egg-bites which would be gluten-free. At lunch and dinner time they also had sandwiches available. Several people liked this as a choice to grab a specialty coffee and breakfast bite.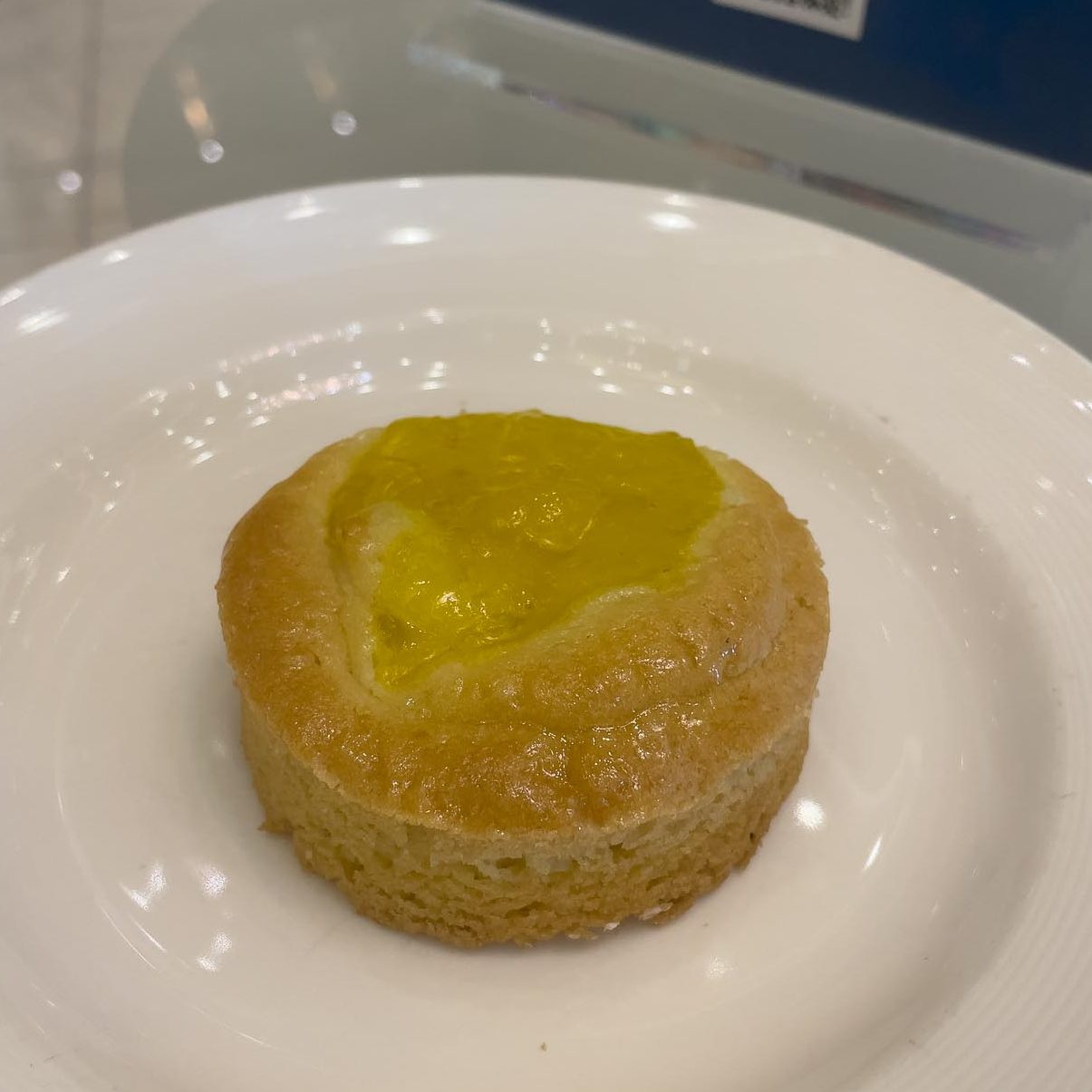 They always had deserts too and did a great job labeling the deserts. There was always at least one gluten-free, some were egg-free, and other options. Princess Cruises LOVES pudding and custard deserts and I am just not a fan. Another gluten-free option they have in the desert bar is this yellow cake mix pressed in the bottom of a can with fruit added. I tried blueberry, cherry, peach, and lemon. My favorite by far was the blueberry, but I don't traditionally like cherry. I was sad I didn't like the others.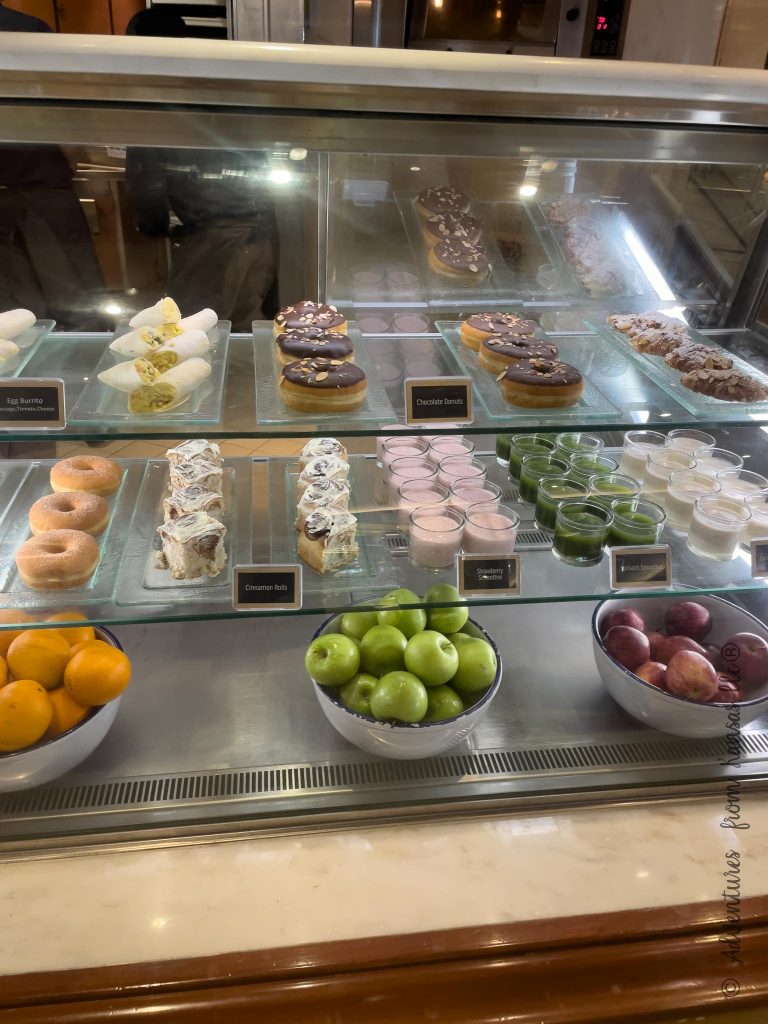 Regal Princess Food on Lido Deck
On the Lido deck aboard the Regal Princess, you have a few options for food. Directly around the pool, you have Trident's Grill and Prego Pizzeria. This is pretty quick service but it's not like the International Cafe where the food is out. They do make it to order except for the pizza which they are serving by the slice. You can order a gluten-free pizza here although it does take a little bit of time. So, always be thinking 10-20 minutes ahead of any special request food.
The Trident Grill has a few items including street tacos that I had high hopes for. But, instead of soft shells like the sign said, they were hard and it was a bit spicy for me. As for the burgers, they were okay as just a patty since I couldn't have a bun. Grilled Chicken was one of my top favorites from the grill. I didn't get a chance to try the hot dogs or North Carolina BBQ. The bacon and cheese fries were also yummy with a nice white cheese sauce.
The last area around the pool for food is Swirls which is….you guessed it…ice cream. Swirls is also included in your traditional dining plan. For several days, they had scooped ice cream instead of soft served. They had caramel, chocolate, and strawberry sauces to put on top with sprinkles and cookie crumbles. Cones and cups were also available.
Horizon Bistro and Court
The next section of food on the Lido deck is the Horizon Bistro, Court, and Pastry Shop. This is kind of confusing as they do have different things on each buffet area beteween the Court and Bistro. But, they each have two of the same lines for the most part. There is also the pastry shop. This is where you can also find specialty coffees along with yummy breakfast items like danishes, donuts, and more.
Horizon area, in the morning, has made-to-order omelets, crispy bacon, and gluten free pancakes. However, I could never figure out exactly what station to visit for gluten free pancakes. It seemed like it changed throughout the trip. They are not the best pancakes in the world, but I didn't have to make them. So yeah, bonus! It is self-sitting and the wait staff will bring your traditional coffee, tea, and orange juice. They did have a few other juices like cranberry. The breakfast starts early from 5:30 to 11:30am and you can find waffles or pancakes on the bar. There are many toppings included in addition to bacon, sausage, scrambled eggs, beans, cereal, oatmeal, and some other items.
When lunch starts after 11:30am, you will traditionally find a salad bar but the other food changes. One of my favorites is the Mexican. This includes guacamole, chips, cheese, beans, meat, veggies, etc to create nachos, fajitas, and more. They had BBQ one day, and some other foods. There is always sliced meat but typically meat and cheese to choose from. There is also bread if you want to make a sandwich. Put all this together and you have your own charcuterie board! There was always some fruits and veggies available all day as well.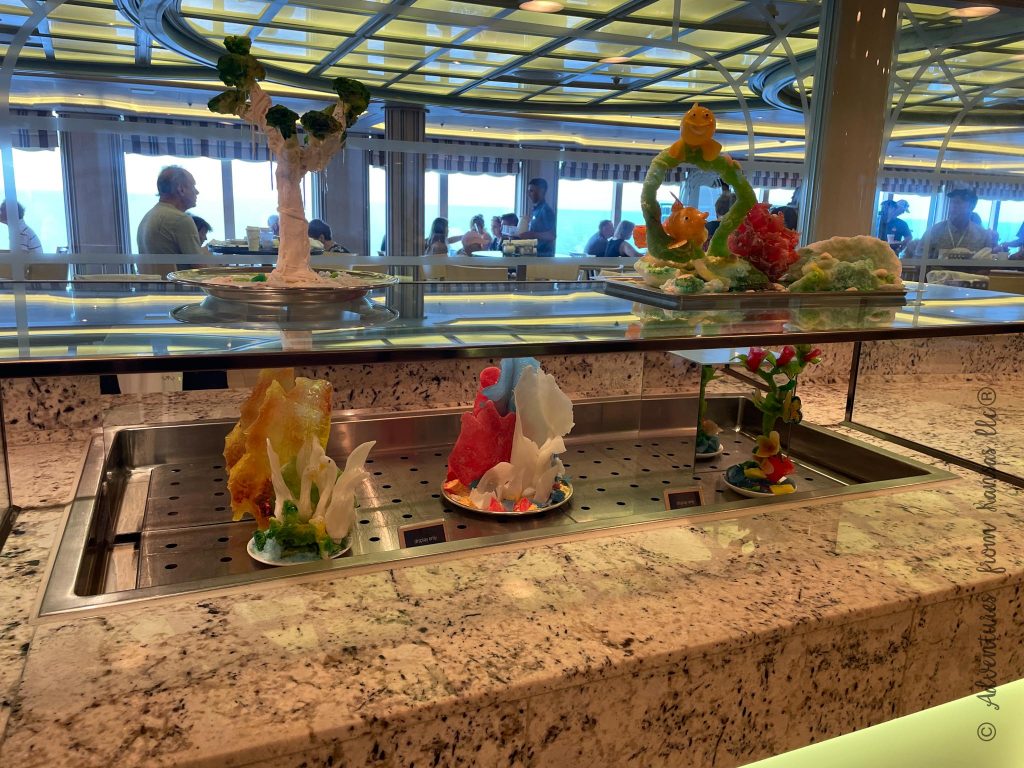 Main Seating Dining
There are three more formal dining rooms that are white table clothes, serving food, etc. These are also included on Regal Princess ship has three Allegra, Concerto(Deck 6 Fiesta), and Symphony (Deck 5 Plaza). We originally had reservations in all three but Princess changed that. We ate breakfast in Concerto and most dining in Allegra. Princess doesn't require you to make reservations anymore with dining, this is the newer Dining Your Way. But, with a party of seven, we thought we'd be better off if we did.
Not only did they change our reservations, but they changed the time. So, the time in the app wasn't always correct. This was a huge frustration too as we never were told why. Otherwise, the dining was simple you sat, they asked for your drink order, then you ordered your food. Each night was a set menu. It wasn't as easy as eating a chicken or burger from the grill. However, asking questions I found out they had gluten free noodles to make Alfredo.
After my crazy bout with motion sickness, I just was eating whatever sounded good by the time I felt like eating. I also was getting so frustrated with the fact it wasn't easy to order gluten-free. It was almost the last day when I talked to another who had a food allergy. I found out I should have been seeing the menu the night before so I could ask or make changes. This didn't happen to me. I don't know if this was because we had so many brand new staff or what. So, if you have a more severe allergy on board, here's some advice. The first night on board, ask how to make sure to get what you want. This way, you don't fall down the gluten rabbit hole like me.
Alfredo's Pizzeria
Your dining plan includes this well-kept secret of a pizzeria. And, it isn't extra on the Regal Princess Food Options. They have a small menu of pizza, calzones, salads, and pasta and are located on Deck Six. The gluten-free pizza was the same pizza as the one in the pool but your choices of toppings are different. I didn't like this crust much at all, when I asked for it crispier it was a little better. I so cheated and ate gluten. This was one of the best pizzas ever. Even the gluten eaters agreed it was one of the best foods on the ship. And all of the foodies I was with liked it as well.
Speciality Dining
As with specialty dining, you have to pay extra and have reservations. As we already struggled to get reservations, we didn't get to try any. But, some of the specialty dinings included Gelato and Sabatini's Italian on Deck 5, Crown Grill, and Ocean Terrance Seafood Bar on Deck 7.
Special Tea Services
On Sea Days they have a special tea service. This was a fun experience to enjoy at 2pm and you get little sandwiches, special cookies, scones, and desserts. The tea is just a black tea they serve with cream, sugar, and lemon. You also get tea service at the Sanctuary.
Overall, the Regal Princess food on the boat isn't the best but is doable after you find some favorites. As for gluten-free or diet restrictions, maybe you will find better staff to help answer your questions. But, I would take snacks on board too. The room service that is included with drinks and food was awesome. Not all food was available for free through the app, but it was clearly stated what is and isn't included. So, early morning breakfast to late night snack check it out.
One last note is about drinks. You can order many drinks through the menu on your app. But, each bar has its own speciality drinks and some of them you can only get after 5. So make sure to hop around and find your favorite area!
Check out Cruising Extra to be sure to pack! Looking at Port Cayman Excursion Check out this one!