The Frisco Train Shop and The Minifig Shop
Hey everyone! So our adventures today took us to the Frisco Train Store in Kirkwood, MO. Remodeled from the old Frisco Hotel which was built in the early 1880s (by the St Louis and San Francisco railroad for their own railroad crews), this place has a very old timey feel to it which works wonderfully. And the fact that it is build right across from a train track just adds to the look and feel. It is very easy to spot, with its statues of Thomas and Percy on both sides of the front door. This place is stuffed full of wooden trains and tracks from wall to wall. All different brands are there as well as decor and apparel.
This is a train lover's utopia. While meant mainly for smaller kids (although collectors will equally enjoy it), there are several train tables set up ranging from the smaller tables to a larger custom built track built on multiple levels right inside the main entrance. Braden spent nearly the whole time around there, I think he could have stayed all day if we let him. One thing he particularly liked was all the different brands available. He said some of the sets and trains are very hard to find.
One of the things he loved best (aside from the multi level custom train table) was at the back of the store. They have bins set up that hold all different variations of wooden track available to purchase piece by piece. All of this with a sign above it that spells out "Tracks" made from painted wooden train tracks. Very creative and awesome looking.
There is also a small kitchen play area for those wanting something other than trains to play with. That's where Lizzie spent a lot of her time. There are two kitchens, both with play food and one of them also has an area with seats like a restaurant. Oh, and if you're a parent, not to worry, there's plenty of seating throughout the main level.
So yes, I did just say "main" level. There is also a second level that can be reserved for parties as well. For $180, you and 16 children (and their parents too) get the entire second level for 90 minutes. In addition, a hostess will help with set up and clean up. You are provided 15 invitations, place settings for up to 16 kids (that's the max they allow), and you also get your choice of two games (either a steam engine piñata or hot engine game). Additionally, the birthday child will also receive a special Frisco steam engine and birthday car as well as an "It's My Birthday" train button.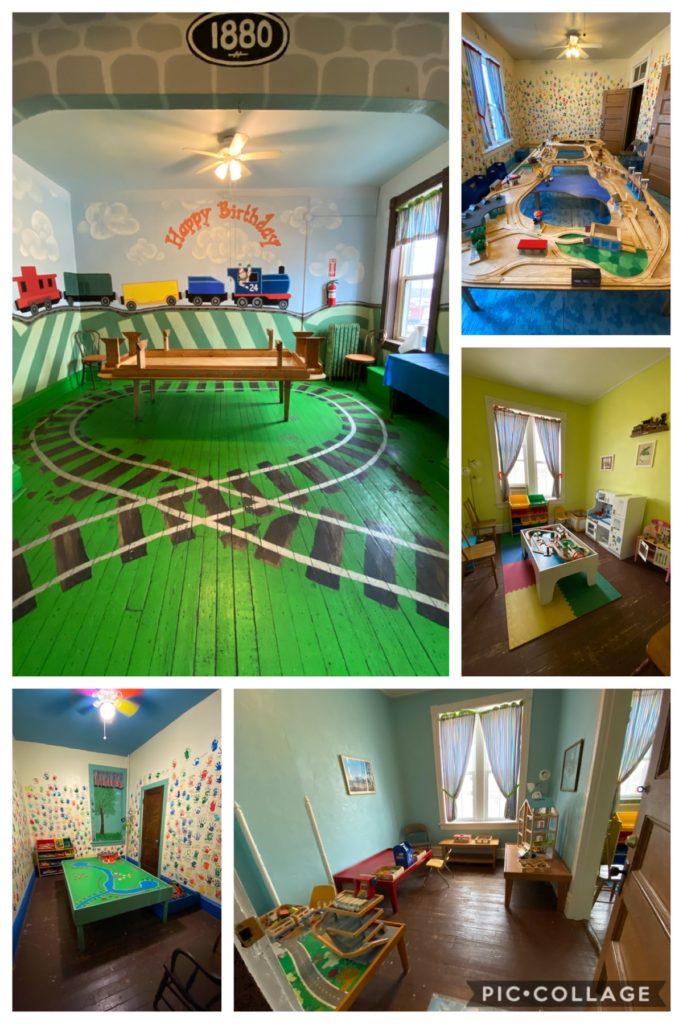 If we lived closer to this area, I'm sure it would become a regular place for us to go. The staff were very welcoming, super helpful, and appeared to very much enjoy their job. And as Braden would say, how could they not, they get to work with trains all day! It was a great day at the Frisco Train Shop.
Side Trip: The Minifig Shop
Just as we were about to leave the Frisco Train Store, the awesome lady who worked there came up to me and said hey since you said you're looking at cool local places to check out, you should really check out this place called The Minifig Shop. She said if you're into LEGO characters and building your own mini figures then this is an awesome place to check out. So, we decided to check it out.
As a second hand LEGO store, this place is very cool. That is, if you're into mini figures and buying bulk boxes and bags. There aren't a whole lot of sets there to buy but they have more single pieces and customizable mini figures than I think I've ever seen. This, as the store's name implies, is the main reason for coming. If you want to build customized figures (they charge by the figure) or if you have some specific pieces or accessories you're looking for, or if you're into blind buying large bins at a discounted price, check this place out.
Their sets aren't all new, a lot of them are used/discontinued. I think I saw a set there that was almost identical to the Shell Gas Station set I had when I was a kid. If you were a LEGO child like me, this store really brings out the kid in you. I had lots of fun helping Lizzie build her own custom figures and rooting through the accessory bins for little sticks of dynamite for Braden.
Too bad we live so far away from both of these stores. What kind of local gems have you found that you want to share? Comment below!
Want to know more about this shop visit here. If you stop by tell them we sent you.