Is It Worth The Drive To This Park?
Big Bull Creek Park can be a drive depending on where in the metro you live. Put simply, yes, it is worth it! Why? They actually made it so you can play in the creek, and more nature than plastic playground is always a blast for a change. They have temples, a resting web, music, trees and wildlife, and of course a walking path.
This local Johnson Country Parks and Rec did a great job, they have two large areas to gather at or reserve for parties. They each have a large grill area and two concrete tables, one on each side. They have restrooms which are nice and clean, soap was stocked along with a non-metal toilet. The restroom area has four separate bathrooms that are all family restrooms.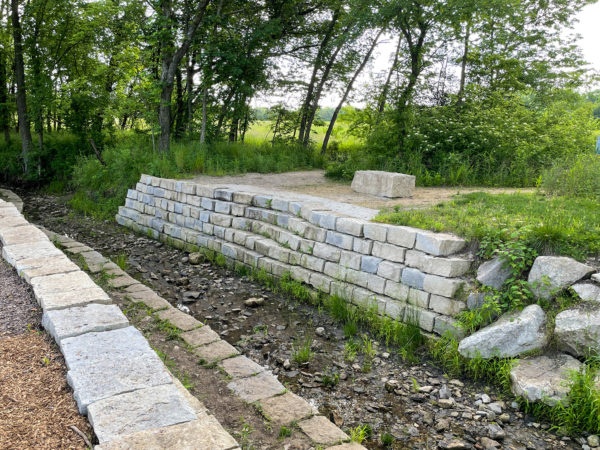 In the middle of the two larger play areas was a little hut with a table and four chairs. The only problem with the chairs is they are bolted down and it is hard to get in two of them because of the cross beams on the table. The table had a checkers game board on it and, on the day we were there, had all the pieces to play. There were also two wooden benches to sit under there.
Is There A Place For Littles?
Yes, there is! Off to the side, there is a little slide built into the hill with a sand area. During normal summers, a water feature also comes out of the rocks. There are also two smaller structures for them to play on.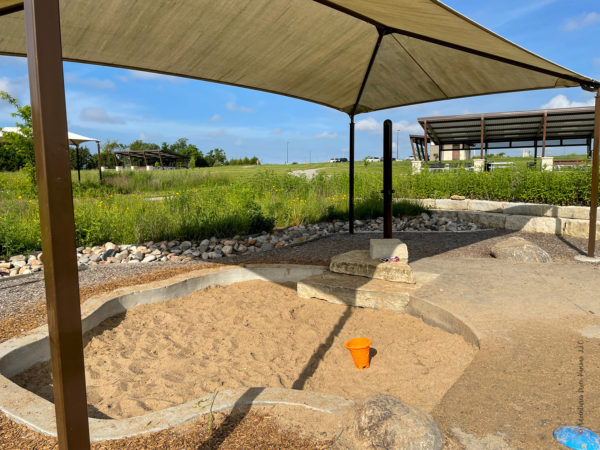 In the larger area, they have two slides built into the hill. You can either go around to the top or next to it where stairs are made from cut logs. They also have a sand area and another water feature that wasn't operational because of the time of year we decided to visit. The water fountains were off but luckily, the water bottle filler was working. They have a little music area with drums and a xylophone. There is also a tree to climb, a web swing, a web net, a rock wall, logs to climb and walk, and a rope ladder.
My kids' favorite feature is the creek walk. They also have other trails in the park that are around a half-mile.
Other features which are by appointment are disc golf and a youth camp area. These you need to come in by another road rather than the main entrance off Sunflower Road.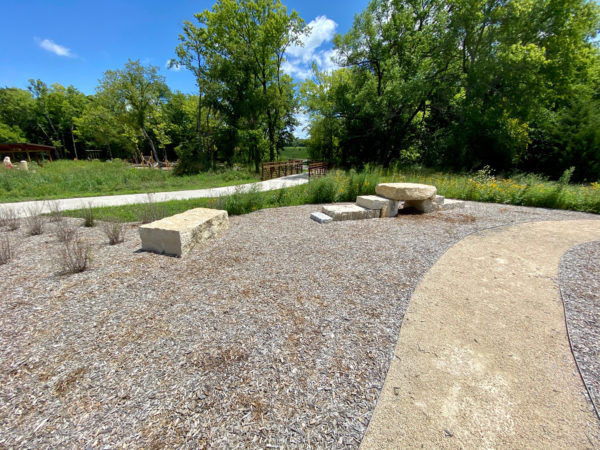 Overall, if you're looking for another park to visit and want something new or wanting some water features, Big Bull Creek Park is a great place to check out! Take a look here if you want to learn more. Be sure to check out some of our other trips to parks in the area!