Brown Park is located between W 51st St and Brooker Drive. The main parking lot for this park is off W 51st St, but there is a small amount of parking off Brooker. This park is long and narrow for the 3.5 acres and surprised us with a playground.
When you pull in at W 51st street, you might start to wonder if this kind of park is even going to be anything and it was one of the playgrounds we tried in Merriam. This barely off the beaten path tucked away off Merriam Drive not only featured a playground, it had a half court basketball court and a pickle ball court. The park had green space, a shelter, and a large grill for the shelter area, also included a smaller grill with picnic tables just off in the shade of the trees in the green space.
Brown Park Playground Features
Favorite feature of this park was the old conveyor belt-like slide. Not only do we not see these all the time, this one was fast. This was the only slide available by a platform.  This play space also had another taller slide you reached by a straight up and down sorta of peg ladder. This park also had a surfing mat, two traditional swings, two infant swings, a climbing C rope structure, a rope and circle structure, monkey bars, tight rope walking, two spinning single person features, crazy s climbing piece. This play space featured lots of areas to climb. All the playground is on Astroturf.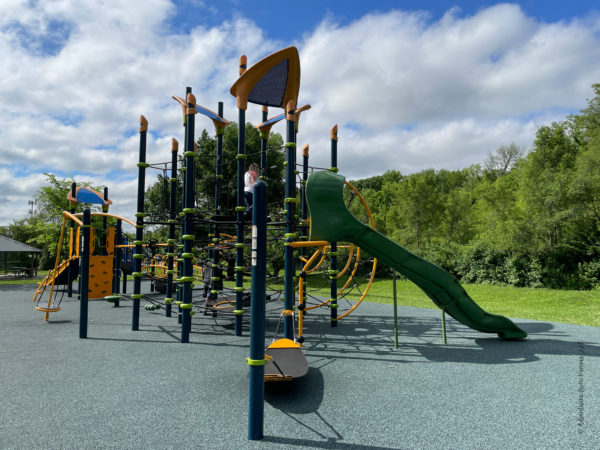 The only downside to this park is another port a potty instead of a standard restroom.
Looking for other parks to check in Merriam, check out the round up page.