Campbell Park has a unique history and originally had the name Old Horseshoe Bend. Its located on 61st where the sidewalk ends and runs into the Turkey Creek. This park is cared for by City of Merriam it's not owned by the city. It gets it name after the man who established homes here in 1864 and been a park for over 40 years.

Campbell Park Playground Features
Since the age of the park isn't newer, it has fully grown trees to shade the majority of this park making that a great feature on the warmer days. Steps so you can get to the platform feature a double side by side slide that curves is a little shorter than the one of the other side of the playground that is another side by side that taller and faster. There is also monkey bar rings and rock flat wall to climb. This playground also features two infant swings and two traditional swings.
This park is a community park, so it has no bathrooms. It does feature a grill, picnic tables, benches, and small green space to play. One of the picnic tables is handicap accessible with a shorter bench so you can wheel up to the table. Park features also include a grill and benches.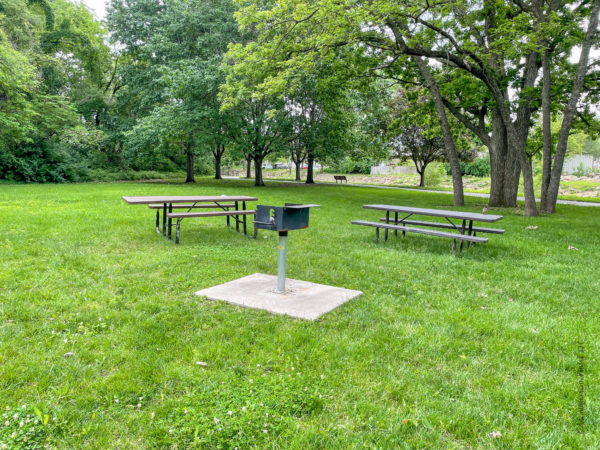 Access to the trailhead of Turkey Creek Streamway is also available at this park as along as other Merriam parks.
Want to see other parks in Merriam Kansas check out this round up post to see others near by.