Looking for something fun to do close to home? Go no further than Louisburg Cider Mill! It is located on Highway K68 just 20-ish minutes from US Highway 69.
The cider mill and country store are open year around. They are known for their famous apple cider which is even sold in grocery stores. They also sell Lost Trail Soda, and fruit butter.
Family Farm Fun starts around mid-september to October 31 every year. The Country Store is open and free to visit, has food vendors and musicians every weekend. The family farm area has an entry fee with an additional cost for the jump pillow. There is also has a snack shack available. The cider mill has different festivals including Scout weekend and the Ciderfest.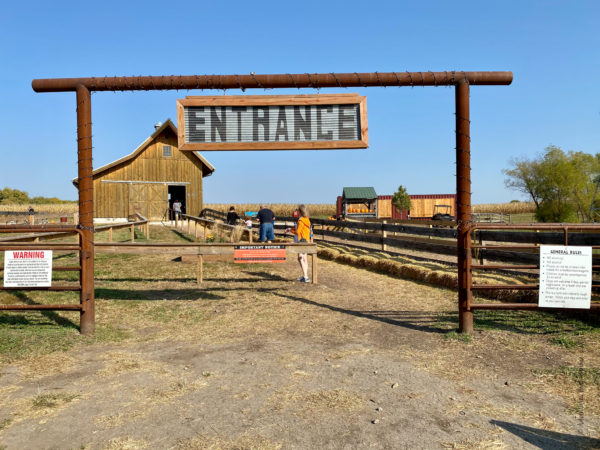 Louisburg Cider Mill Family Farm Features
This family farm has many features starting at the entrance with a nice welcoming barn and hand sanitizer. There are easy pricing displays of the pumpkins, pictures, and beautiful wagon display to get you started on your day of fun. The extra bounce pillow is typically a favorite of my kids but it was so hot they said it was burning them as they jumped. So, just keep that in mind when deciding whether or not to pay that little bit extra on a super hot day. There is so much included I would double check with your kids before actually purchasing the extra tickets.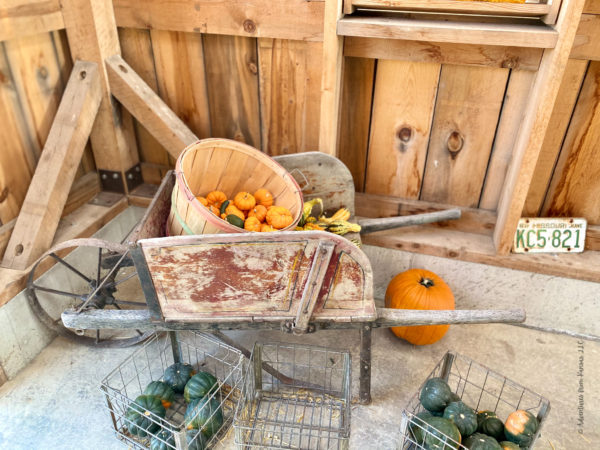 Other Farm Activities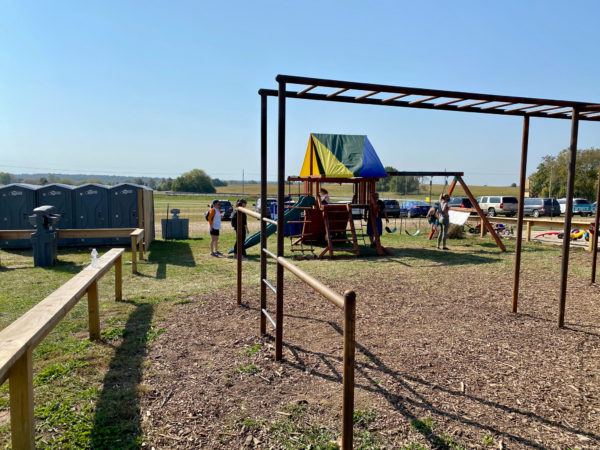 Near the front, there are so many activities it's hard to choose from which activity you should do first. A favorite the day we went was the giant corn bin to play in. There is some nice shade which is great for little ones to play here too. Also having carnival games, like test your strength bells were pretty cool. Other games include corn hole, connect four, and hopscotch.
There are several places to have fun and play. Places such as a bubble jungle gym and a place to ride tricycles. Also out here is a rope spider web, small toddler slide and a pumpkin can to explore. As if that weren't enough, there are also building wood blocks, an education center which includes a history of forts, and teepees with an actual teepee on the grounds to explore. Not only is there an area for smaller play area, there is also a larger one. It features a big rock wall, multiple swings, tree trunk to walk, playground, and monkey bars.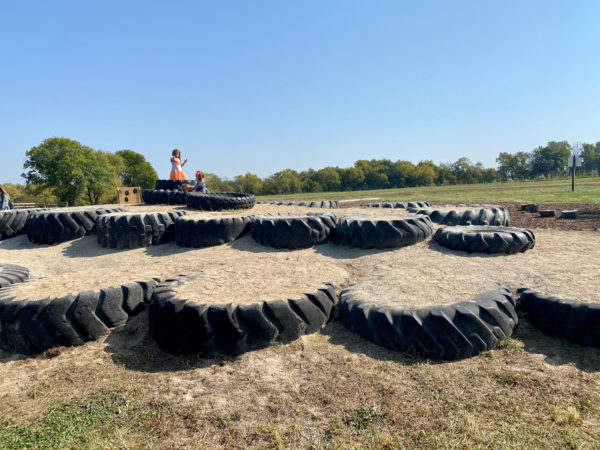 All around the farm, there are available scenic sets to take your family's picture. There are also picnic tables available to rent and several under a tent to cool off for a bit or to enjoy a bite to eat. Next, you can enjoy a ride on the tractor. This not only gives you a ride around the farm, but can let you off in the back where there is a grass mountain hill slide.
There are slides on both sides of the hill allowing it to move quickly. All of them are different lengths. There is also large tractor tire climbing feature. A large tire swing with six traditional swings is another fun feature. As well as wood balance beams and a bridge for kids to explore and use more motor skills.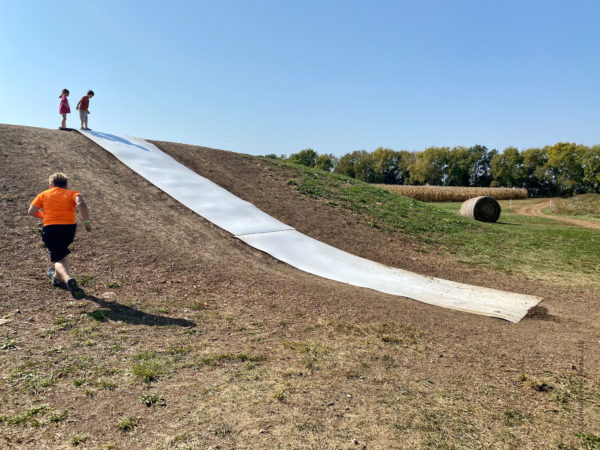 Hay Rides, Pumpkin Patches, and Animals
Using the hay ride, you can also get off to hunt around the pumpkin patch to find your perfect pumpkin. If you're having fun with that, then the corn maze is across from the patch. This is fortunately included in your fee and not an extra expense like other farms. You can even spin the wheel and read about the pumpkin life cycle, see how tall you are, and put your face in many frames to make yourself another creator.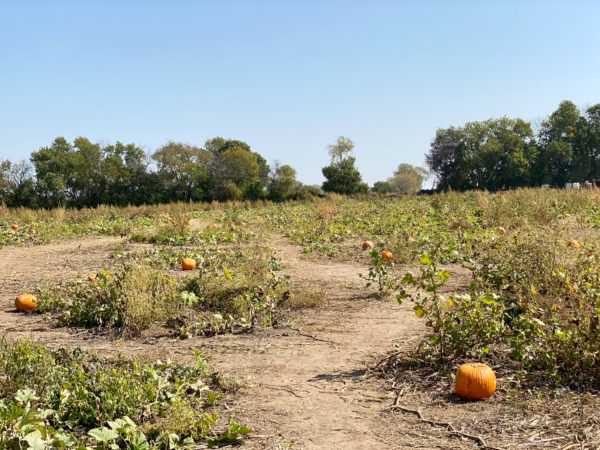 At the front of the farm on the other side from the play area, there are live animals like a goat and chicken that you can feed for a quarter. Nothing like getting up close and personal to the goats to pet! You can also see how far you can jump like different animals.
Durning traditional times, there is a snack shack and kettle corn food available as along with restrooms all in the family farm area.
Cider Mill Country Store
The Country Store is north of the farm play area that has their fresh apple cider donuts and apple cider slushes. As I can't eat the donuts because they are gluten, I just have to take everybody's word for it that they are amazing. As for the slushies, I didn't try it because I am not a huge fan of the apple cider by itself. I have used the Louisburg Apple Cider to make my own gluten free apple cider donuts.
The store also features Lost Trail Soda the original root beer, diet root beer, and other crazy flavors like rainbow drizzle. Candies, honey sticks, sparkling apple cider, and fruit butters including jams are also available. You can find lots of different and interesting items at the country store.
Look no further for some good old family farm togetherness this year!