Tanganyika Wildlife Park is a wonderful experience that puts you closer to most animals than you can get anywhere else. Located in Wichita (Kansas), this wildlife park is totally worth the drive to get there. You might know this place from everyone talking about how it's the place to go for penguins. That is definitely true, but there is so much more to this park than penguins.
What is There to See?
Tanganyika Wildlife Park is a largely open and up close experience that lets you view many different animals with a cage free experience. While the obvious animals are kept behind enclosures (sorry guys, you're not going to get to lay around with a cheetah or a tiger), there are many others that offer completely immersive experiences.
There are opportunities to feed/pet a variety of different types of animals. There are goats, giraffes, bunnies, guinea pigs, turtles, lorikeets, hippos, kangaroos, and more! Depending on the pass that is purchased, feedings can be purchased in quantities or certain ones are unlimited with the season pass. It is a great experience to get up close and personal with these animals!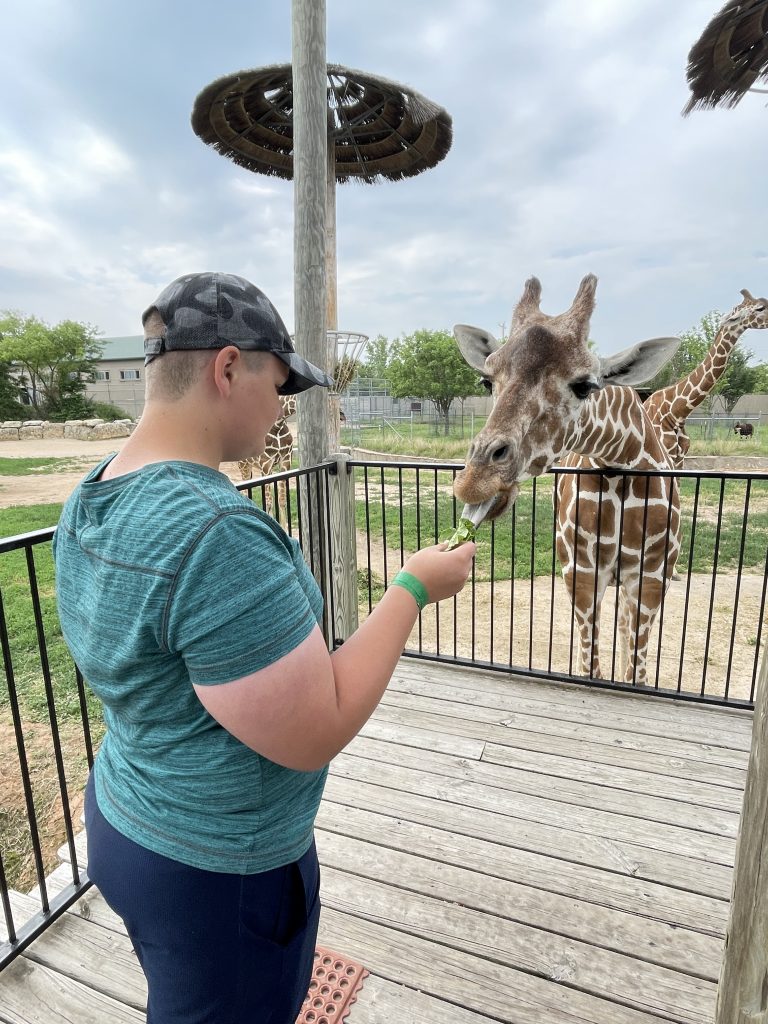 Up Close With the Kangaroos!
One of the best experiences at Tanganyika Wildlife Park is the kangaroo pen. Have you ever wanted to walk amongst a group of kangaroos? Have you ever wanted to kneel down beside them and pet them? If your answer is no, well, this park is probably not your cup of tea. You'll get a chance to freely walk through their cage and show some love to the lounging kangaroos. They are literally all over the place either lying down or hopping about!
The staff is awesome here! They will give you some useful guidance on which animal to pet and which one to leave alone. Listen up because it's very informative to keep from making for frustrated animals. The biggest thing is only pet the ones lying down. If they stand up, then they're done being petted. And yes, there are some kangaroos with babies in their pouches. Like any mother, they are very protective of their young. So, unless they're laying down, it's best to watch them from a distance so as not to worry the mother.
Feed and Swim With Penguins
One of the main draws of the Tanganyika Wildlife Park is the penguins. The penguin habitat is open to walk through, take pictures and watch the penguins lounging around, waddling everywhere, and swimming. You'll be able to get almost close enough to feel like you're right next to them!
The biggest attraction here is the chance to feed and swim with the penguins. And by swimming, it's not just stand in the water and stay still as they swim around you. No, you'll get the chance to actually pet and hold some of the penguins and interact with them as you move around the water alongside them! There is also a feeding pen to toss some fish to feed them as well. Just be aware that this is a VERY popular feature of this park and fills up super fast. So, if this is on your bucket list to do, best to book early!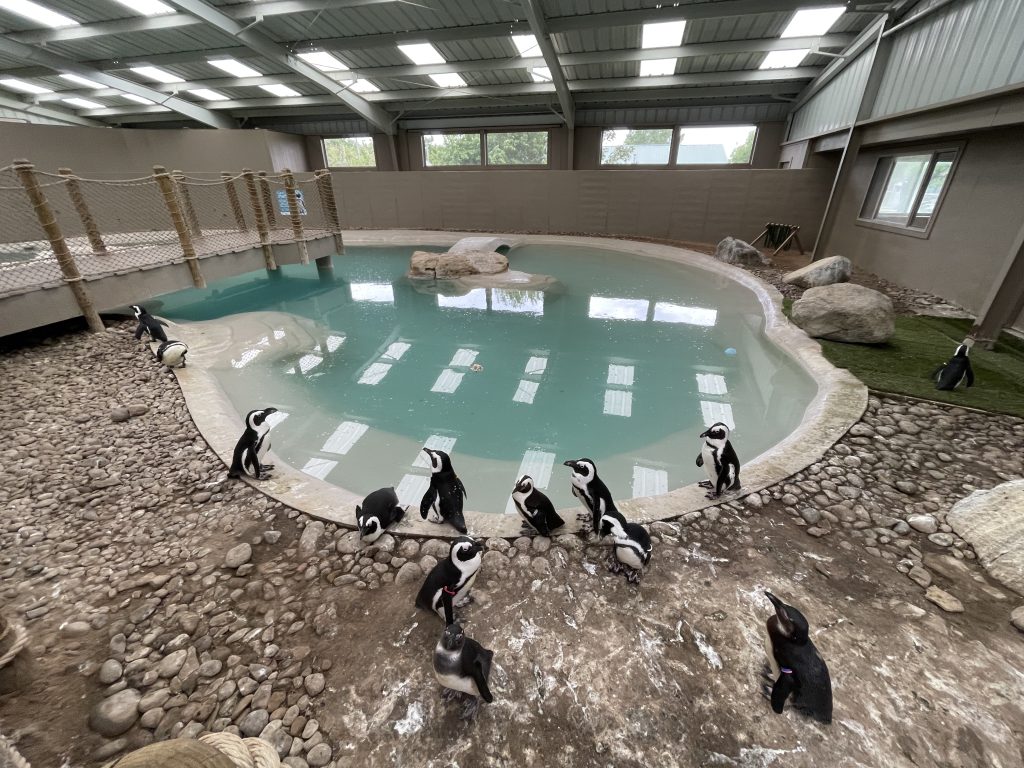 What Other Critters are There to See?
Kids and adults alike will love the area with the guinea pigs, bunnies, and turtles. The kids will love taking pieces of lettuce through the small area and feeding the different animals. The turtles were so adorable and have no problem walking up onto your shoe to grab that piece of lettuce you're holding for them. Depending on your pass, you can get unlimited feedings! So, you can always go back up for more and trust me, you will! Just be prepared if you have little ones, you're probably going to get asked multiple times to take one of the many animals home with you!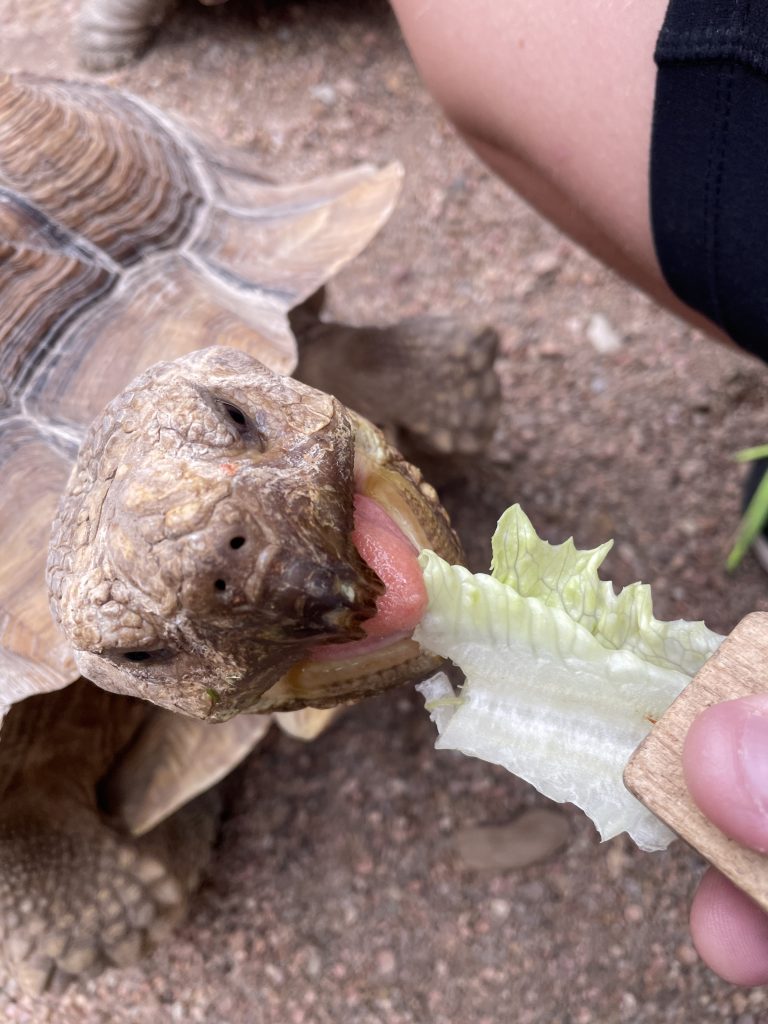 The nice thing about Tanganyika Wildlife Park is the openness about it. There are extra wide walkways, awesome landscaping, tons of trees, and a pond right at the entrance. This area has lots of ducks and turtles and all kinds of fish swimming around. Just a short walk from the entrance are the lemurs and the Bengal tiger.
This is a major draw for those who want to enter the lemur cage and get their picture taken with a lap full of lemurs. These adorable creatures will hop up on your lap as you get some cute pictures from the staff. And, you can feed them as well! Unfortunately, you cannot pet them. But, they are still such cute animals to have walk over your legs and hands!
But Wait, There's More!
Geese and ducks roam fairly freely around the grounds. Make sure you take some quarters to get some feed while you're there! There are change machines if you don't have any, thankfully. The geese get close enough to literally eat right out of your hand. And the fish go absolutely nuts for the same feed. Just watch the melee of fish swimming and jumping all over each other when you throw a small handful of feed into the water. It's hilarious and amazing at the same time!
There are various different breeds of monkeys in different spots. You'll definitely be hearing one of the particular breeds speaking to each other most of the day. It's a very distinct call that can be heard from just about everywhere. You won't believe how close up you can get to these swinging animals!
While there are an enormous amount of different animals in this relatively small space, there is more to see and do! There is a moderately sized playground and splash pad at Tanganyika Wildlife Park that makes for a great spot to cool off! The playground has a total of six slides with plenty of climbing structures spread out across the padded astro turf surface.
The Playground and Splash Pad
The splash pad has four larger slides and one little kid sized slide. There is a bucket that fills up over head and dumps a large amount of water every five minutes or so. All of this is attached to a nice little playground surrounded by waterfalls and fountains. The water is extremely well contained being a splash pad. 
In the middle of the playground and splash pad is a covered sitting area with comfortable patio type seating great for taking a rest! Right next to all of this is a gift shop and quick service restaurant offering subs, hamburgers, chicken tenders, a few different varieties of fries, and more. If you have the ultimate day pass or if you purchase the seasonal cup, there is a station here to refill the souvenir cup that is included with your pass! Just make sure to ask if you're looking for lemonade or slushies as the employees need to get those for you.
Speaking of the food options, there is also a souvenir popcorn bucket that offers refills for only $2. Pretty good deal for a refillable snack! Also, hold onto your cups as you can bring them back next season for a half price recharge so you can use them again.
Final Thoughts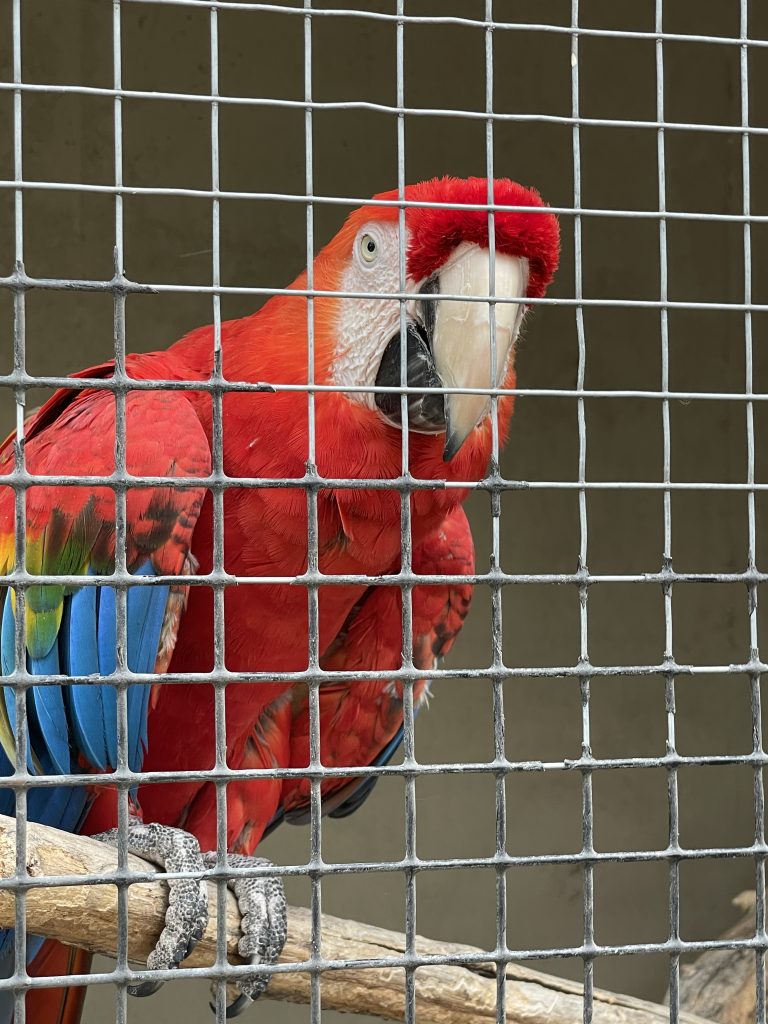 Tangyanika Wildlife Park is so well built and never forces you to walk long distances as its footprint is actually pretty small considering the amount of wildlife housed here. The only small complains in this writer's opinion are that there could be more benches throughout the walkways. They are a little few and far between unless you're at the restaurant or playgrounds. Additionally, a few more trash cans evenly placed would be nice. However, in the scheme of things, these are small gripes and in no way take away from the enjoyableness of the park.
Tanganyika will give you something you never knew you wanted but will be so glad you experienced: a chance to roam around with animals that you'd probably never be able to get as close to outside of its walls. If you're an animal fan, mark this place on your map and plan your trip now, it's well worth it!
Don't forget to check out our other travel spots!