St. Louis, Nashville, Coca-Cola….OH MY!!
We recently set off on another adventure, this time we traveled 3,147 miles through 10 states. Our adventure this time not only included us four but also included my grandparents, my cousin, and her mom. We took this trip to celebrate her high school graduation. Yes, there is that much of a difference between us, she is 15 years younger than I. She is like a big sister to my kids.
We started off Mother's Day weekend with her graduation party Saturday, and her graduation ceremony on Mother's Day. I find this extremely weird, but maybe it's not…has anyone else's school always had gradation the second Sunday in May?
MONDAY
So, we started our trip on Monday with first picking up the rental car. We went through Enterprise, there was a computer issue that basically didn't tell them what kind of car I rented, but they took care of me and ended up having to get a car from the other nearby Enterprise. In the end, we got what we wanted and it was really nice and glad it was an easy fix.  After we got the car, we loaded up all our luggage and we left for Saint Louis to sleep at my parents' house to help us get a jump start on the next day.
TUESDAY
On Tuesday, we left Saint Louis and headed to Dalton, Georgia. Wow, our first major stop was in Nashville. I am driving a giant Suburban, it's a very nice car, but it's a little larger than I am used to. The drive has been surprisingly easy and not much traffic or craziness. It's good to sometimes get pushed outside your comfort zone to know you can do it. Now, Nashville parking is something else.
We stopped at the park to see the Parthenon, it was cool to see something that was originally made in 500 BC by the Greeks, remade here for people who might never make it across the pond. There was supposed to be a giant train engine…we got there and it was gone. The spot where it was is huge, we have no clue where it went or what happened to it.
We visited the Downtown Nashville Strip, we visited Legends Corner, we saw Tootsie's Orchid Lounge, it's pretty famous, a few stars have been discovered there. We enjoyed lunch at FGL House it was good, we had BBQ Nachos, both flatbreads with GF bread, and Sandi's Queso. This place was really good and so was the service, I will note it has some loud country music, it was also dark that it was hard to read the menus but it was really good food.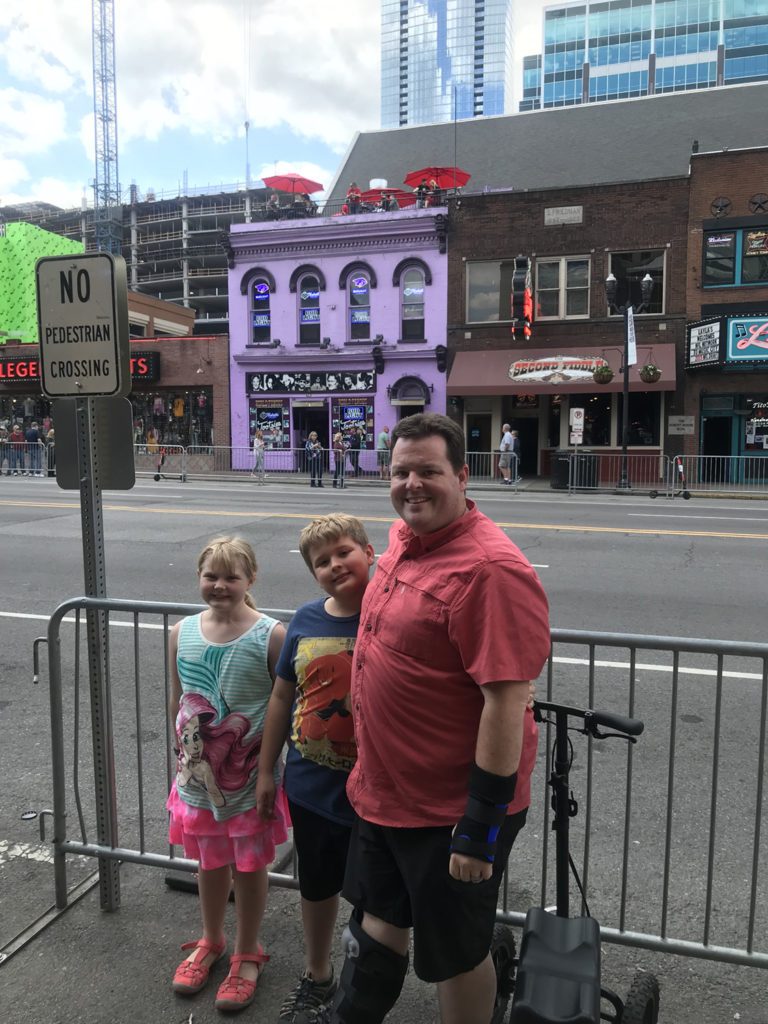 It was a fun little stop to get to see and enjoy a touch of Nashville, Tennessee, which means I got to be map girl instead of the driver. My grandpa wanted to do the mountain driving coming from years of on the road trucking. There was one part that was really steep for me even though at 6% that doesn't seem like it should be that bad. There were also lots of curves on this part of the state following 24. Needless to say, I am glad he drove and I got to see its beauty, as it was very lovely with the mountains and nature. We are now 2 days, 567 miles from home and 5 states on our journey for this graduation exploration.
We got a good night's sleep in Dalton, Georgia at the Hampton Inn. This wasn't a standard Hampton Inn since the doors opened to the outside, but it was clean and beds were nice and breakfast was the standard Hampton Inn offerings. They are set to get an update soon.
How do they sleep like this??? I am hurting just looking like at this again.
Wednesday
We started driving to Atlanta today, to visit the Coca-Cola Plant. This was a lot of fun, seeing the bottling process, meeting the Coca-Cola Polar Bear, lots of fun products. I think one of my favorite parts other than the tasting room, which was different, was seeing the old vending machines, and then at the end of the timeline seeing all the products they make.
There are products like Fairlife and Caribou Coffee which I had no clue these were part of Coke products. In the tasting room, it was fun trying things from the other six continents, seeing which flavors others liked and didn't. We all had one we didn't enjoy trying. These pictures show that. I don't drink caffeine or really dark soda often but I decided for one day a few slips I would try everything. I highly recommend trying it all. Otherwise you might miss something you actually like but the name makes you think twice.
The drive through Georgia and into Orlando on I-75 is pretty straight forward and easy, lots of trees. We finished our drive on day 3, ending in Orlando, FL. We stayed in our first AirBnb. It was nice having a house for half the price of a hotel since there were 8 of us and we split the pricing compared to two rooms at a hotel. It also had a pool right outside on the back patio, if we had more time and it was warmer this would have been fun to enjoy.
Continue on our journey with us and click here to read more about our adventures we encountered.