Meadowbrook Park
This is a park we've been watching throughout its construction and waiting for it to be completed. Well, that day has come and it was a great day indeed. It was a very hot day and the lack of shade made it a little tough to stick around for long. Granted, there is a very large covered picnic area near the main playground and a few large trees around one side of it. The playground itself is largely baking in the sun.
Being such a new development I understand the lack of mature trees. I also know it's not something that can be fixed overnight. But, it does come with one bad side effect: the playground equipment gets painfully hot. Now, being mostly plastic it's not as bad as it potentially could be. But, on a clear day at high noon be ready when you sit down on the slide, swings, teeter totters, and spinning seats.
All of the heat aside, Braden and Elizabeth were so excited! They ran out to climb through all of the tunnels and go down all of the slides and zip across the zip lines. The heat didn't seem to stop them at all. Similar to the new additions at places like Sar-Ko Park, this one has padded AstroTurf in the play area. I wish they had this in my day, river pebbles hurt when you fall on them and are annoying when they get caught in your shoes.
One thing I love is that in addition to the older/taller kids play area, there is a toddler play area on the same pad right next to it. So, when your younger one looks at big brother/sister and says I wanna do that, you can point them towards their area where everything is on a smaller scale. All being in the same area is a major plus. As far as the play area goes the only complaint I have is the restrooms are a fair walk from here. They are located outside on the bottom level of the clubhouse. This can create issues if one kid has to go and the other kid doesn't want to leave.
As I said earlier this area has a large covered area with plenty of picnic tables, a fireplace and a very large community grilling area. There are two over sized charcoal grills and a fire pit area. And the great thing is they were actually clean. I've seen some public charcoal grills I'd never touch but this is one I'd be fine with using. This is all in the same main gathering place. There is more than enough room for a very large party to get together.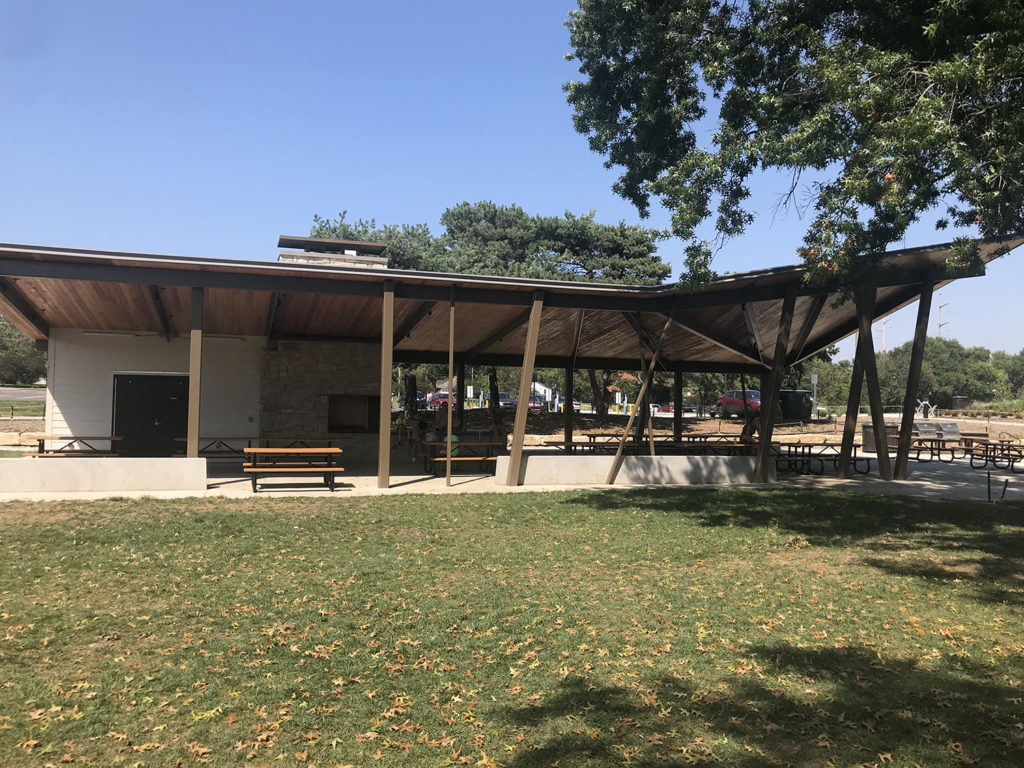 So we decided that while our kids were playing that we would walk over and take a look at the clubhouse. A very nice air conditioned place to go to get some relief from the heat of the day. There is an employee at the front area when you walk in. Very helpful in telling us about events coming up that we might be interested in. There are also a few meeting areas inside that can be reserved for whatever you might need. On the backside of the clubhouse is a walkway leading to the pickleball courts. This is a completely new game on me, I had no idea what to expect. Without going into much detail, just picture playing table tennis on a tennis court. Must be a pretty popular game though, the courts were all full.
One area that was very unique for around here is the super huge leveled grass area. Ever get to a park and think well this is a great place. But, I want to play football and there is no where large enough or flat enough to do it? This among many other scenarios plays out in my head when I see this area. It's a large, level, perfectly manicured grass area. Perfect for large gatherings and sporting events.
I couldn't not mention this because I've never seen one at a park around here. It is something that can potentially come in very handy if needed. Near the playground at the front of the park is a Fixit station with air pumps and various secured tools for fixing broken down bikes. Why all parks don't have something like this I don't know but it's a great thing to have should you need it.
There is one other play area a little to the east of the main park. Although you can walk there it is a bit of a distance so with it being so hot we decided to drive. This area is more of a "let's relax" area rather than a "let's run and play and be wild" area. There is a padded mulch textured walking surface and some climbing areas and large metal musical instruments and a sandbox area. This area is much more toned down and natural, and well shaded too. There were no other kids playing there which gave Braden and Elizabeth free reign which they loved. (And yes this far out there are still clean restrooms very close)
The third and last area we checked out was the fitness area. Still on a padded surface, this area has numerous pieces of fitness equipment that work out different parts of your body. There is resistance training and bars that can be used in different ways to work different muscles. This is a nice place to go for a warm up/cool down or to get some good stretching in. Not much more to it than that but sometimes simple isn't so bad, it isn't in this case.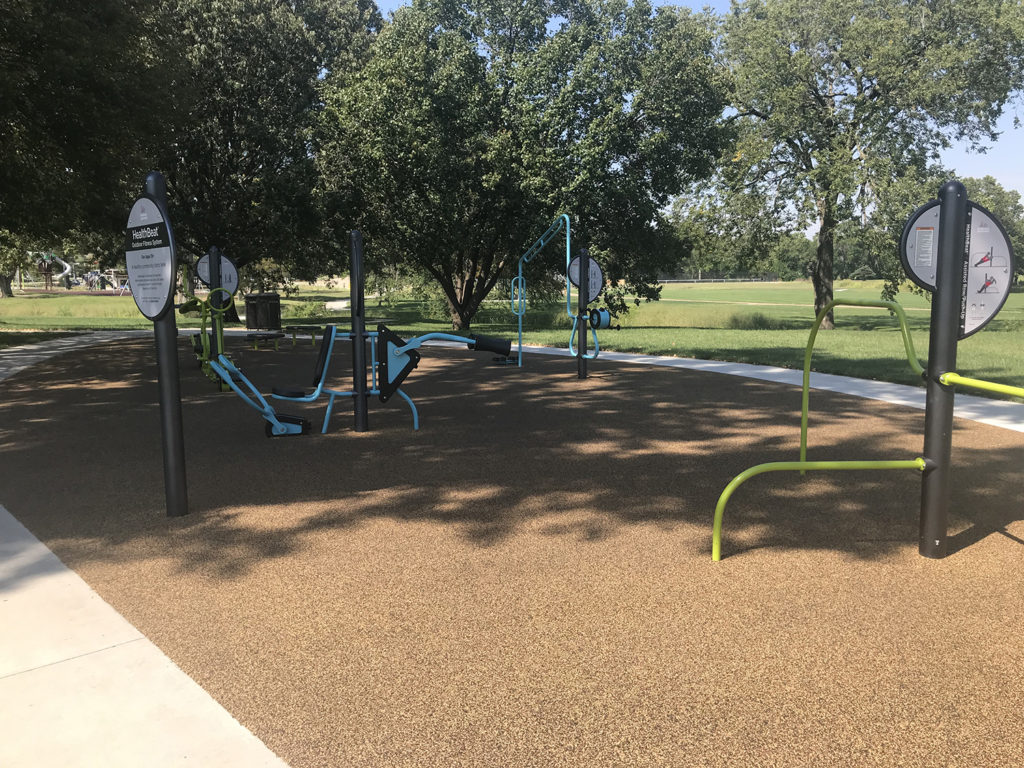 We left the park with both kids asking when we can go back (to what felt like no end). So I know it got their seal of approval. I myself loved it and would probably be out there right along with Braden and Elizabeth once the temp drops. There's lots to do out here you really should check this place out.
Have you been here before? Comment below with your favorite part or if there is anything that you feel needs attention. Hope to see you there!