When you are 9 years old, turning TEN is a big deal! Well, lucky for this one we also agree and it is one of the years we actually celebrate with a birthday party! Or, to be more accurate…a Spa Party!
Planning the Perfect Birthday Party
All parties have to start somewhere! The easiest place is to decide why are you having a party and then what themes would be of interest to the birthday person. In this case, the goal was to throw a party for the soon to be ten year old and we wanted to share and take you along for the ride.
After you pick a theme, you start with ideas. Do you want games, activities, food, or snacks? This is where Pinterest comes in handy. But it also can overwhelm the normal mom who is just trying to give her kid something special but not break the bank when she also just has typical life going on. Starting a month or so early helps with this. One starts with the ideas and look around and see what is doable for you. Take some of the parties or things you see and break it down for you. To help with this, I am going to show you how we ended up throwing this Spa Party.
**Disclaimer – If you purchase through our links or photos we might make a small amount of money at no additional cost to you.
Planning a Spa Party
Spa Parties in and of themselves are relatively easy, as the activity itself is enjoy spa-like activities. This can include a face mask, hand & foot soak & scrub, nail polish, really anything focusing on the hands, feet, face, and hair can work here. Starting with the guest list, we decided to keep it small so we could do more fun activities. To keep it easy for Mom we went with printable invitations. There are many places to get this done, we bought ours off Etsy and then I sent them to the local photo printed as a 5×7 and just pick them up. You can also just print them at home and cut them apart.
After deciding on invites and a guest list, the next step is to plan activities and food. Being a crafter, when you take a DIY approach you can sometimes turn little things into more special items.
DIY SPA Kits
Take inventory at the home of what you need and already have. Start with a visit to your local Dollar Store, called Dollar Tree where we are. We bought hairbrushes and mirrors here also the gift baskets. You can also get the fuzzy socks, glass jars, and nail kits from there. Otherwise, these are the ones we bought in bulk and had some leftover from Christmas stockings. The next stop was Sally Beauty Supply to buy nail polish remover for the baskets. (Yes, you don't really need to provide this for the girls, but I personally just couldn't send them home with painted nails and toes with no way for them to take it off later.) We used Kohls Cash to pick up the fuzzy socks.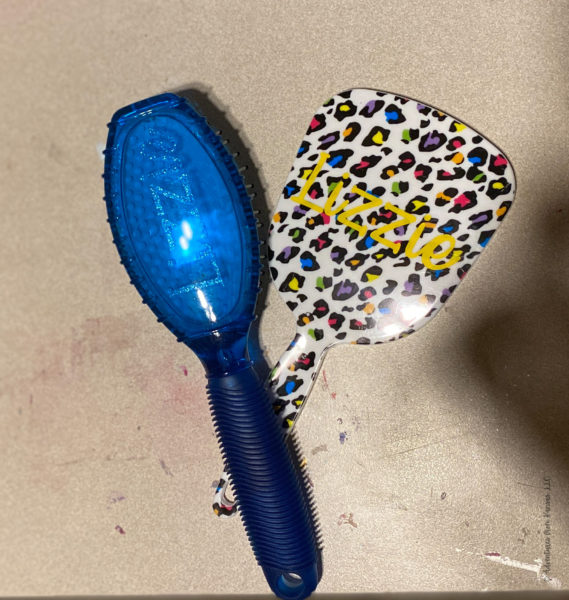 Using the Silhouette to Enhance a Spa Birthday Party
We made this recipe using Lydia Out Load Unicorn Bath Salts but I used my Silhouette to make my own label. Measure the lid or size of your jar add the shape into Silhouette Studio fill with a pattern fill. Then add text, make sure print n cut is on before printing on Sticker Paper, and then have your machine cut it out. Apply and you're done!
You can use your Silhouette to customize other party favors like adding a name to the zipper bags to keep the tools in using a pattern HTV. Using the font "Cookie Party," we added glitter vinyl and Oracle 651 to the hairbrushes and mirrors. Also used the font "Low Rise" to add the word Friend to this piece of acrylic bracelet. You can also use a Silhouette to cut out the words Happy Birthday and the diamonds for decorating later and the mermaid file from Silhouette Store.
Rounding off the baskets, take fuzzy socks and make them special by adding words to the bottom of the feet and to the sublimation star keychains with every girl's name. Make everyone feel special with these little touches using a lot of what is around your home and scraps for cutting out words and names.
Embroidery to Finish it Off
Finish off the gift baskets by adding an embroidery towel. Using my Brother Stellaire, a towel, and a water-soluble stabilizer, and the fonts of the machine to make it quicker and the 4×4 hoop you could embroider five towels in under an hour!
Birthday Decorations
Keep decorations simple since the main focus was the spa basket to enjoy the night activities with each other. Purchase the supplies at Dollar Tree, the happy balloon was easy to inflate at home and string through. Silverware and plates were also purchased. After cutting out the letters for the Happy Birthday Sign, I let the kids detail them using stamp pads, inks, chalks, and stains. To label everything, I used the table cards that came with the Etsy pack to add to each item.
Easy Food Choices
Since we stuck to a smaller guest list and made a lot of our items, we choose to order pizza for the girls since that was easy to do Gluten-Free. We made the cake since that isn't as easy to order Gluten-Free and made a chocolate chip cookie cake. Bought a few bags of M&Ms and made our own gummies using this machine from my sister and other silicone molds.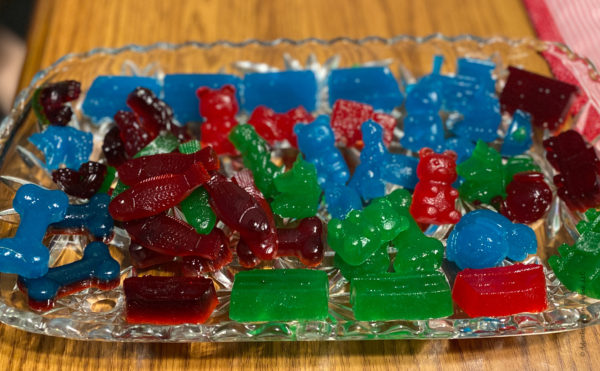 During the Spa Party
Using the gift baskets to have the party is what we do, the girls laid out their towels so nothing would get on the floor, they used their own hairbrushes and mirrors to do each other's hair, making a batch of this mermaid foot scrub, they then could put on their socks or paint their toes. They each had their own toe separators, nail filers, orange stick, and block for safety. Using the headbands they could keep their hair back so they could do a face mask.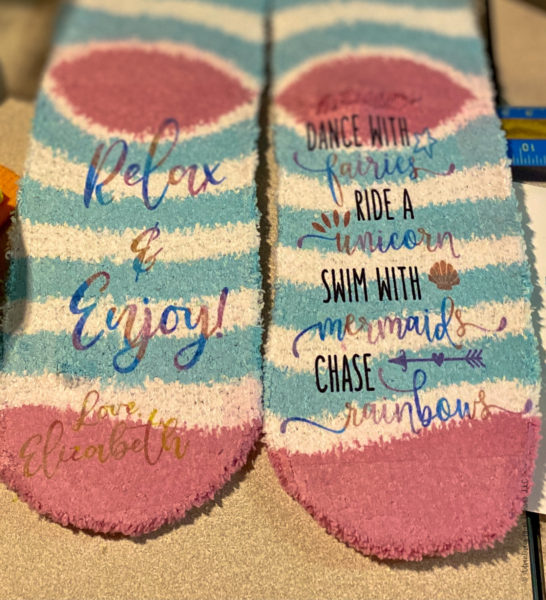 Overall, it was a great fun party. Hopefully, these ideas help you plan a spa party too with your craftiness.