Washington, Missouri is a must see for any lover of trains and just small towns in general. Main Street and around the waterfront has such a great small town feel and look. While it does get busy at times, it's a very peaceful and comforting town that is very welcoming to all guests. There are a number of places to check out in town such as the Iron Spike Model Train Museum and St. Ann's Country Outpost. Both in the downtown area and on the outskirts of town, there's much to do!
St. Ann's Country Outpost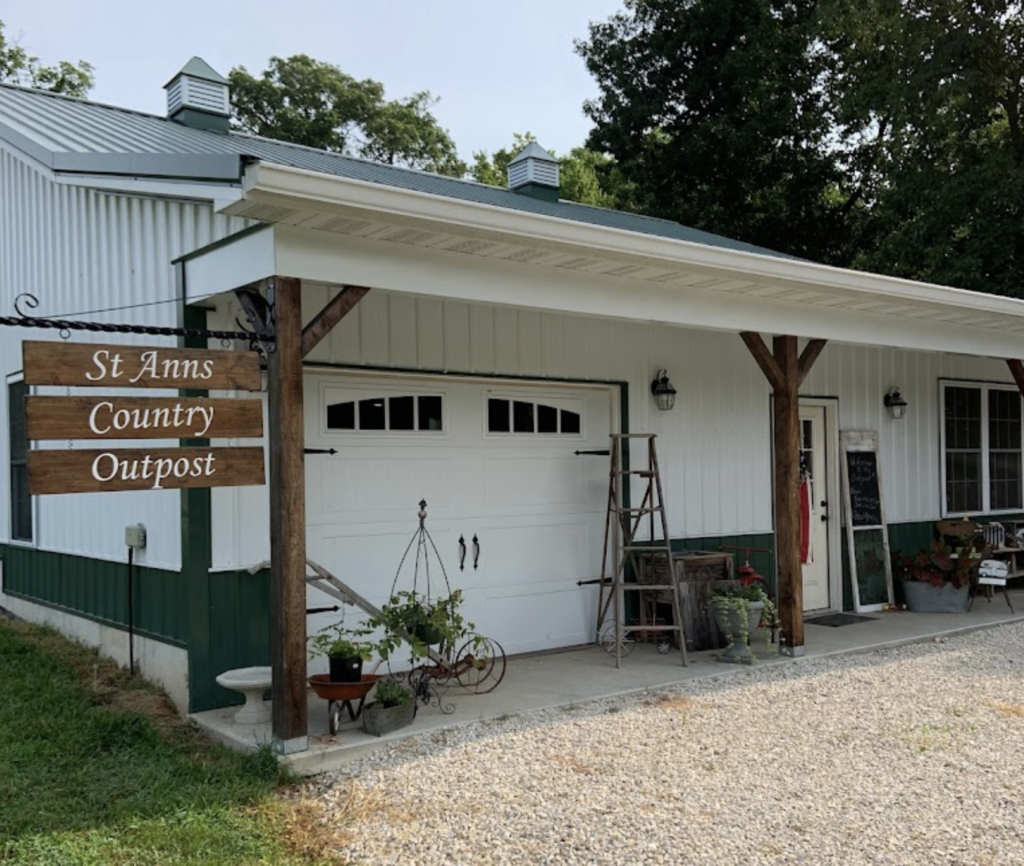 If you're a crafter and love to sew and quilt, this is a wonderful place to visit. It is packed with all kinds of fabrics and patterns and just about anything else you could want. The owner was a joy to talk to and very welcoming and eager to help with anything. The surrounding countryside is pretty amazing too. There are many places set up to take pictures and they are fine with you walking around the main area up front for some nice photo ops! Overall, it's a very nice place to pull off the road and visit before you get into the main part of town.
Iron Spike Model Train Museum
If you live in Missouri and are a fan of model trains, this little gem is one you have to go see. On the outside, this is a very unassuming building made from an old car dealership. You'll never expect what you are about to walk into.
Inside, the first room holds a few relatively smaller (compared to what's coming later) model train tables. One of which is entirely made of Legos which was pretty cool. The Lego set was donated from a lady that was a huge collector of Legos. Apparently, this train table made up about 3% of her entire collection. Wow.
The rest of the model railroad tables are just a preview of what is to come. The remainder of the museum does cost $8 for adults, $6 for children, or a flat charge of $24 for a family of four.
The Model Train Room
The main part of the model train museum is pretty impressive. Standing before the door is like standing on the other side of the door to Willy Wonka's Chocolate Room in that you really aren't prepared for the size of the room you're about to walk into. Looking at the first part of the museum area, it truly is only about 10% of the total amount of model trains that are in the museum in its entirety.
There are tables upon tables upon more interconnecting, multilevel tables filled with every different scale of train you can think of. The main level is the fully decked out level with a multitude of scenery, people, buildings, and just about anything else you can think of. The lower levels are more simple tracks and subway lines that run underneath, spiraling in and out of the underside of the table.
There are cityscapes, there are mountainsides, industrial areas, fairgrounds, racetracks, and many more I'm probably forgetting to mention. Shown on the main level as mostly HO and N gauge with the larger gauges underneath, they all work move side by side and above and below each other to create a wonderful world of different size trains.
If you want to see more, make sure and ask about what's behind the closed door in the main model railroad area. This room holds a massive world created and maintained by a World War II veteran that took the better part of 60 or more years to build from start to finish. If you ask one of the volunteers if you can go through this door, you may get lucky and get the whole story of how it was created and the unique aspects of this model railroad.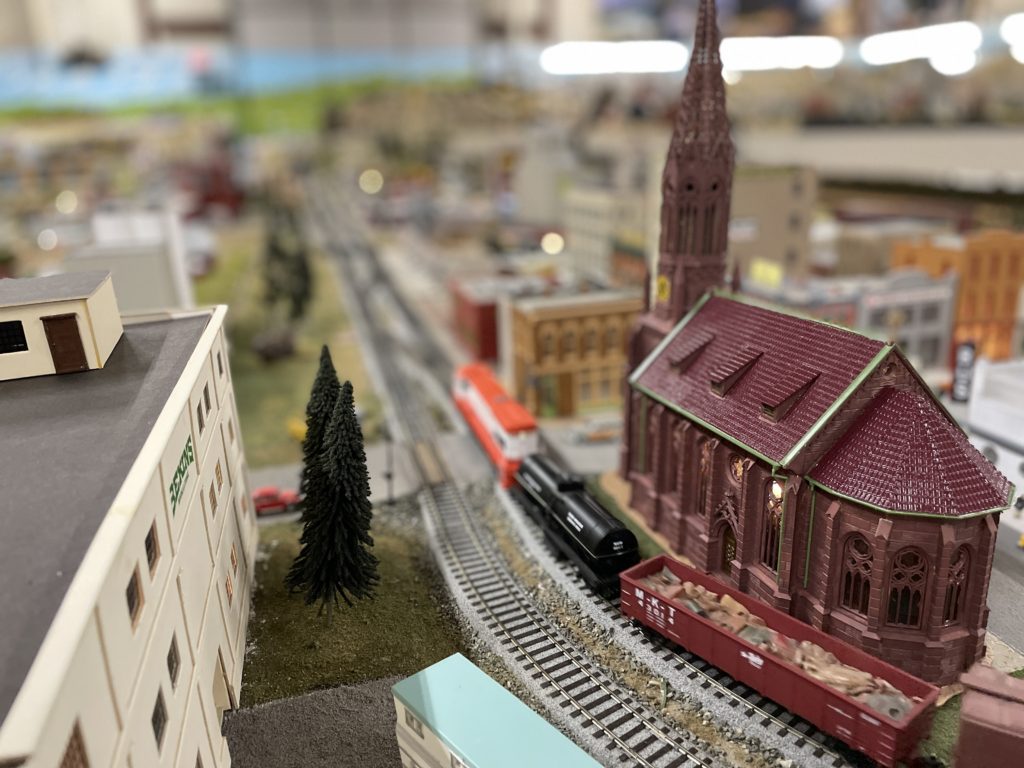 Great for Little Kids Too
If you have littles in your party who love trains but would like to be more hands on, there is a room with a sizable table covered in wood track and various Brio and Thomas the Tank Engine buildings that is guaranteed to keep them busy for a while. It also has plenty of seating for adults to stick around and keep an eye on them as well.
This is a little gem of a place that is sure to keep every train enthusiast busy for hours. There is honestly so much here, it's hard to take it all in in just one day. If you have model train enthusiasts in your family or if you are one yourself, be prepared to spend a good deal of time here. It is well worth the cost.
Headed to the Downtown Waterfront
The Main Street area of Washington, Missouri is what you would call a typical small town setting. And there is absolutely nothing wrong with that. The bulk of the main area of downtown centers around the train depot that makes regular stops into town. There are a number of restaurants and shops to visit.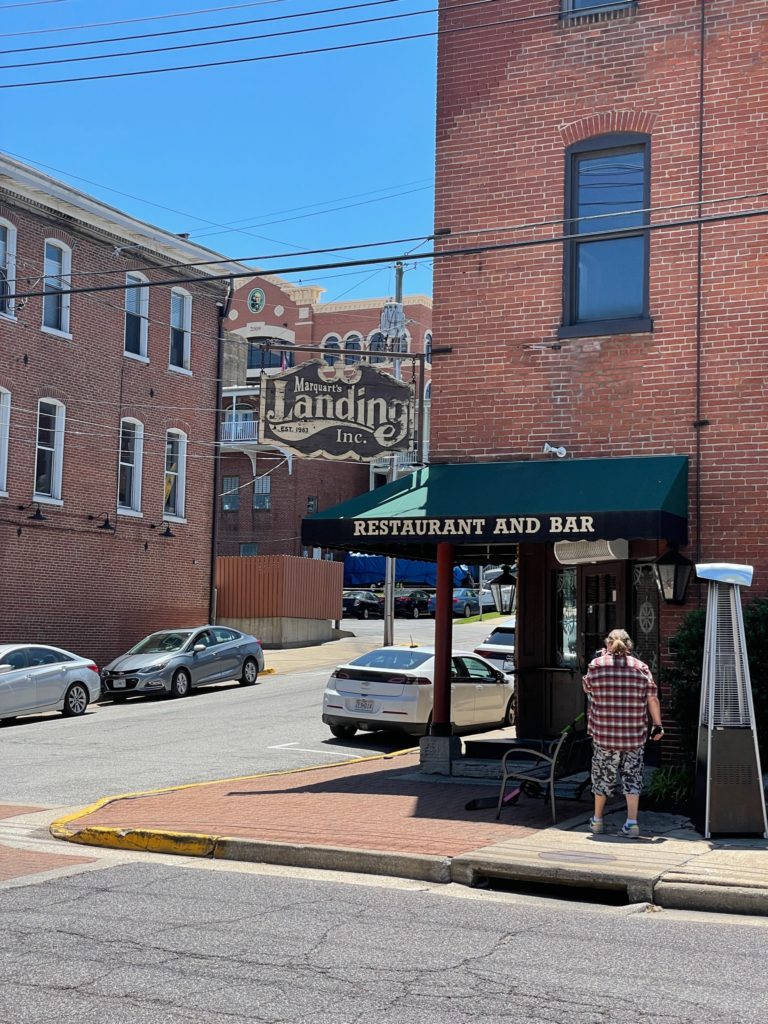 If you are in the area and are looking for a great place to stop and eat lunch, try Marquart's Landing. Great food, great atmosphere. The seating is about 20% indoors and 80% outdoors and fills up fast. So, as long as it's a nice day and you don't mind sitting outside as an option, this is definitely one to try. There are gluten free options available which is awesome.
There is a variety of items to choose from and some very tasty appetizers. A definite recommended appetizer would be the loaded kettle chips or fries. Yes, it can be a bit messy but it's all worth it! You can choose either kettle potato chips or fries, each is topped with white queso cheese, proved cheese, cheddar, and bacon. It was so good! They also have quite a lot of sandwich items with their smoked brisket sandwich definitely being a standout. If you're in the mood for pizza, they've got you covered there too! The gluten free bacon and pepperoni pizza was a huge hit!
This is a great place to visit and a very peaceful place to spend the day. And in a busy, busy world where everything is super fast paced and rushed, it's not a bad thing at all to come to a spot where life slows down a bit.
Have you been to the area before? What's your favorite thing to do? Check out some more day trip recommendations here!