DeSoto is located in Kansas near the Kansas River part of Johnson and Leavenworth County. DeSoto City has six parks and Johnson Country Parks operates three parks inside the DeSoto city limits. 
Community Center Shelter Park
Community Center Shelter located on 84th street is behind the community center features a shelter, playground and is the host of the city water park. The waterpark features a rock wall, basketball, lap lanes, diving boards, one large twisty slide, two smaller slides, and a water play area with dumping water.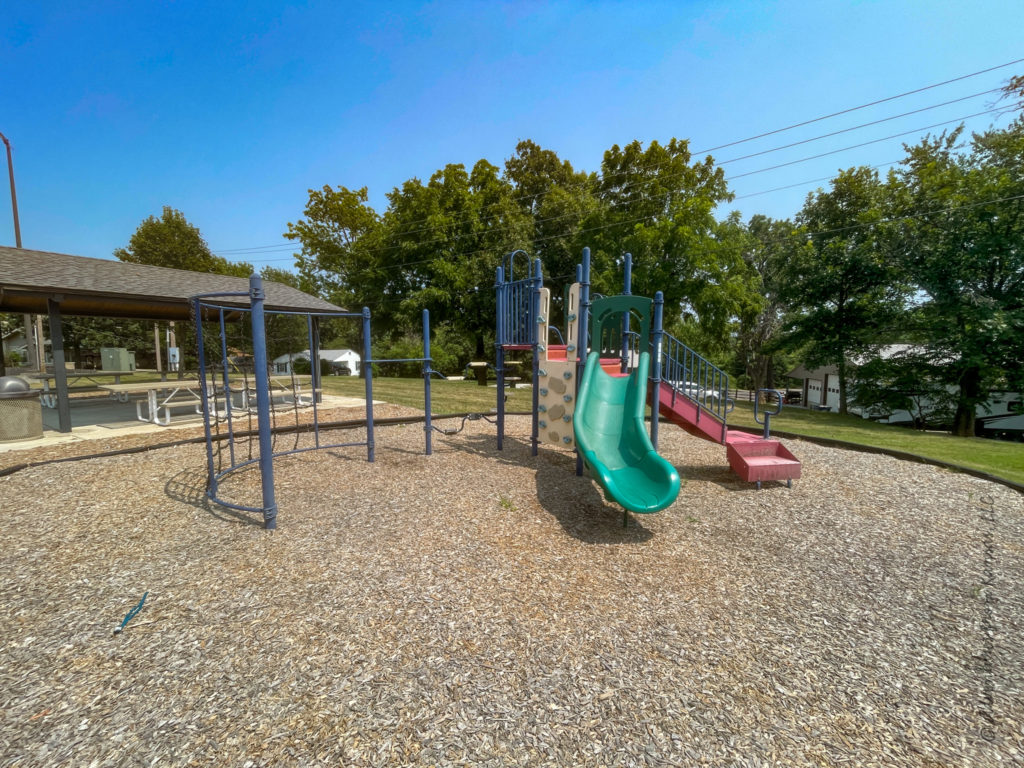 The playground at DeSoto Community Center has a shelter with picnic tables. The playground features a curved rope wall for climbing, a bar for doing pull-ups and hanging from, a fireman pole, a rock wall ladder, stairs, curved ladder to reach the platform to go down the green slide.
Miller Memorial Park
Miller Memorial Park is located on Ferry Road. This park has baseball fields, a full-size basketball court, a tennis court, a sand volleyball court, a water memorial, trails, and a gazebo, also a shelter. There are multiple playgrounds, swings, picnic tables, and neat adult swing benches with green space to play.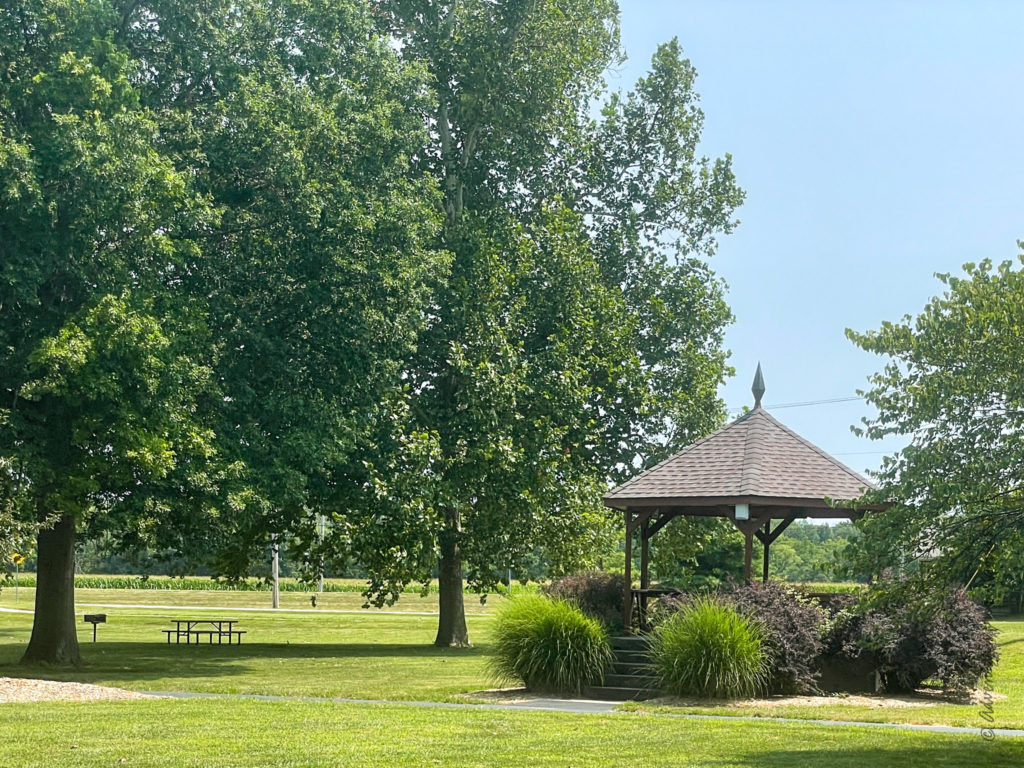 This playground is very different as it actually is like multiple playgrounds at one park which is neat and has lots of areas for kids to play and have fun. One playground at Miller Memorial Park is made of primary colors of red, blue, and yellow. It features stairs, a ladder, climbing fireman pole, to help you reach the platforms that have tunnels so you can make your way to the blue straight slide. This playground also has a fireman pole, a small zip line, and a bouncing toy.
There is another red, blue, and yellow playground made for the littler kids that features steps, two curved ladders, tic tac toe, short monkey bars, and two small slides one that is straight and another that is curved.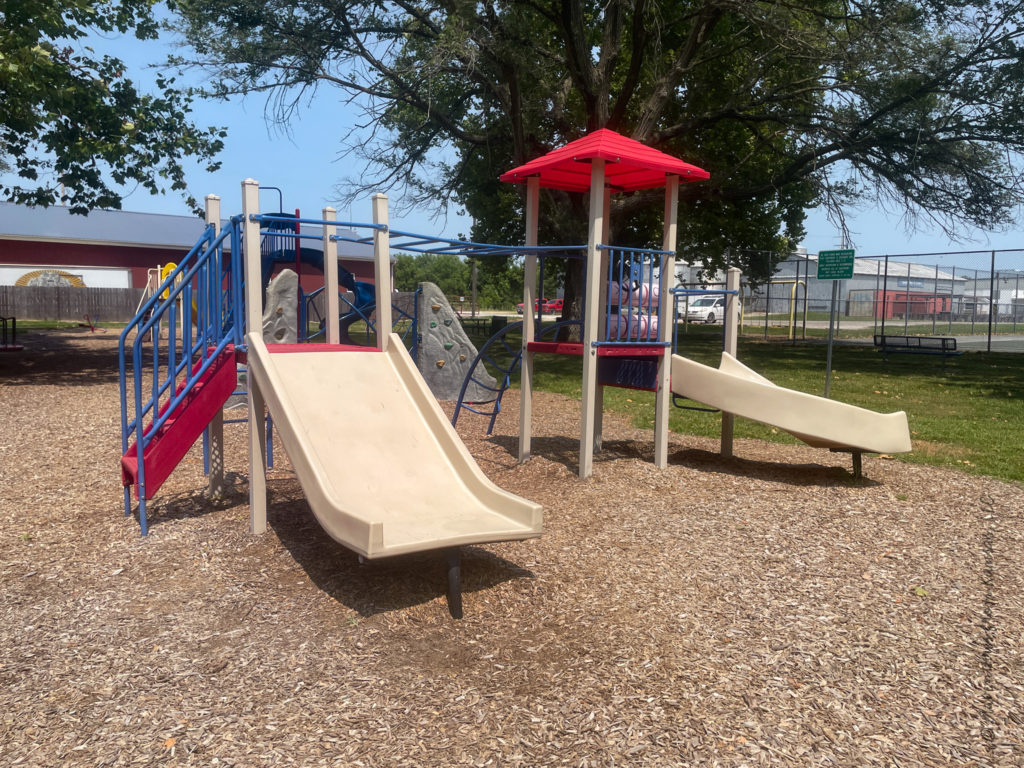 Another playground at this DeSoto park is red and green that features monkey bar rings that go in a circle that you can get on by a ladder or the platform. There are also swing rings to use on this playground. Ways to get on this playground is a curved ladder, swirly fireman steps, and ladders. This playset has a tunnel and a straight slide connected by a tunnel. This playset is specially made more for the older kid set.
Miller Park also has some freestanding structures like a merry go around, a single slide, and a double twisty slide, and a hanging twisty toy. There is also a mini rock wall connected by a twisty ladder. There is also a standing twisty and item to roll with your feet, a school bus play structure, a climbing bubble, and a sandbox. The sandbox has two digging toys and a dinosaur. There are also two sets of swings with traditional swings and two infant swings.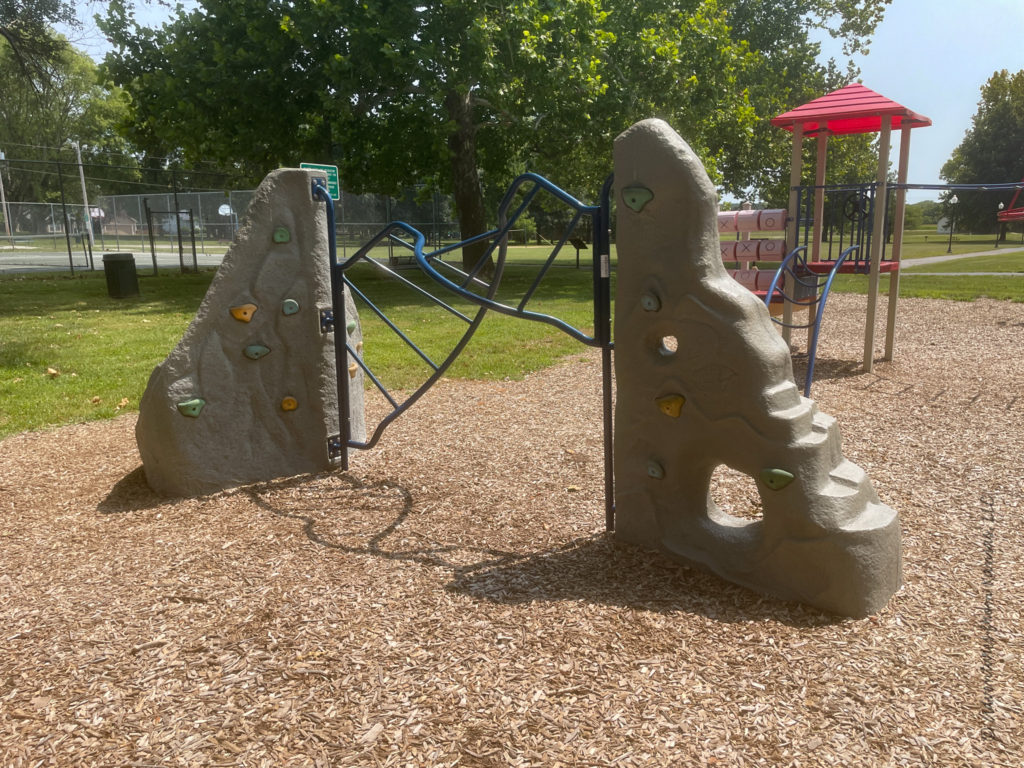 Riverfest Park
This park is located on the Kansas River off of 79th Street in DeSoto. There are restrooms at this park, a walking trail, picnic tables, green space, and a playground. Riverfest playground is a large web to climb so you can go down the slide. They also have four traditional swings. There is access to the river to go fishing if you desire.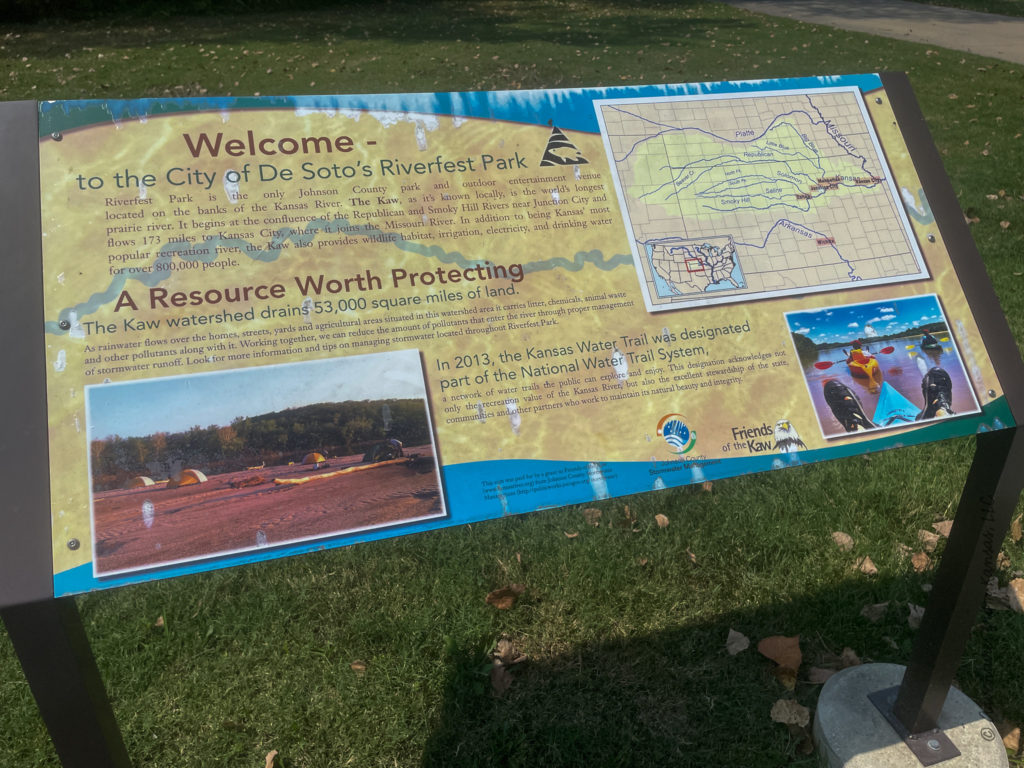 DeSoto Parks also has Wilderness Park located off Evening Star Road. This park is a shotgun shooting range, camping, and hiking. This park was not open, I believe it's open based on permits. Another park part of the parks and rec is Sunflower Ball Fields. They are located off 103rd and feature baseball fields, picnic tables, walking trails, and restrooms.
There are other parks located in DeSoto part of the Johnson Country Parks including Lexington Lake and Sunflower Nature.
JoCoParks located in DeSoto Parks
Lexington Lake Park is located off Sunflower Road. This park is 465 acres featuring a 27-acre lake and walking trails. This park has a boat ramp and a nice dock for you to get to the lake. Also features a shelter with picnic tables and grills. There are also restrooms and a water fountain. The playground is featured at this park that has a large web and a walk-up bridge to get to the slide.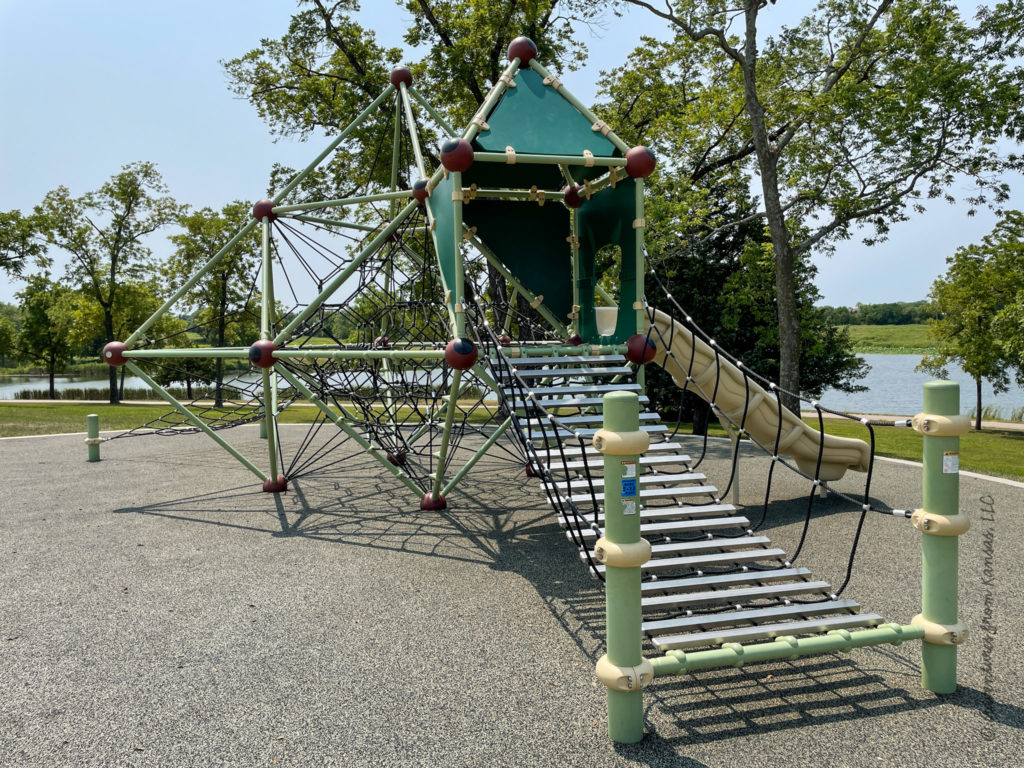 Sunflower Nature is located off 103rd and Edgerton Road. This park features a grill, shelter with tables so you can enjoy the trails. DeSoto's Sunflower Ball Fields are located at the end of the park and connected by trails.
Kill Creek Streamway is the third park. It is operated inside of DeSoto which features rails, a porta-potty, and an off-leash dog park.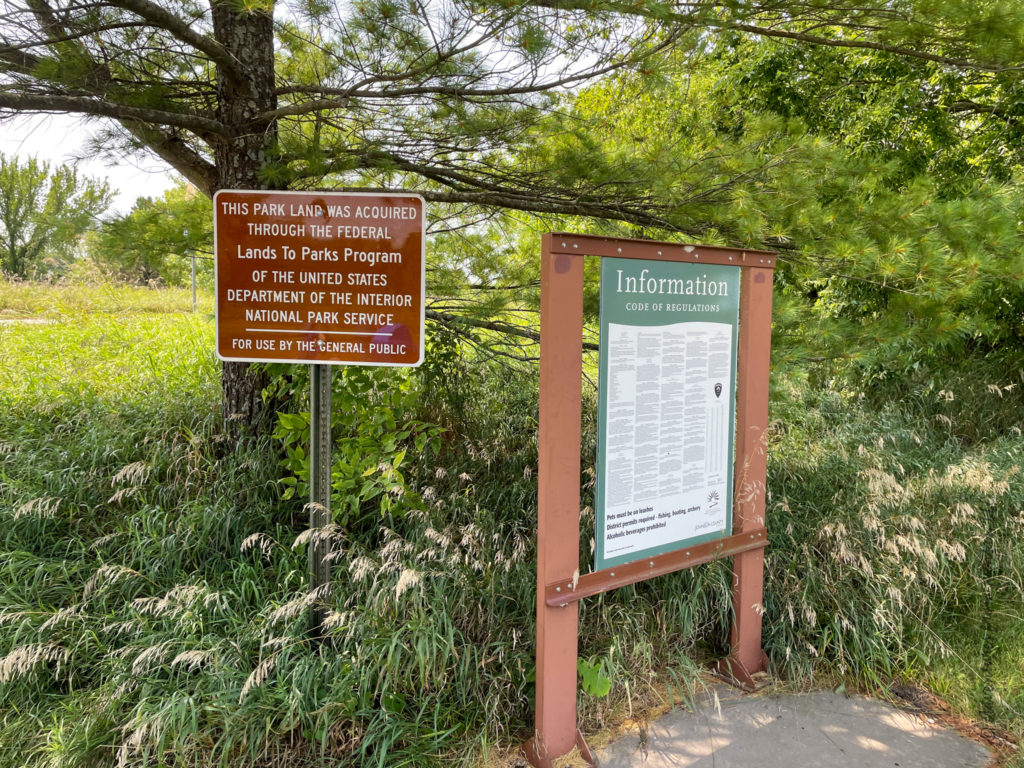 DeSoto has several parks to have fun in. But if you want to visit other parks in the Johnson Country area, check out the other parks we have talked about.