Is the Big Boy UP 4014 coming near you on the 2021 tour? The Union Pacific 4014, better known as UP 4014, or the Big Boy is taking another tour. This magnificent steam locomotive is part of the Heritage Fleet of Union Pacific. Union Pacific has taken great pride in preserving some of our past with these machines.
Big Boy Facts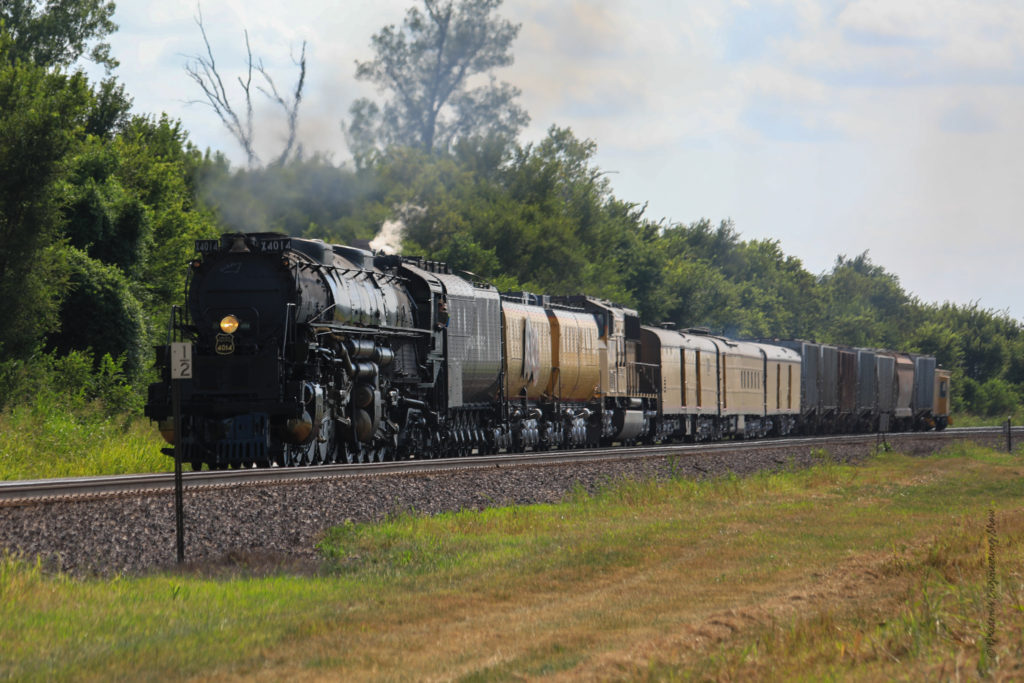 The Big Boy steam engines were one of the largest steam locomotives ever built during World War II. These were some of the most modern powerful steam locomotives working in the world. Union Pacific built 25 with the first being completed in 1941. These locomotives are 132 feet long and weigh 1.2 million pounds.  Big Boys are so large that they have a special wheel configuration of 4-8-8-4 so they can get around curves. As other technology starting emerging, the steam locomotives started being retired. Years later, Union Pacific brought back to life No. 844 and No. 4014.
Specifically, Big Boy 4014 was delivered December 1941 and retired in December 1961. It traveled over 1,030,000 miles in 20 years. This machine was given to the RailGiants Museum in Pomona, California. In 2013, Union Pacific requested it back. They restored and return it to service in May 2019 for the 150th Anniversary of the Transcontinental Railroad. YouTube video Union Pacific did on bring the Big Boy back to life.
Interesting Facts About Big Boy 4014
14 wheels are used to move the Big Boy along the tracks.
It has a water capacity of 25,000 gallons.
Though it now uses oil, it originally carried 56,000 pounds of coal!
The diameter of the drive wheel alone is 68 inches.
The Big Boy has a 132 foot, 9 7/8 inch wheel base for engine and tender
Staying Safe while Watching the Big Boy
Don't forget to stand back at least 25 feet from all railroad tracks. Trains do hang over the rails, so make sure to give yourself that 25 feet or more of space to stay safe.
Railroad tracks are private property so remember not to trespass. And, not to mention that the land they travel through could also be private property so please be respectful and do not trespass on other people's land.
This one should go without saying, but make sure you do NOT walk on the tracks! Always assume all tracks are active and stay clear of them.
Hearing protection is recommended when observing trains from this distance. Whether diesel or steam, all trains are very loud up close especially when that whistle goes off!
Remember to cross only at designated crossings where streets and tracks meet and make sure there are warning signs or signals. When crossing, always look both ways when approaching the crossing and stop for trains! Remember, signals are great but they have been known to fail. So always check with your own eyes and remember trains take a LONG time to stop. So, remember to stop for them, don't expect them to stop for you.
Do not use a drone.
Make your experience more enjoyable with research
Check the schedule Big Boy UP 4014 Train Schedule 2021 
Realize the differences between ON DISPLAY and VIEWING ONLY. There is also a Passenger Excursion where you can have a special ride ticketed event, and a No Public Access event where you can't see the train as it is for safety or security reasons.
On Display has access to the museum 'Experience the Union Pacific Rail Car' and a special Big Boy merchandise tent. No ticket is needed.
Viewing Only is typically behind a fence or other perimeter no close access and no museum car or merchandise being sold.
Seeing the Big Boy up close is only half the fun. The other half is actually watching it go under its own power. This means finding train tracks to watch it drive by. Using the Steam Locomotive Tracking Map, you can find the path in which track the train will be on and other cities it will be traveling by. Using the tracking map and Google Maps, you can study the path to find a safe and public location to stand and watch this beautiful engine go by. Don't forget to wave at the engineer and conductor too!
What To Bring With You
Have sunglasses, a hat, and water.
Take an umbrella, whether for rain or sun protection.
Study a map so you can find your way around.
Get there early. Good viewing areas fill up fast so get to your spot!
Have littles bring a snack or busy bags to play with.
A chair or a nice blanket to sit on can be a great thing to have.
Have your camera ready!
Make sure your gas tank is full in case you want to explore the countryside or you decide to follow the train further!
Going to a Viewing or Display?
Make sure you get there early. These events fill up fast and you don't want to be stuck in the back wishing you got an earlier start to get up front! Make sure you have some cash on you as many parking lots might charge and cards are not always accepted. The "Experience the Union Pacific Rail Car" is a walk through exhibit. It uses timeline history with sound, images, and interaction of how Union Pacific was built. It's such an interesting experience!
Overall this is an amazing experience to see a piece of history! Love trains, check out this list of donated engines to see across the country.
Take a look at our other day trips in the area!