Flat Rock Creek Park is located in Lenexa, Kansas off 103rd Street between Pflumm Road and Quivira. Flat Rock Creek Park is unique in that it sits at a site where the Santa Fe Trail crosses Rock Creek and use to be a campground for early travelers.
Park Features
This park has a creek that you need to cross to get to the playground and trails from the parking lot. This park also has a pool with a diving board, rock wall, and lap lanes. There are also tennis/pickleball courts. There is a bench and picnic table at the playground and some benches around the tennis court.
Flat Rock Creek Park Playground Features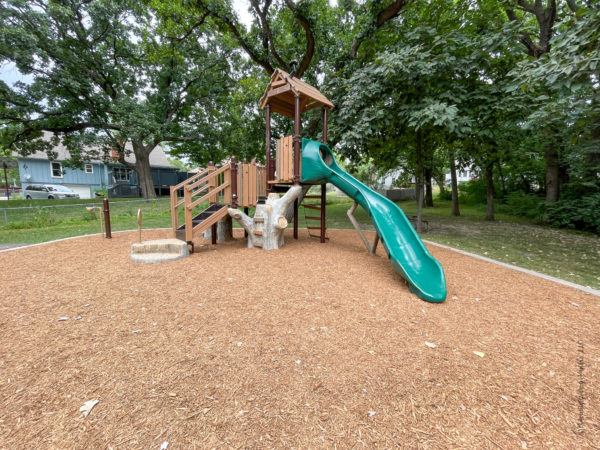 This park playground is so adorably themed. The playground has an awesome treehouse theme to it. Using the 'tree log' to climb the stairs to get to the platform is one way up, the other way up is using 'tree stumps' or the ladder. Once at the platform, you can choose to go down the fireman's pole or the longer curved slide. There are also two infant swings and two traditional swings to play on also.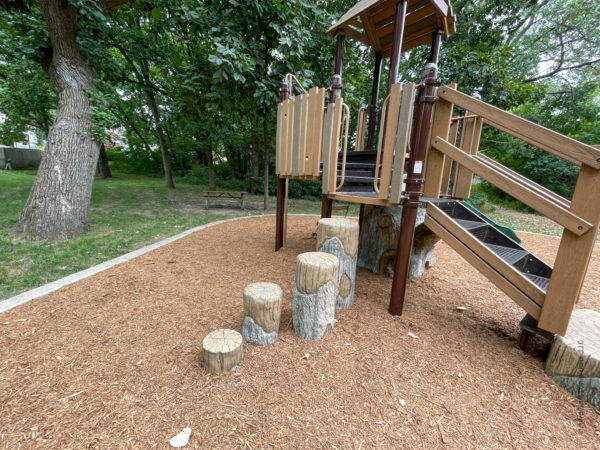 Overall, I love the theme of this playground. It's not easy to find the playground, as you have to take the trailhead from the pool parking lot and down and over the bridge. It's a nice area, but it is also more of a neighborhood park as there are no restrooms.
Check out some other Lenexa Parks or visit some other surrounding area parks.