Great Wolf Lodge is a place that's always been so close to us. But yet it is also a place we either could never afford to go to, or I was always working and we could never go as a family. Thankfully, we got our chance as they were doing a homeschool event at the one nearest to us in the Kansas City area. This event comes with special pricing and promotions for homeschooling families. The stars aligned and we finally had our chance to go to the place that has always been so close but felt so far away. We had a relatively short 24 hour stay but had loads of fun nonetheless.
More Than Just a Hotel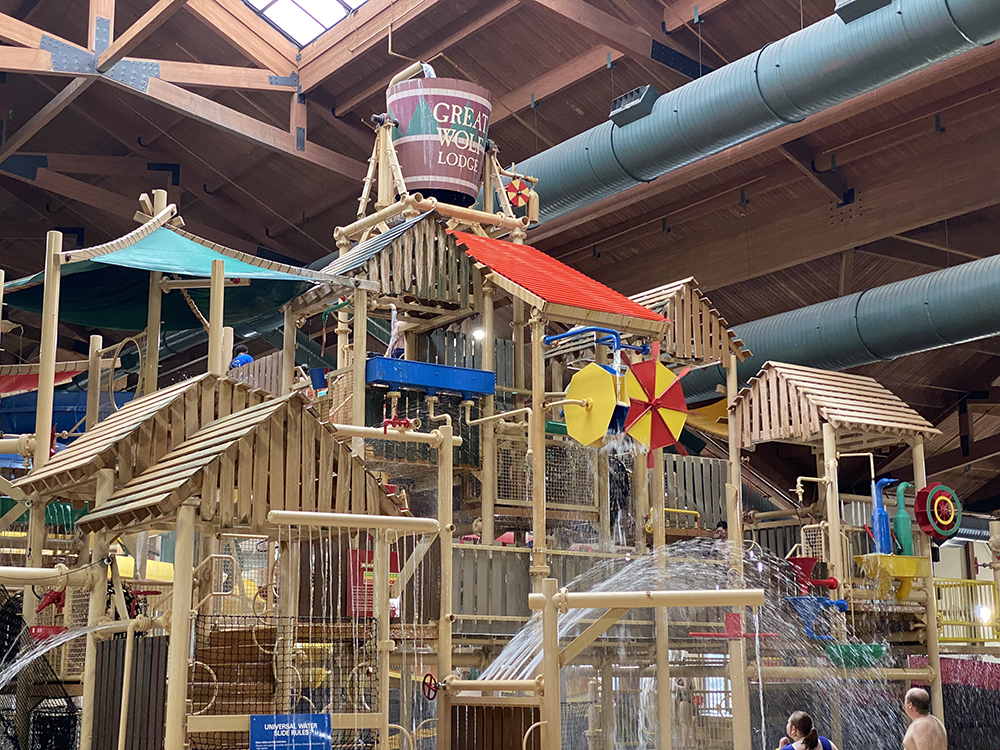 For those of you who don't know, Great Wolf Lodge is not just a cool looking hotel. There's so much more to this place. It's basically like its own resort…more or less…all under one roof. There's a huge variety of places to check out around it but if you're just going to enjoy the lodge itself. There's really no need to leave the property. From the uniquely themed rooms to the restaurants and…yes of course…the indoor waterpark and more, this place has it all. We arrived at the hotel and checked in shortly after noon. After checking in, we had plenty of time to explore before spending the day at the waterpark.
The main lobby is a large open space that works perfectly for the children's events that they host there. Stay tuned, I'll get into those. Check in was a breeze since we had everything already prepaid for. All in all it probably took less than five minutes to fully check in if you don't count waiting in line. Nowadays, most requests and questions are done via their virtual assistant which works wonderfully with your cell phone. You just text any questions or reservations and it basically sends it as a mass message to the front desk staff. Whoever is available will take care of you.
The room "key" is also one thing I really liked as it is a wristband that doubles as your payment and access to the waterpark. One thing that I was worried about in the past was forgetting my key card in another pocket and being locked out of my room. Well as long as I kept the wrist band on, I didn't have to worry about that.
Our Room Awaits
There are different types of rooms available that are meant to hold a varying number of guests. We opted for the Kid Cabin Suite because we wanted something that had a spot where the kids had their own little cabin type room. They absolutely loved it. The kids cabin area has three has a twin bunk bed and a separate twin bed. They also have their own TV which they thought was the coolest. Also, the walls were made to look like a log cabin. They are complete with paintings on the walls and windows looking out at the living room. They thought it was the amazing and were so excited to have their own "hideaway."
The main area has the usual queen bed and sleeper sofa. You can still gather there in front of the fireplace before bedtime and have more than enough room to stretch out. It has a nice little bar area with a mini fridge, microwave, coffee maker, and a small sink. Great for what we needed.
While I loved most everything about this room, I think my only complaint about it is the TV in the main living room was really on the small side. I get that it was a design decision because it was recessed above the fireplace. But for a room this size it really should be larger. Small complaint as we spent very little time in our room.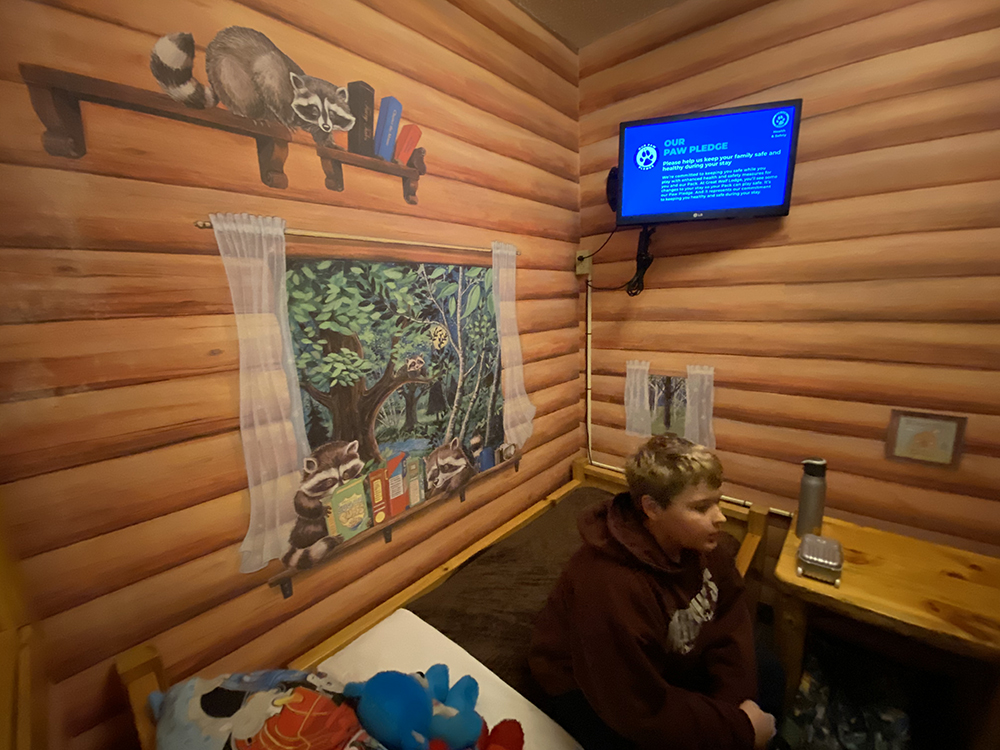 Time For Some Waterpark Fun
Alright, time for the main event…the waterpark! It always surprises me how an entire waterpark or theme park can fit inside four walls and a roof. And they definitely do a great job here. The main attraction as you enter is Fort Mackenzie, a giant fort/treehouse/playhouse full of water soaked fun. The great thing about this area is that the water is not more than six inches deep wherever you go. Yes there is a splash pad for little kids, yes there is a full pool to swim and relax and fave fun in.
I really liked that I wasn't constantly wading through this area. I could get absolutely drenched and still have the freedom to walk around. The water slides attached are relatively fast for a kids area but not too intense, there were a number of kids 4 years and older going down these slides. And a number of adults too. It was a blast.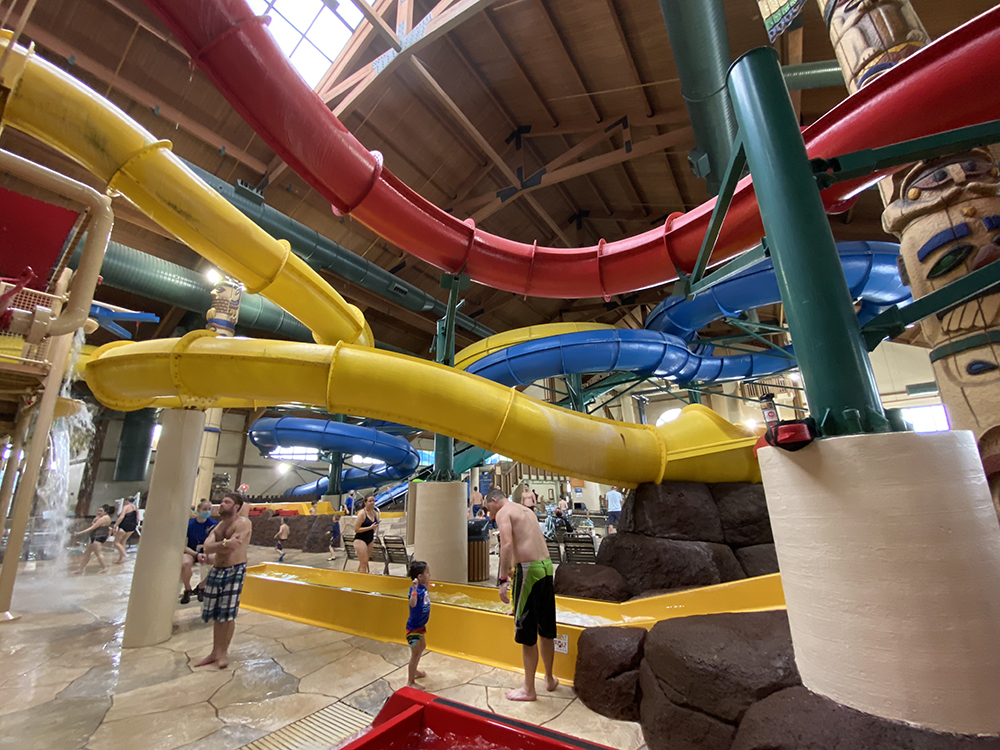 There is a nice little lazy river to float and relax in. There's not much to it unfortunately. I enjoyed it but would have lied to see some little waterfalls or fountains or something like that but it was still fun nonetheless. The kids splash pad has a couple of small slides for the little ones to go down and a decent sized play area with some built in water activities. Big Foot Pass is the one full sized pool area. It has water activities like a lily pads to walk across while holding a rope…it's harder than it seems. There are basketball goals and a nice open area to swim. And for a nice area to unwind, check out the two hot tub areas.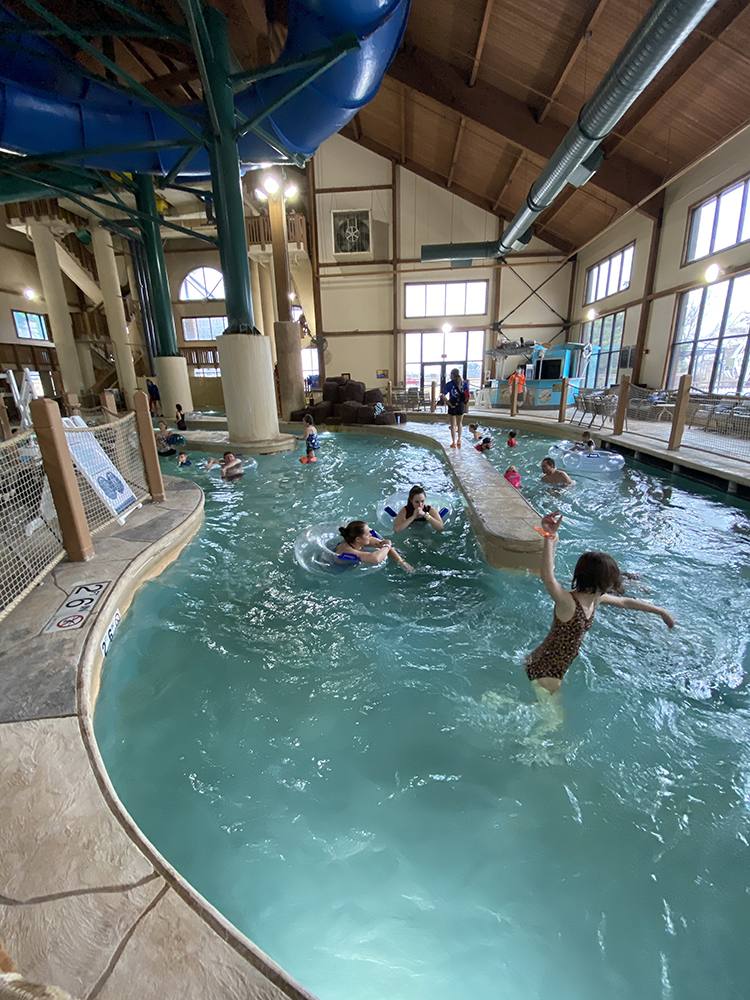 I think where the kids and I spent the most time was going down the three main thrill slides. All three are meant to be ridden alone or with another person. The most unique by far is the triple twist slide. A favorite of both kids and myself, it was really a fun ride all the way to the bottom. It's not overly fast but that's not the aim on this slide. If you're looking for speed, the other two slides are great ones to try.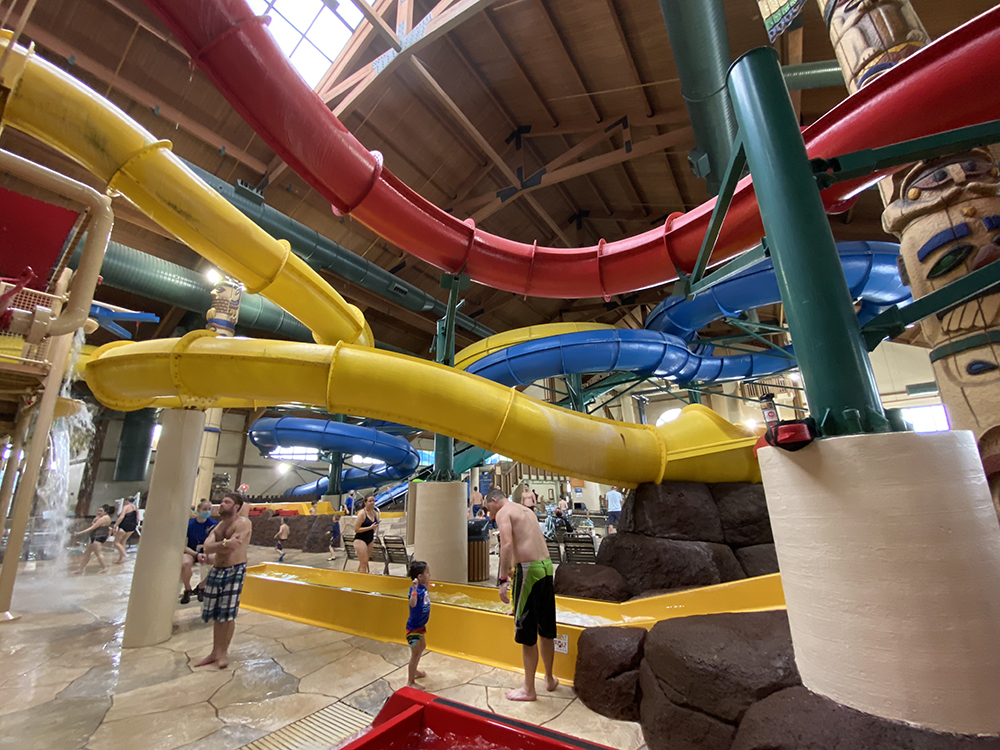 While all of them are tube slides, there's no worries about having to lug those cumbersome one or two person inner tubes all the way to the top. This park actually has its own conveyor that transports the tubes up to the top for you. If this feature was at all waterpark that would be awesome. As a parent who would be the one to carry the tube up each and every time, I think that's something that just about any parent would love.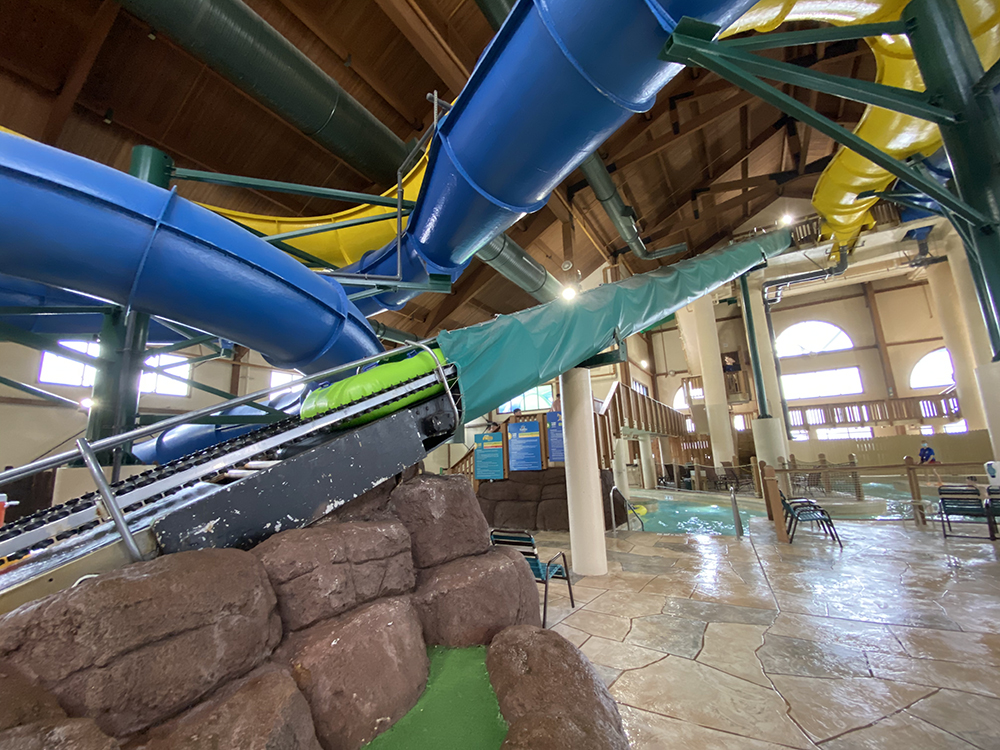 What Else Is There To Do?
There are quite a few other things here from restaurants to activities. You might be asking well what happens when my kids get bored at the waterpark? Where do I go next? They have daily activities from an opening show in the main lobby to pictures with the Great Wolf mascots to dance times in the lobby. It's a great change for the day to take the kids and let them dance their hearts out. Also a great way to talk to other kids and maybe make some new friends.
They also have an activity that involves a magic wand and walking throughout the lobby and hallways exploring treasure chests and pictures that the wand itself will unlock. We didn't do this but it was great fun for all of the other families that I saw doing it. It was like going on a scavenger hunt and finding all the little treasures along the way!
As this was more of a short stay for us and we knew where we could go around the area for food (because believe me, there's a lot), we decided to get food and bring it back to the hotel room. The restaurant in the hotel looked awesome but we decided not to go on this trip. Oh and did I mention the Build A Bear shop? They have their own little store just outside the waterpark. Quite a nice selection for a tiny little area.
There are a number of gift shops and candy shops, as well as a coffee shop. We checked out all of them and they have a great selection and some great souvenirs. The arcade is a great spot. While there isn't a whole lot in terms of games, it does provide a nice area if anyone wants to dry off for a little bit. I rarely saw it crowded which is a plus for me.
So, What Did We Think?
We can't wait to come back for another stay. The kids had a blast, we got to spend some quality time together and that was a wonderful thing. From the waterpark to the dances and seeing the smiles on their faces and seeing our own smiles, this is a place we would love to stay at again. Check them out and book your stay! Have you been? Comment back with your favorite part!
Don't forget to take a look at all of our other great travel ideas from wonderful spots in town to our adventures throughout the country!