Easy to add Kitchen Placemats for St. Patrick's Day
Are you looking to add a little luck or green magic to your kitchen for St Patrick's Day. A quick and easy way to add some cheer to your kitchen table this year is adding and using St. Patrick's placemats. Last year after getting tired of the same ol, we wanted to brighten up and get excited for something we can control. Along came the idea to add placemats. Placemats are something that can be quick and easy to just add that touch of warmth to your kitchen table.
**Disclaimer – Some of the links are affiliate which means we might get paid a small amount, but it doesn't cost you anything extra.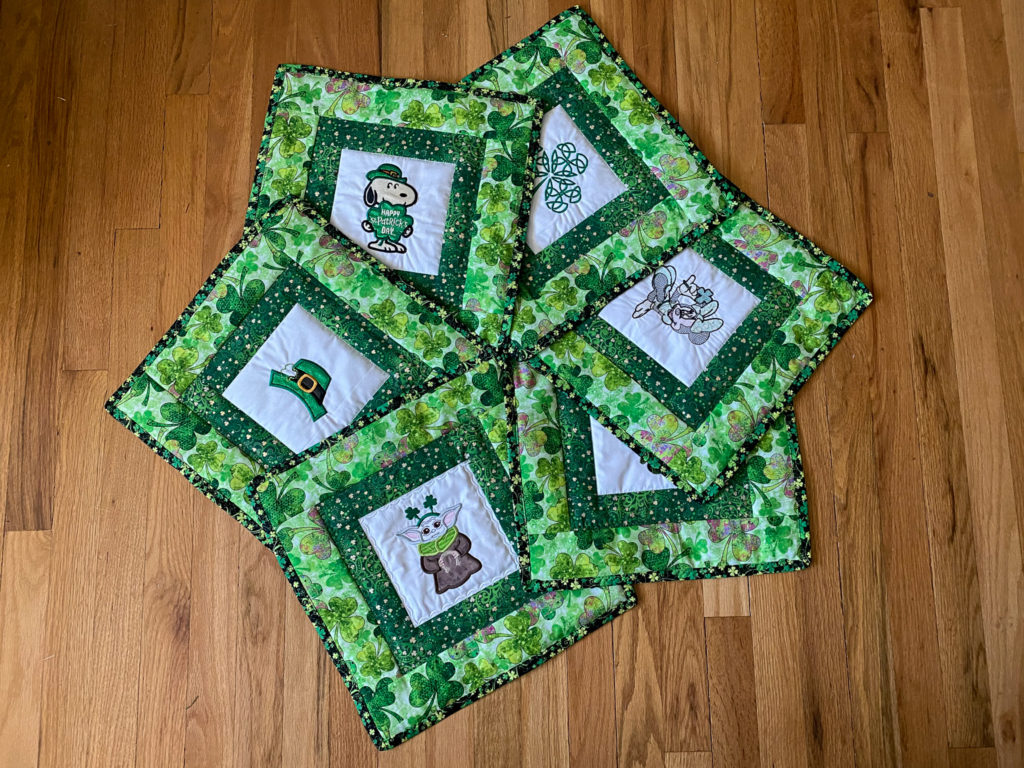 St. Patrick's Day Placemats
Our family decided that placemats are a lot of fun, you can switch them around, or you can make one specific for each family member. Adds color to your St. Patrick's Day table. Choosing to use embroidery and appliqué we sewed these up with our Brother Stellaire using Robison-Anton thread. Using plain white muslin fabric for the center with no sew mesh stabilizer. Choosing shamrock fabric and 2.5 inch strips to make binding. We choose six different designs for St. Patrick's Day Placemats. So, next add some fun to your table this March, below I have added the designs we use and some other favorites as well.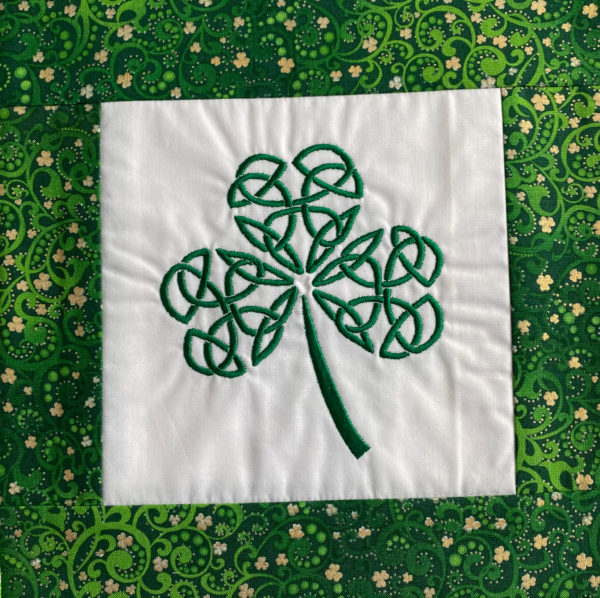 Embroidery and Applique Designs
This one is great for any little girl or lover of the mouse –  magical mouse holding a shamrock.
Who doesn't love this little guy dressed up for St. Patrick's Day holding a shamrock . They also have one of this little Snoopy with a horseshoe.
Leprechaun Hat – I didn't realize this shopped close so here is something similar, its great for adding monograms if you want to personalize it even further.
Looking for the magical mouse for your little boy or guy in your life look at this Leprechaun Shamrock mouse. This isn't the exact one I have used but I have used Thanks4TheAdventure before and love her designs.
Other Adorable Embroidery and Appliqué Designs
Here are some other St. Patrick's designs that would work great for placemats, that are just adorable and I might just need to add a few of these to my collection.
Dogs holding shamrocks like clean laundry on the line is great for any dog lover and the labs or just so sweet.
I had to show you a cute train design or otherwise this wouldn't be Adventures from Kansas. This train isn't just pulling some shamrocks it's little steam puffs or shamrocks too, which makes this one more unique.
Rainbows, clovers, and pot of gold all the things that make you think of St. Patrick's Day. Get them all with this design, what a great sketch stitch to save you time and make it easier on the knits too. Looking for something a little different this includes all those items with a little appliqué to go with the embroidery.
We all love magic around here so what would it be if I didn't include a unicorn with some St. Paddy's Day shamrock on her cheek.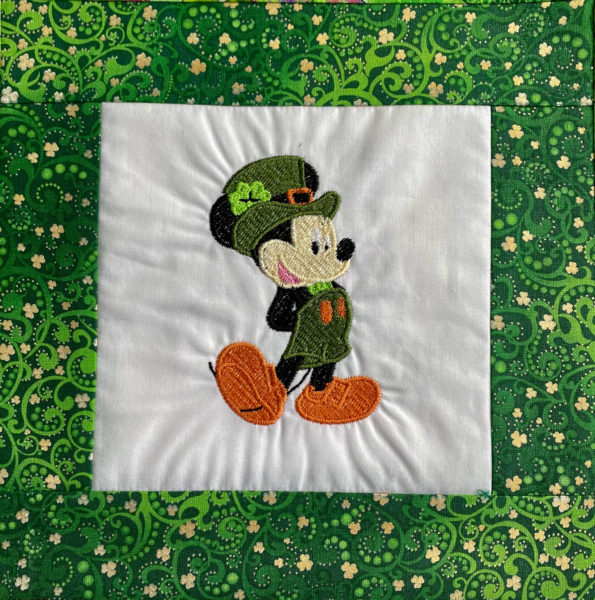 All in all these designs are great for more than placemats, work great on shirts, table runners, and any thing that will fit under your machine. Share with us the designs you choose on social by tagging us #adventuresfromkansas .