Updated Post: September 28, 2021
Originally Published: August 12, 2016
Roe Park is located at 104th and Roe Ave, in Overland Park, Kansas. This park is a large community park at 40 acres with many fun things to choose from. There are spray grounds, playgrounds, sports fields, and so much more.
Park Features
Roe Park has many features including a trail with workout equipment around the track. There are also lighted tennis courts, soccer and baseball fields, which also means lots of green space to also play or fly a kite in. This park also includes bathrooms and a water fountain. This park on Roe also features several shelters, one with a grill, swings, and playgrounds.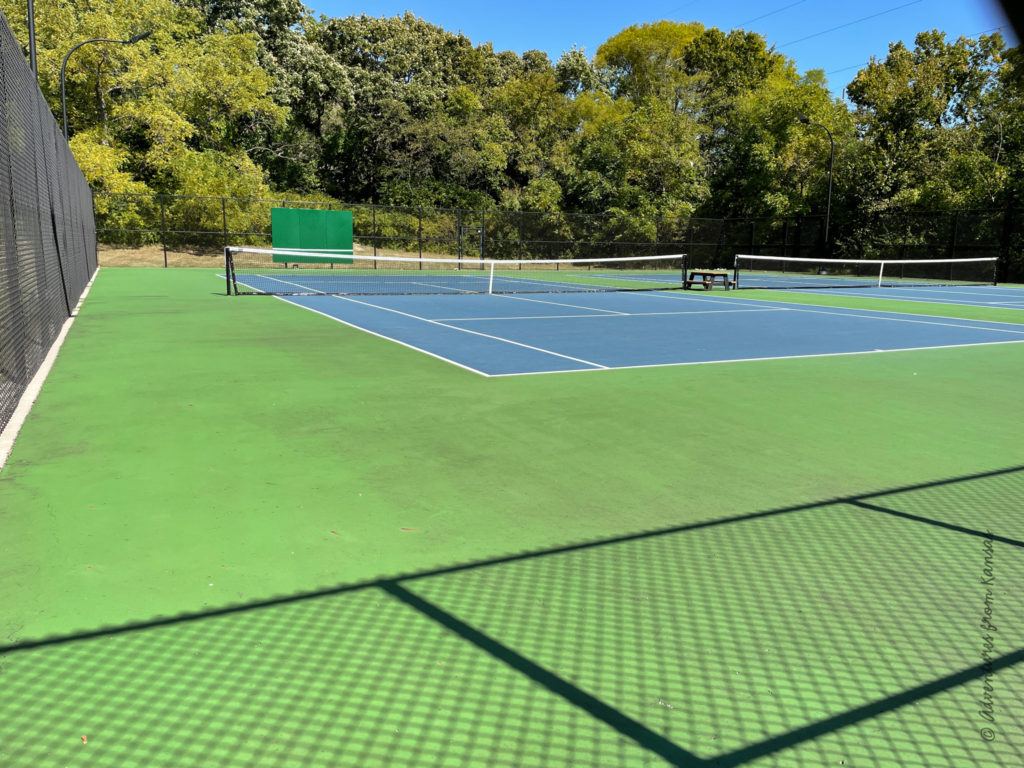 The bathrooms are located close to the larger playground and right off the path. They have water fountains, and a picnic table right nearby making it a nice stop on your bike or walking trail.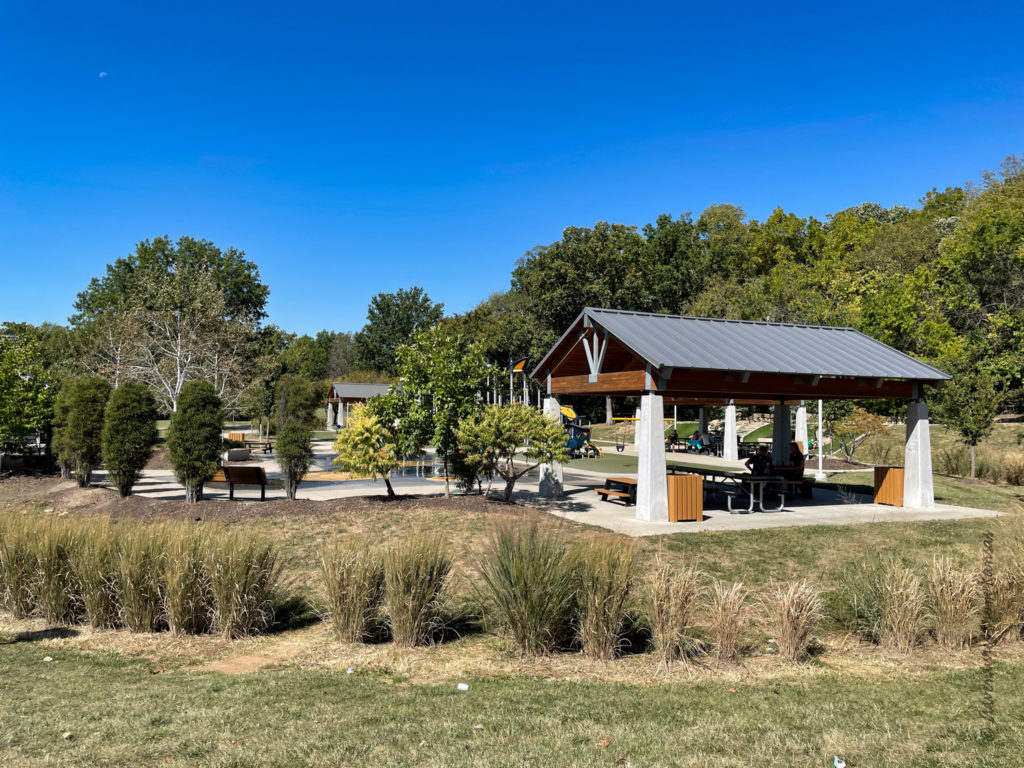 Sprayground at Roe Park
The spray ground at this park features a foot-operated turn-on disk so that it's not continuously on. It has two tall misters, two fountain style, and then a few straight up out of the ground water sprays. They have the water near one of the shelters and an infant-toddler playground. There are also benches around the area to sit and watch your kids play and a round picnic table.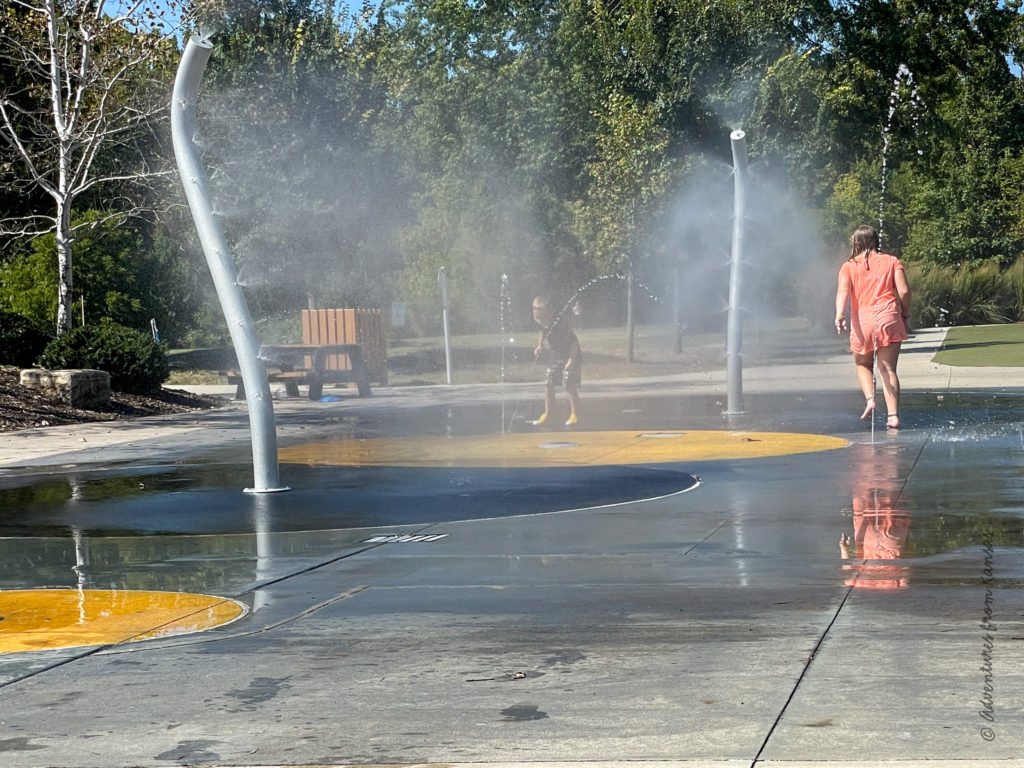 Playground Features
There are two playgrounds. One is located with the largest shelter at this park that also has a grill, but furthest from the water and bathrooms. There are several picnic tables, green spaces, and trees to climb.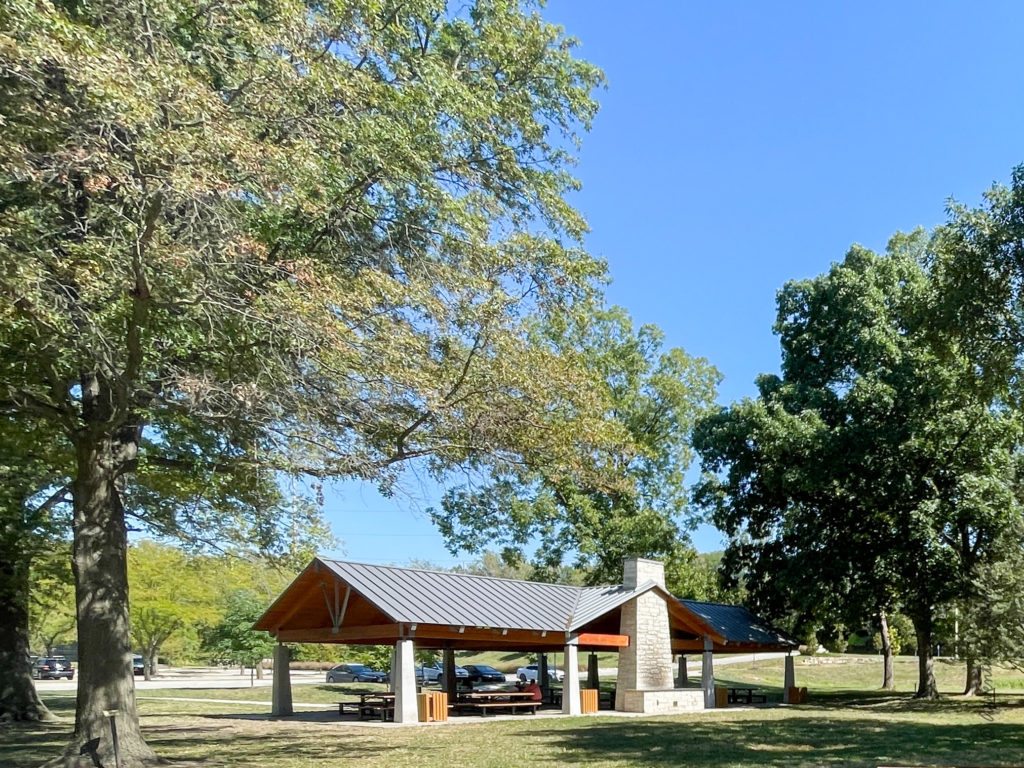 This playground is older than the other one. It features stairs to climb up to the wall across a solid bridge to a twisty slide, tunnel slide, or the double straight slide. There is also a curved ladder, ring ladder, and swirl fireman ladder pole to also get onto this playground. This playground also has a tic tac toe spinners.
There are also ring monkey bars and spring dolphin and seahorse between the larger and smaller playgrounds. A traditional and infant swing is at this playground as well. A smaller playground is also there for smaller kids that features steps to go up climb thru a tunnel to the tunnel slide. There are a few other ways up to the playground including loop ladder and swirl pole ladder. There is also just a place to hang from or do pull ups on this playground. A few benches also are placed around this playground.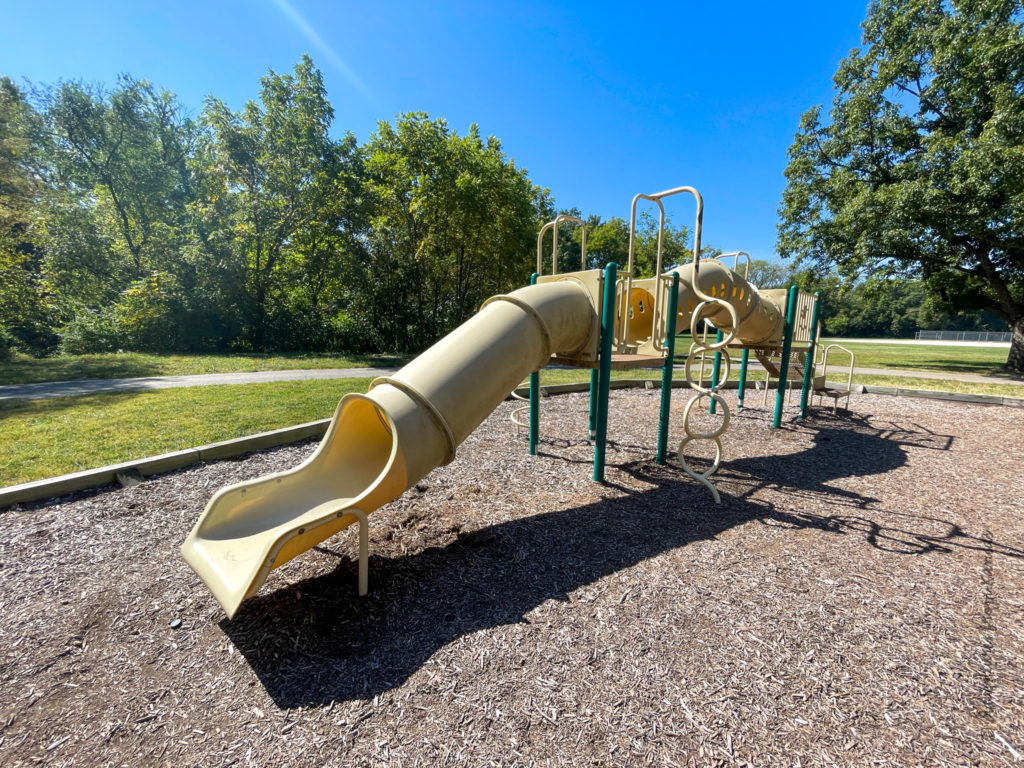 Larger Playground with sprayground has 3 shelters with picnic tables. This playground is broken up into three parks: large, nature, and small playgrounds.
The larger playground features a sitting marry-go-around, two traditional swings, surfboard swing, and a round swing. This playground has on the seriously long straight slide and if your wet you will go a-flying. There is also a smaller slide off the lower platform. The stairs will take you to the first but you will have to climb a ladder to get to the larger slide. You can also get to the platform by spider monkey web, web ladder, or curved ladder and traditional ladder. You can also use the spider webs to get to a double straight slide. This playground also features a large spider web to climb and play on and a spinner of sorts, lillypad bounce, and rainbow spiderweb to play with.
The nature playground features rocks, logs, and a bridge. What I don't understand with this natural playground is they took out some of the grass and added astroturf. I think that defeated the purpose of natural. There are some large bolders, a little hut built into the hill, rock stairs, logs and boulders to climb on.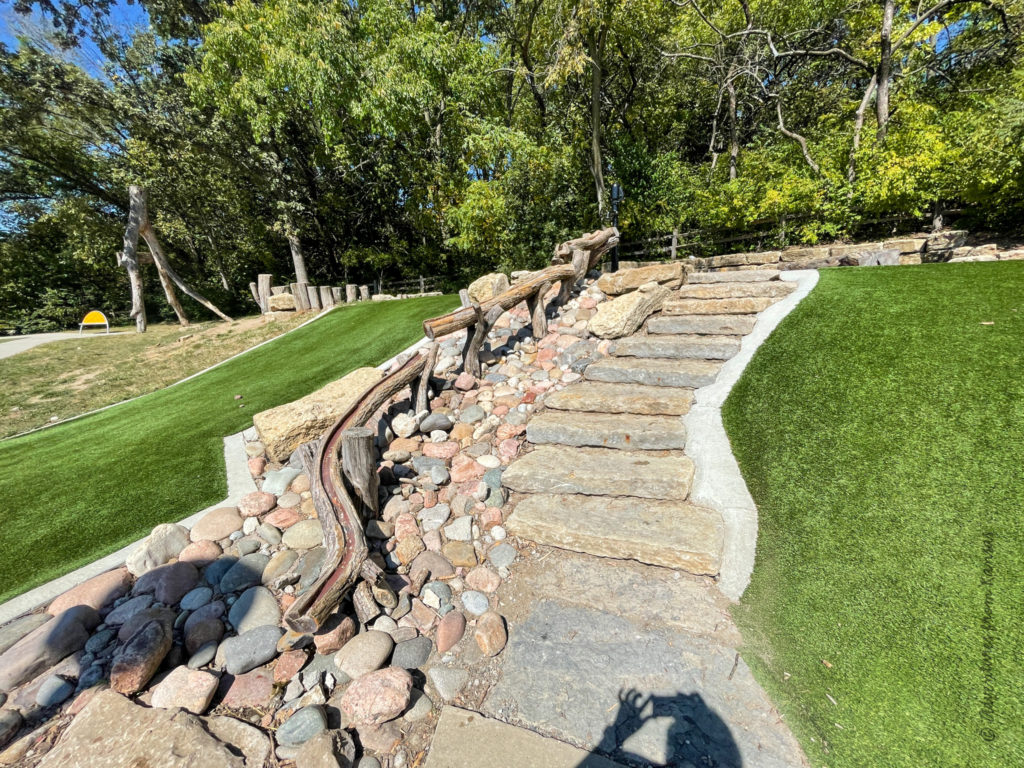 The smaller playground features tunnel to climb up on to the platform to get to the slide, rock like ladder, steps, and chain ladder all for the curved slide. There is also a little table feature attached and two infant swings on this piece of the park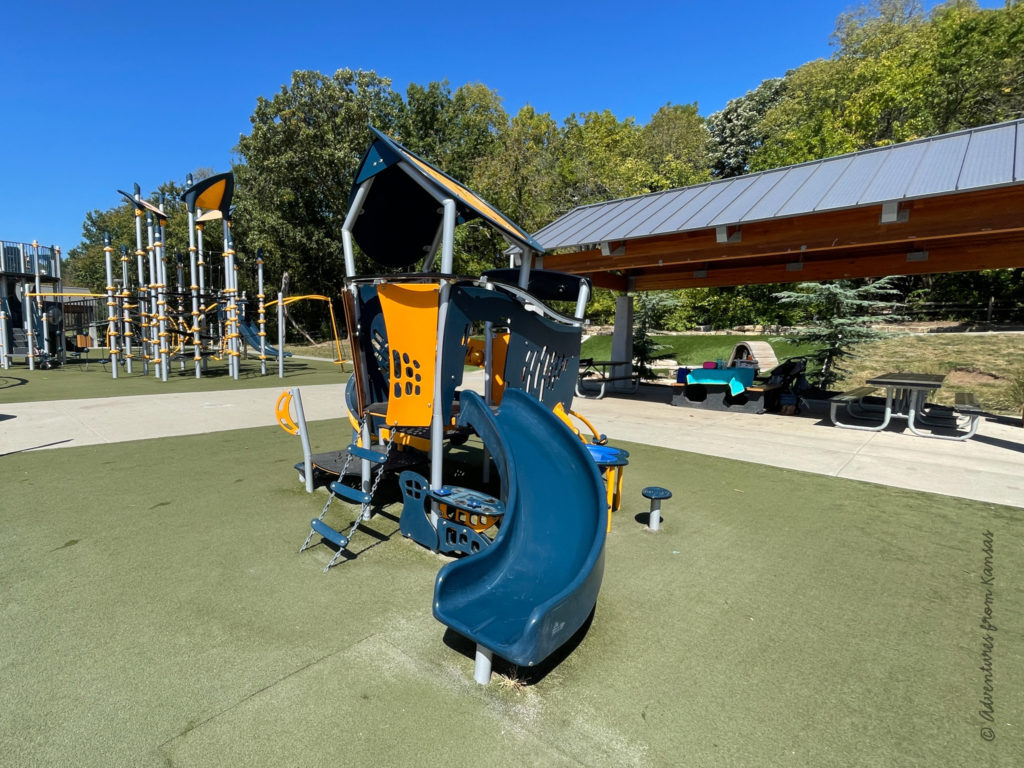 Overall, I am still excited that Overland Park not only got this spray-ground but also has a few others, but this is one of the largest ones. Nice park, restrooms, plenty areas to sit, and fun to play on even in the middle of fall when the weather is nice. Check this one out with or without the spray ground it is plenty of fun.
Don't forget to check out the other parks in the area!