Pixar Themed Baby Shower 
My sister is having a baby! Yay! It's also going to be the first boy in our family since my son. Quite a big gap, a little over 11 years. We helped decorate the room in Pixar, I'll be sharing what we did with that in another blog here. Since we both have a love of Disney, I knew a Pixar themed baby shower was a must!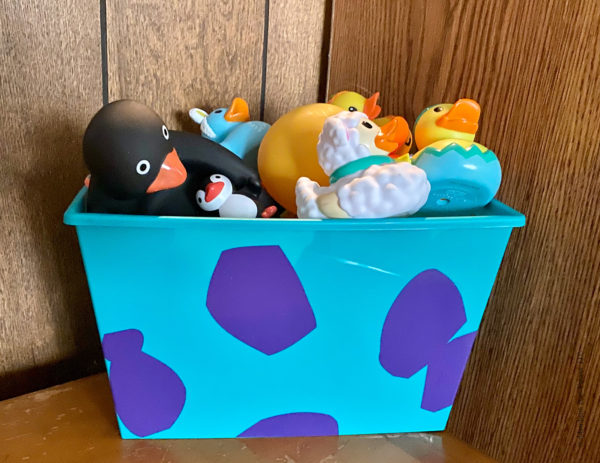 Disclaimer Some of the links in this blog post might earn me a small commission but at no additional cost to you. I only recommend things we also enjoy.  Read the full boring policy here.
Baby Shower Decorations and Centerpieces

Pixar Themed Character Boxes
Decorating for a shower is one of my favorite things. But if I am going to spend hard earned money on it, I want the items to be useable or have a dual purpose. With this shower, knowing the honorary was needing storage and that the baby shower and baby room were the same, I started with storage boxes. Using the boxes you can find at the Dollar Tree, as I had used these myself and they work well. The key is getting the soft plastic rather than the really hard plastic. It helps to stay around and get through kids longer. Using royal blue, lighter blue, teal, and white, these boxes can be used for a decoration. Also great for storage at their house when the party is done and the little one is on his way.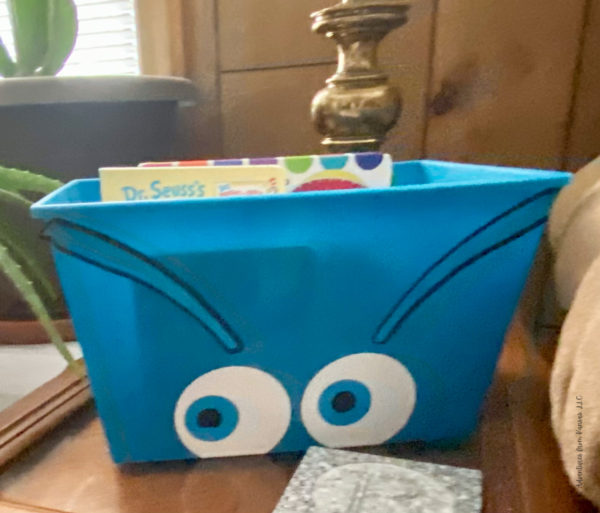 Now, to decide which characters fit these colors best. Obviously, some of these ideas were better than others. While Sadness (Inside Out) is a light blue character, she really wouldn't fit in with the lighthearted fun of a baby shower. So, we decided Flik would be a great choice for a light blue character. As far as white goes, choices were slim, given Pixar's love for everything colorful. Lack of options aside, Eve seemed the perfect fit for the white box. Next up was dark blue. I had plenty of options for those. At the top of the list were Sally, Doc Hudson, and Dory. In the end, Sally ended up winning out. Finally, our last box was a teal color. I'm sure I could have thought of a few different picks but when I thought Pixar and teal, there was only one who came to mind…Sully!
Using Oracle 651 these boxes will last a long time with the designs. Using a cutting machine and the Silhouette Software made the following for each of the characters. For Eve, used the oval and moon shapes to make her eyes. To complete the look of Sully, simply scribbled circles shapes like cow spots, though for one of them I personally made the shape of Mickey Mouse and then edited points to make a hidden Mickey on the box. Sally was next. Using a Etsy file for her face, using grouping and editing to get the simpler pieces to make her windshield and eyeballs. Flick tried to give me my fun for my money, then realizing you only need three circles and two long oval teardrops it works out well. 
To finish off these boxes the Sully was filled with bath toys like rubber ducks and penguins. Sally was filled with Disney Mr. & Mrs. Potato Head pieces. Eve had some bags, pacifiers, medicine, and other neccessitues you need with a new baby. Flik was filled with board books.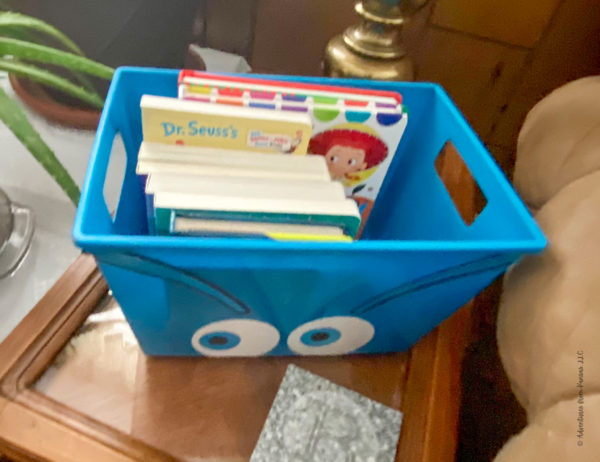 Pixar Ball Diaper Cake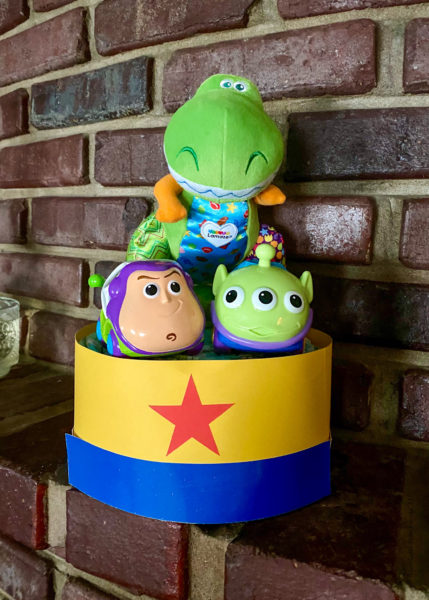 Using diapers rolled up to make a single and double layer diaper cake for another decoration, using rubber bands so the diapers can be unrolled and still used by the parents makes this another useful decoration. After the cake was rubber banded together, you measure the tallnesss to cut the yellow paper. After that I add a one inch stripe of blue paper and using a cutting machine had it cut out a red star to complete the look of the Pixar Ball. Topping the cakes off with Rex Rattle Toy, Buzz & Alian Cars on the the single layer cake to stay with the Pixar theme. The double layer diaper cake had Sully & Mike Cars, Mickey Hand Rattle, and Finding Nemo bath toys. 
Pixar Theme Baby Shower Extra Touches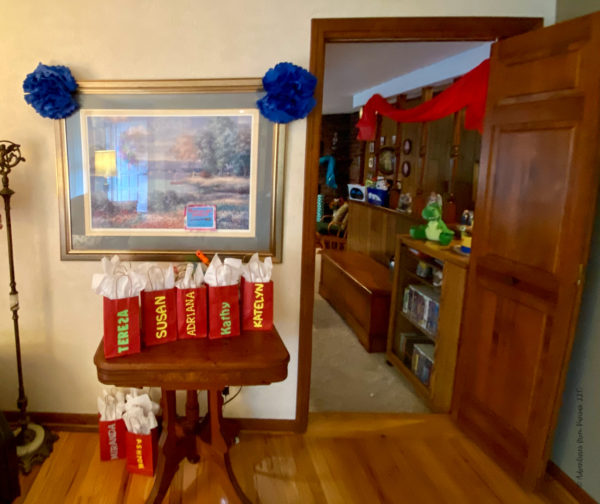 To make bunting, use Dollar Store table cloths and hung them up. It's a cheaper option and has many colors, this worked awesomely. When you are in baby fever and Amazon see you keep buying awesome baby stuff they then recommend the coolest baby set that went perfect as we were serving tacos at the shower, so as you walked under the bunting in the kitchen you had taco and avocado rattle set. The little touch is what always send the decorations over, as Reese says its just a little frosting – How to lose a guy in 10 days."
Using Rex Stuffed Animal and Disney World Buzz Hat to add a few more decorations with fresh flowers.
Disney Pixar Baby Shower Shirts
Looking for mom to be Toy Story shirt and not finding what I wanted landing on the idea to do the alien coming out of the tummy using an oval, editing points to make it not completly rounded, trimming up the alien file I had to fit and then added words. There is now an file available that makes its so much easier.
The Grandma shirt is a Minnie Mouse file I have owned forever, I  and I added the words using Disney Print and Waltography for the fonts. This its very similar to my grandma mouse file, you could create the dots if you wanted to. I use the iridescent red for the glasses and bow, black and white for the rest. 
The cousin shirts were a play on words because I couldn't find anything we liked. I just traced and used silhouettes of the characters. The fonts were Edmund and Digs My Heart.  I had a scribble circle, and using my subtract key I was able to come up with this circle with things in the middle. Most of them were changed slightly as they got smaller or you wouldn't have seen the characters well enough. I cut them out by colored lines to save vinyl and then placed the individual cutouts on the shirt. I did learn that with the colored lines it doesn't ask you if you need to mirror the file. So if you're doing it this way, make sure you mirror the file. Looking for something similar but simpler, here is a similar file and you could take the world friend out to change to cousin.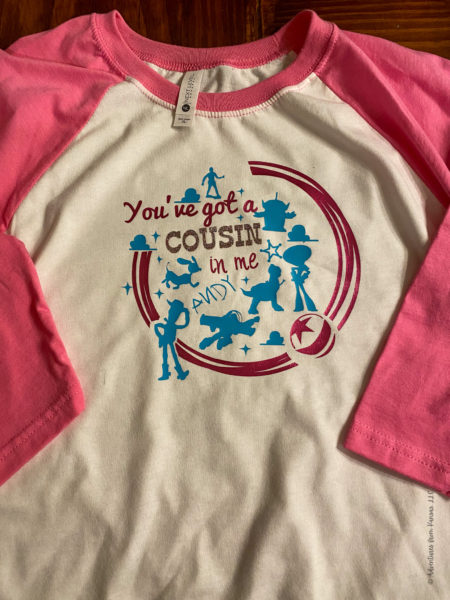 Used Siser Easy Weed HTV. I also used my Brother Scan N Cut, Silhouette Cameo 1, Weed N Hook, transfer tape, and glitter HTV.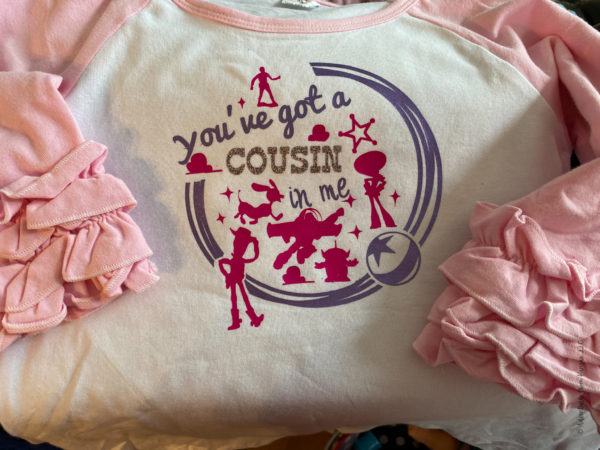 Boy Baby Shower Theme Invitations
Disclaimer he's also my husband the designer over at Ohana Media and Design did the invitations and the games for me. 
Pixar Baby Shower Games
We played Match the Parents, The Price is Right, and Disney/Pixar Jeopardy. Since the mom of honor loves theme shows I thought this was a fun way to incorporate this. The Price is Right was easy after printing the cards. I went to Target, found the items I wanted, cut out tags put the dollar sign on one side and the price I paid on the other. 
Jeporardy using a triboard and my handy cutting machine cut the word Jeopardy out of vinyl and did an outline that was cut from Cars 2 paper. Purchasing Disney paper I wrote the characters and numbers on each card and decorated with stars.
Baby Shower Favors
I used my Silhouette to cut the name files and then used my Xyron to make them into stickers and stuck them on some bags we found. Inside I made a small zipper bag, chapstick, a small notepad….I used the Onward theme for a sign here. For the kids, I used Finding Dory and did bubbles, stickers, and candy.
Check out the patches Grandma and I made to add to the diaper backpack! Learn more about making patches on the Stellaire.