Where Is Gezer Park and What Is There To Do?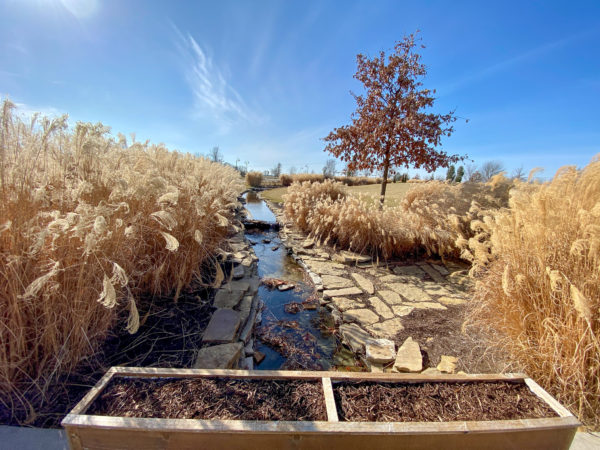 Gezer Park is located on a strip of land at 133rd Street and Mission Road in Leawood. It sits between a Price Chopper and a subdivision. This is one of my kids' favorite parks. It has green space to run around, and a giant hill that they loved running up and down. In the summer, there is a creek that runs through it with a few places to step into the creek.
There is a big shelter near the entrance as well as restrooms. Surprisingly, the restrooms were open. This surprised me since our visit to this park was in January and park restrooms are typically closed in the winter. They have a few small picnic spots in the middle of the play area which is a nice place to keep an eye on your little ones. It also has an umbrella to add some shade on those hotter, sunny days. The playground has two small swing set areas with four normal swings and four baby swings. There was also a teeter-totter next to the smaller swings.
Across from that area, they had a small sandpit with sit-on digging toys. At the actual playground, it has a few different types of slides. I was actually surprised how many slides it had given the size of the playground not being overly large. The play area has a little shade which is a nice place for the kids. It has multiple levels to climb on including steps, a hard bridge, and a ladder.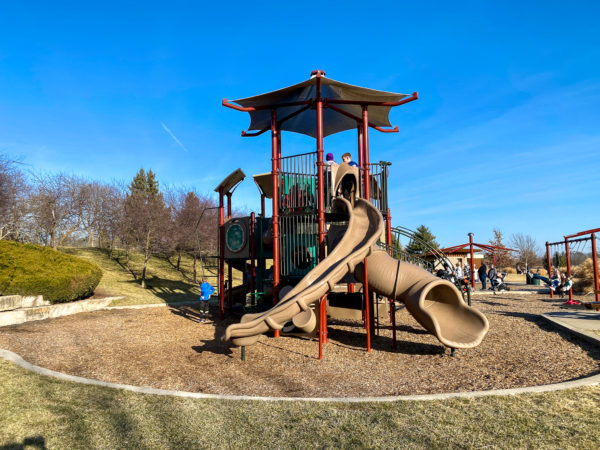 What Do We Think Of It?
Overall, this is a nice little park located in the middle of Leawood and would be a great place to go on a summer day with the water running through it. They used the space extremely well for it only being a small strip of land between a subdivision and a grocery store. The art pieces are a nice touch as well and were put there in honor of Leawood's sister city relationship with the Gezer region in Israel.
Have you been Gezer Park? What do you think about it? Check them out to learn more and take a look at our past visits for more great places to visit!