Heritage Park is part of the Johnson County Parks and Recreation system and is located on 159th street between Pflumm and Lackman. If you enter from the Pflumm side, you will immediately see the lake in the distance and a playground off to the right with a shelter nearby. There is also an exercise area a few feet away as well as an entrance to the lake and restrooms. Here is a map of the park, it comes in handy!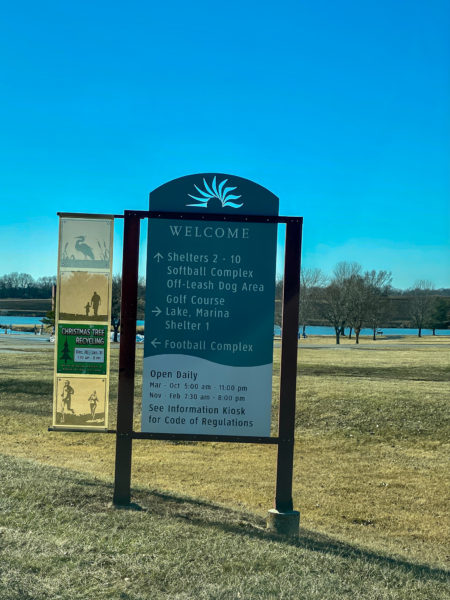 What Does Heritage Park Have?
Heritage Park also is host to several football fields, baseball diamonds, and soccer fields. They have frisbee golf as well as a traditional golf course. It is very spread out and additionally has several picnic areas and shelters. The lake is allowed to have boats but it would only be small boats such as small fishing boats. They do allow fishing and have docks as well as a small island with a silo that you can walk on for different areas to fish. There is also a horse area with a trail for going riding.
A very nice thing about this park is its large, 30-acre off-leash dog area. I loved this and hope to take my dog here soon once the weather warms up a bit more. There are restrooms inside the gated area for owners as well which is good so you don't have to get your dog and leave if you have to use the restroom. This area has numerous trees, grassy areas, a pond, as well as benches to sit on as you watch your dog play. There is also a trail outside of the off-leash area for dog walking as well.
Now, if you're wanting to go for the golf course or the off-leash dog area, then I would say to enter from Lackman Road. Access from this entrance will be quicker. Unfortunately, if you're interested in golf, you've come to the wrong blog as I am in no way a golfer. I can only tell you that there is an 18 hole golf course with golf carts available. The frisbee golf is also 18 holes and available year-round.
How Are The Sheltered Areas?
If you're looking for a private area to host an event, they have several shelters that are slightly more secluded. If you wanted to bring outdoor games or just wanted something less in the main area of the park this might be a place to go. Shelter six and seven are two of the shelters to look at. They share a restroom that's at least visible from the shelters although not super close. Shelter seven has a beautiful view of the lake, and shelter eight is backed by trees. Although, I couldn't find any restrooms super close. If you take the further entrance off of Pflumm Road, the area there has a gazebo overlooking a small lake.
Shelters nine and ten are on their own little loop and share a restroom, water fountains, and a small playground. The playground has a small slide and climbing net which is nice. Shelters two and three also share a restroom. There is also a nice little play area with some swings and a view of the lake. While shelter five has some great green space, it is quite a walk to the restroom.
The bigger playground has several slides, with swings, a few benches, and areas to climb up into the play structure.
Overall, Heritage Park is a good park but not an amazingly awesome one. At the time of this post, there was some active burning taking place in parts of the park. Not sure if they're doing some replanting and reseeding or what they might be doing. So if you are planning on visiting, be aware that there could be some areas closed off. There might be a smell of smoke in the area so if you or your child has asthma, you might want to think twice about visiting. If you are looking for something with space to rent and restrooms close to all areas, this might not be the place for you. Comment down below with your impressions of Heritage Park and check out more of our adventures exploring our city!