Arbor Landing Park is located near 163rd and Lindenwood Drive in Olathe. This is a six acre neighborhood park with no restrooms and street parking. There is a water fountain and shelter with picnic tables and open green space with a trail near the playground.
Arbor Landing Park Playground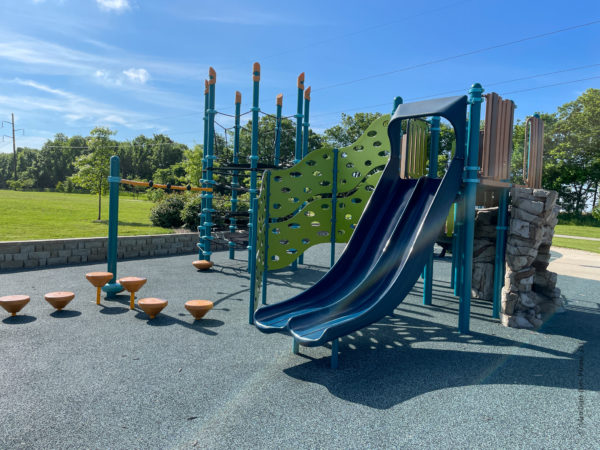 Arbor Landing playground is very bright and colorful. It is located near the shelter house and right next to the exercise equipment. This is awesome so that mom and dad could work out while the kids play. There are six stations to rotate through and instructions at each station. The playground features a little kid playhouse playground with a small curved slide and tunnel to crawl up in. There are stairs and ladder to also climb on to the platform as well as drums on the side to pound away on. There is also shade on the platform helping with the sun.
The larger playground right next door has a triangle rope ladder up to a rock to sit on. There is also a xylophone near by. Using Lillypads stairs, monkey bars, spider tunnel crawl, and hand and foot hold wall are ways to climb at this playground. There is stairs that will take you to a taller double slide to go down as well.
Overall this is a fun and unique brightly colored park that is great if your stopping for just a quick time as there are no restrooms available.
Check out other Olathe Parks or adventure into other cities to check out other parks.