**Updated 2021, Originally published October 13, 2017
Buffalo Meadows Park is located in western Lenexa off of Prairie Star Parkway. The park is about 20 acres and features green space, playground, and shelter.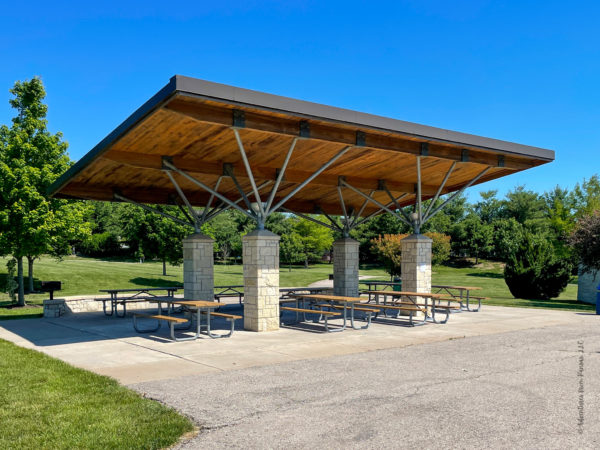 Playgrounds at Buffalo Meadows Park
The playground here is spilt into two sections: one for little kids and one for big kids. The play areas are seated right next to each other which is great if you have multiple ages. The smaller playground features two infant swings with the play structure. Using steps or the ladder, you can get to the platforms that feature a small curved slide of a double curved slide. There is also a tunnel to get from one to the other platform.
The larger playground features multiple slides including the type you can race down with a double wave slide and a double curved slide. The older kid playground features stairs but you can also rock climb, use a ladder, or a rope tunnel to get to the various slides. There is also a tunnel and lillypad steps to play on.
Other Features
The shelter has some picnic tables, electricity and lighting and a cement pad attached for extra room. They also have two grills at the shelter house. It's a nicely done shelter placed in-between the restrooms and playgrounds on the concrete path.
There is a also a small walk area that forms a triangle between the swing sets, parking lot and shelter which makes nice for scooters. There is also a bigger one for walking, jogging, or riding bikes. You can't see this whole path around from the shelter.  There are restrooms nothing fancy but better than a portable potty. There is also a nice amount of green space featured around the area.
Check out other Lenexa parks to visit or want to visit surrounding cities check out where we have visited here.