**Updated 2021, originally published February 18, 2017.
Erfurt Park is located in Shawnee off 71st and Gleason Road. This park has a more natural feel to it. At over 20 acres, you have green space to play, a natural playground, walking trails and sand water area.

Park Features
Erfurt Park features green space to run around in, a lake with walking trail and still one of the best shelters I have ever seen. If you're needing a shelter for an event I would check out this one. The shelter house has electricity with plug ins at a buffet line and lighting. It also features a stone fireplace. The restrooms are on the back side of the shelter. There is a smaller shelter closer to the playgrounds that has picnic tables.
Erfurt Playground Features
This park typically has a water feature that is closed as they are making improvements for next summer (2022). Otherwise this park has sand areas that were recently improved. This park also has tree stumps, logs to climb on, rock bridge to cross. Small and large logs to balance on or climb. We love the rock bridge to climb.
There is a small slide tucked into the landscaping and rope web climbing section and a few swings but that is all that represents a traditional playground here at Erfurt Park.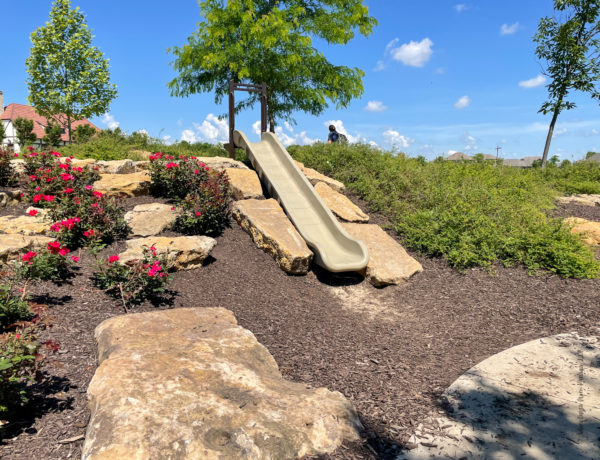 Check out other Shawnee Parks or surrounding cities parks.