Choosing 6th Grade Homeschool Curriculum for 2020
Are you trying to figure out a homeschool curriculum for the next school year? I thought I would share what Braden is using for this next school year as he is going into 6th grade. He is just loving taking his learning further into things he loves. I can't wait to see how the new year shapes up for the school year. I know we are just as disappointed with the changes in the world as our extracurricular, field trips, and park days have also been canceled for now.
Disclaimer – There might be links in this post that we can make money on with no extra charge to you. All opinions and thoughts are our own.
6th Grade Winners
Grammar: Easy Grammar 6
Math: Math Mammoths Grade 6
Reading: Novels
Spelling: All About Spelling Level 5
Science: Lifepac Science 6th Grade
Handwriting: Harry Potter Cursive Workbook
History: American Girl History & Story of Civilization Ancient World
Journals: Notebook
Typing: Typing.com
Reading & Writing: IEW and several novels
Maps: Maps, Charts, Graphs Level G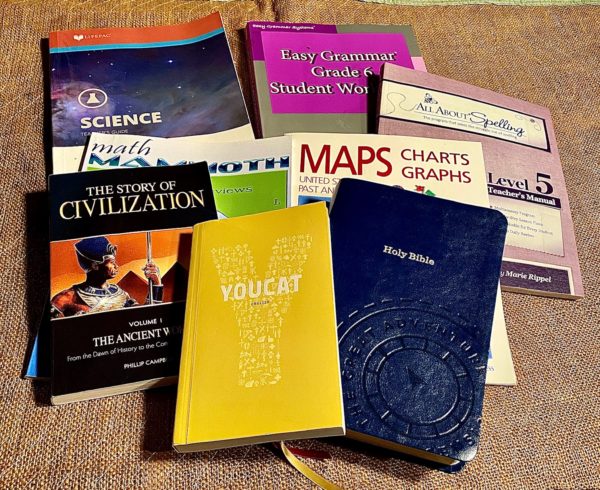 What to choose for this year's homeschool curriculum?
Lost for this year's curriculum and books, come see why we choose these.
6th grade curriculum is nerve-racking to me as I am helping them start doing a little more self-learning and also start preparing them for life after school. Trying to let them see the world around them and all that it has to offer also. After they get a good base for reading using the All About Learning sets, we started by giving them novels to read to keep reinforcing and growth. The other great thing is the newer Harry Potter cursive handwriting book. It helps to not have something as dry. Last year we used Logic of English to teach the letters and some phrases and to help reinforce that we went for this book of quotes and spells from characters they already knew of. Another fun curriculum is typing.com. Oh, and did I mention its FREE!? They have fun little games and as they start getting better after finishing to help boost confidence and learning, the skill section has strange laws, jokes and laughs, and interesting facts. They also have 6th grade vocab section he will be typing out also.
Science is Lifepac again, I love that as children get older they can start doing these on there on to build independence, starting that in grade four. I love the fact that there are ten units so it's easy to stay on track making sure to do one a month. Story of Civilization – The Ancient World is new this year. We did something else for beginning elementary. I love that there is audio, reading, or visual to help all types of learners.
For grammar, we use Easy Grammar 6 and Daily Grams. Using Easy Grammar for new and reinforcing but Daily Grams the rest of the year. Spelling this year is All About Spelling, using tiles to help with the brain work and remember also love the learning of rules. Reading a map is still important even in this electronic age, so this year we chose Maps G.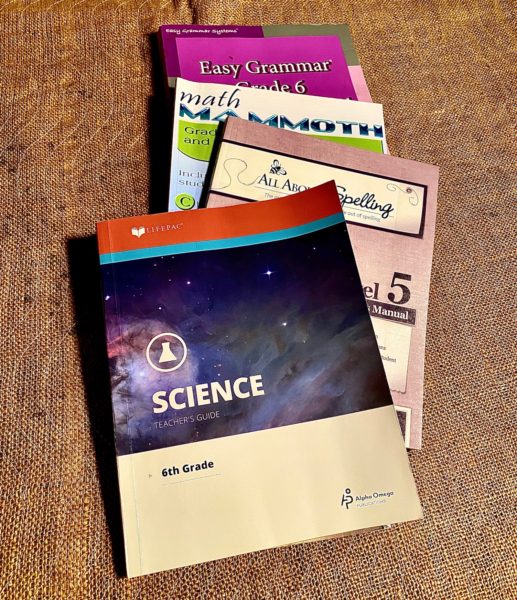 Religion can be such a hard topic this year we are choosing YOUCAT which is a kids version of a catechism for Catholics, matching it with the timeline Bible. Timeline Bible is color-coded to help you remember when in time and how each bible coordinates with another. Math Mammoth Grade 6 will continue us on our journey using mastery skills. It teaches you more than one way to solve problems combined with student lead and several resources.
Also writing with IEW is outsourced, they going to another homeschool mom's house to do this with other kids its a great fit for us.
Creativity
Loving to be creative myself, we still do journals where the kids can draw and write most days. We make journals interesting by having items like finish this shape and do half a cloud but it's not allowed to be a cloud. Also, it helps process feelings and lets you connect more with seeing draws and words. Personally, I don't grade this its just a completion item and connection piece.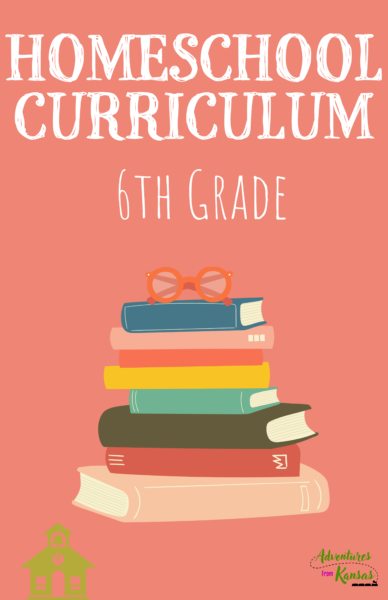 Looking for other grades:
4th Grade Homeschool Choices
Early Elementary Favorites
Do you use any of these in your homeschool classroom?