I-Lan Park is located in Leawood off 126th and Nall. This park is inspired by the I-Lan Taiwan. There are art and garden all inspired by Taiwan.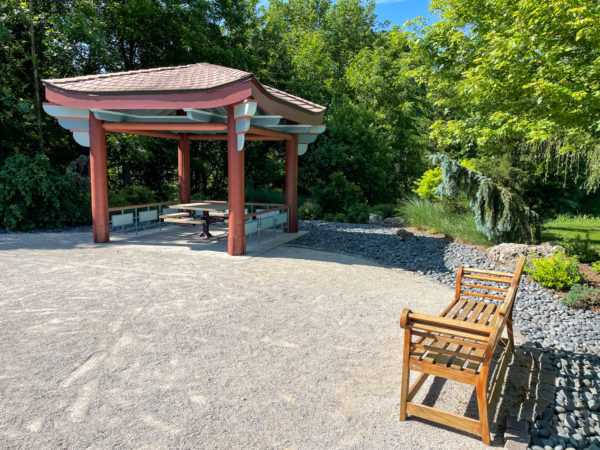 Park Features
I-Lan is a 10 acre park with restrooms, seltzer, grill, trails connecting the Leawood and Overland Park trail systems. There is green space and a Taiwanese garden and pagoda. The Cloud Gate art piece at the front of the park is a nice addition as well. There is also a bike station to help with minor fixes or air in your tires. It does have a smaller parking lot.
I-Lan Park Playground Features
This playground has many features including a wavy slide, a twisty slide, and a short slide. The short slide has lily pad steps. You can then take a tunnel to the other platform that has a covered slide with a see through panel. There is also a ladder that will also take you to this slide. This platform is also reached by steps and a bridge or a curve ladder. There are also swinging monkey rings that have a ladder or platform to start from. A lily pad bridge, rope monkey bars and another tunnel all reach to the other slides. There are rock mountain stairs and one way to reach the top the fastest is the spiral fireman climbing pole. Additionally, there is a tic tac toe game on the bottom for any age to play. There is also a rope straight wall ladder to play and climb on.
This playground has many features some of them unique to be seen but the Taiwan features also make this park unique compared to some of the others near by.
Check out some of the other cities playgrounds and park with explore your town local parks area.