Ahh!! This is like the best park I have ever been to in Johnson Country. Yes, we have some awesome parks that are favorites for water or for nature but Strang Park is neat for a traditional park. And no, I am not just saying that because of the train history! Even though this playground has an area for little kids, it was built for bigger kids.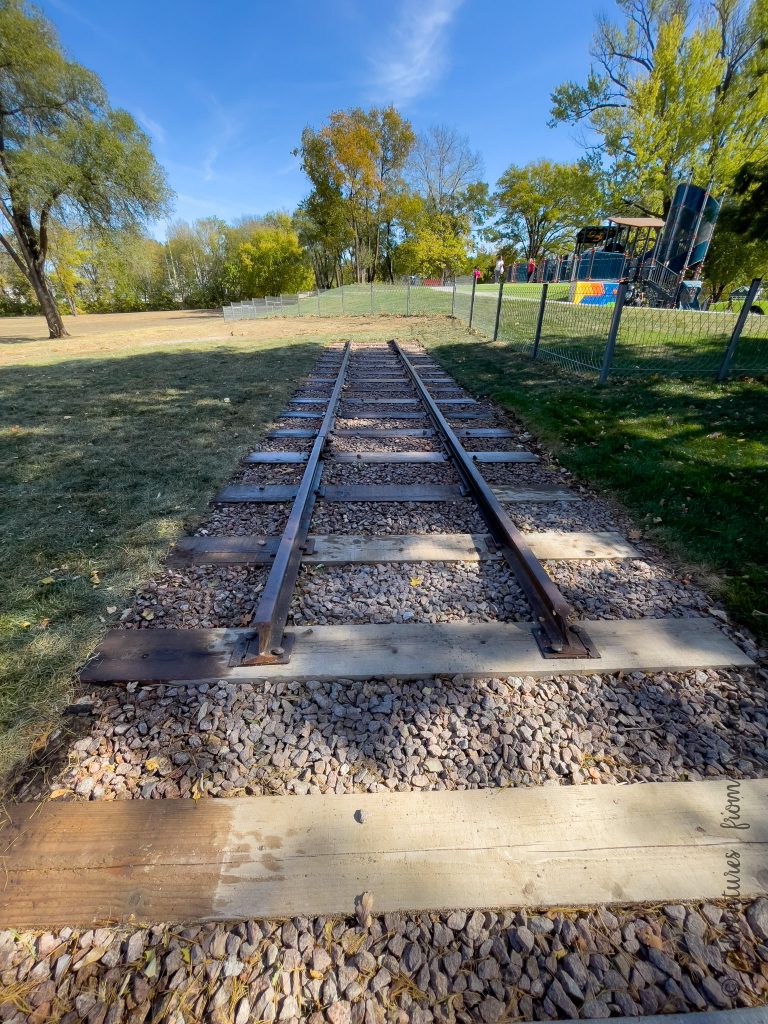 Things I Don't Love
First off, I think they are going to need a bigger parking lot. Even when the new-ness wears off this is going to be a top popular park. They have a random water mister, one single one, it seems kind of random in places but will be nice for a little mist on hot days. Although, I have a feeling that it will never be off and kids trying to push into the mist.
Some of the others I don't love are mainly because they are not 100% finished. This playground has had issues getting to completion but it was worth the wait. And with what issues the world is having that makes sense. Like the fencing, it looks like it will be completely closed with two locking gates. Right now, at this writing, there are sections missing and the gates don't stay closed as a latch is missing. Also, they need to install more toilet paper, and paper towels as we went twice in the same week. If this park stays busy as it is, there would be no toilet paper left by the time you leave.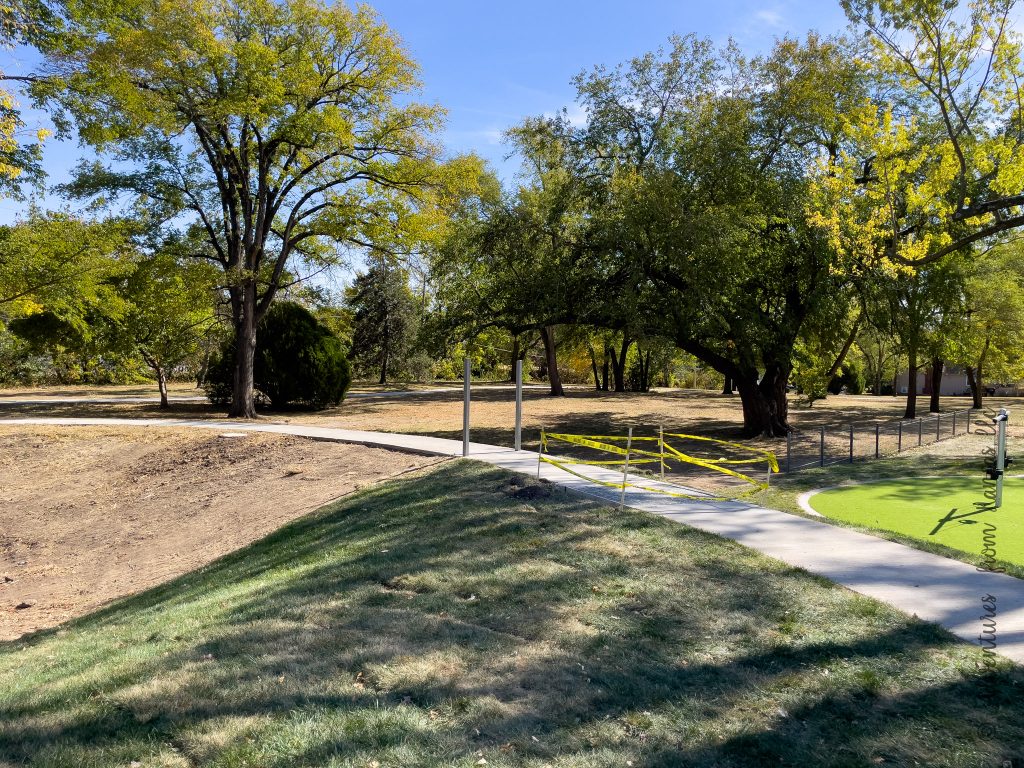 What I Love About Strang Park
It's so colorful and inviting from the moment you pull into the park. The layout is a parking lot to the right entrance onto the playground, water fountain, restroom, and life-size chess. To the left, there is a tennis court, basketball court, shelter house, and yard cornhole.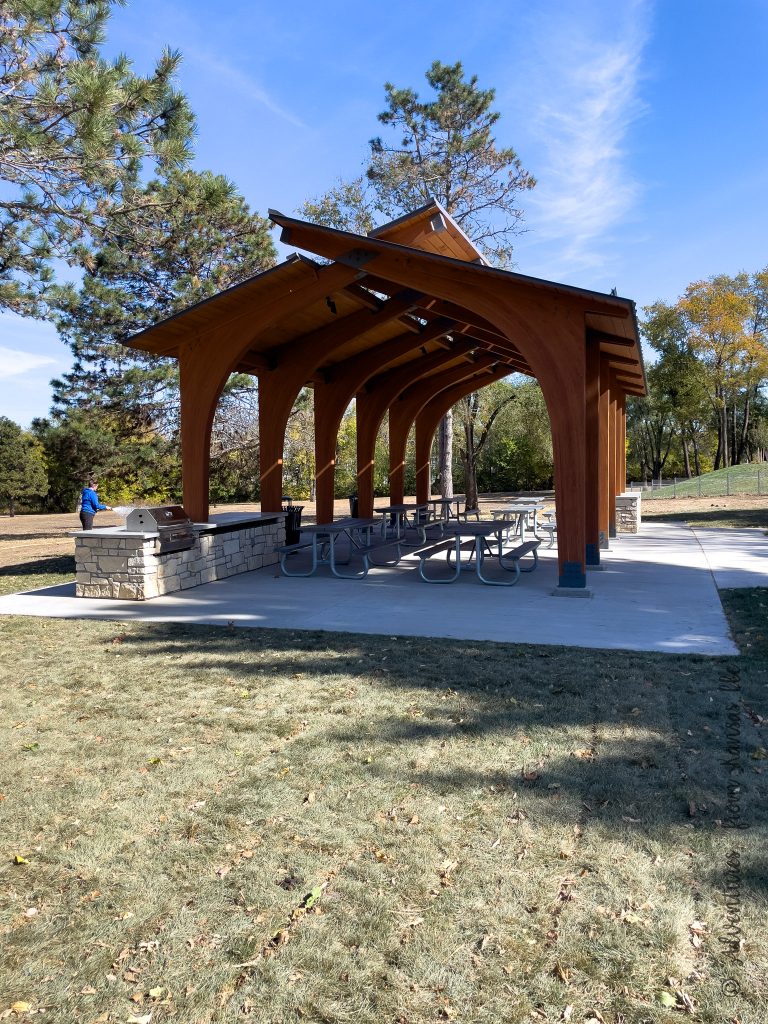 Let's start at the left. There is a new tennis court with two courts, fenced in, and you could also play the new popular pickleball. Behind it is a full-court basketball ready-to-play. As you walk towards the playground area from these, you will first reach the shelter. This shelter house is a nice size and has a large built-in grill with two buffet tables built into the building. Under these tables is part of the tracks from the Strang Rail that ran through that spot. Right out of the shelter is the actual track still in the ground from the rail line too. There is also an imprinted track too. This is just between the playground and the courts.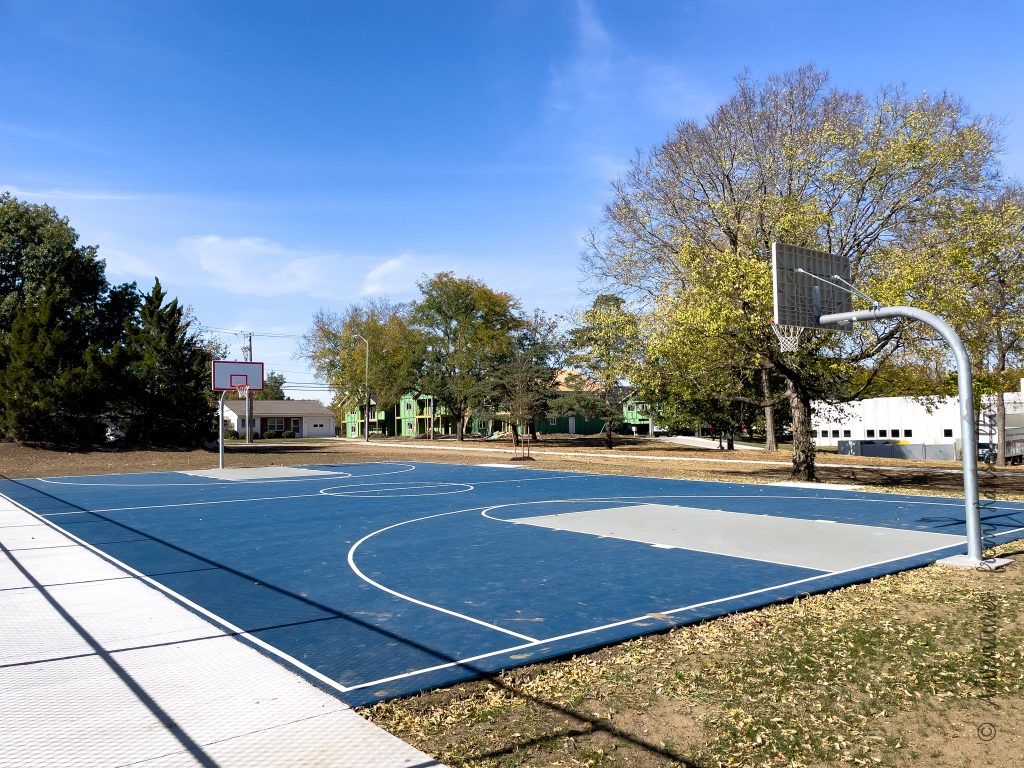 So in front of the playground that isn't inside the fenced area are two sets of cornhole they did a great job building these. One thing this park has that I love is full-grown trees, they have left some of the full-grown trees around the park and built around them allowing shade. Best decision ever as I hate going to these new parks with no shade because they got rid of all the trees.
Next, the area is with two small 4-top picnic tables. There is also memorial info here but it was still under construction and I don't have good enough eyes to read it 😂, but it is about Martin Luther King, Jr. One has the ability to play checkers or chess if you bring the pieces built into one of the tables. Don't worry if you didn't bring pieces with you to play. You can check out the life-size chess board, water fountain, and restrooms.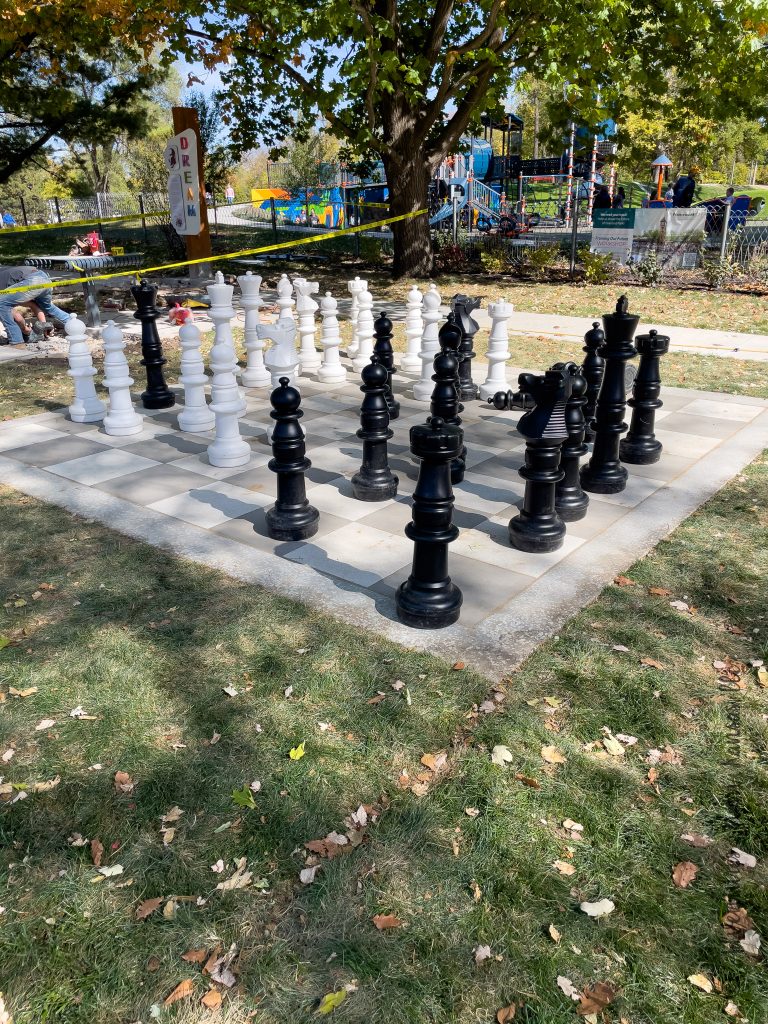 They put a lot of thought into the water fountain and restroom area at this park! The water fountain is awesome with places to refill bottles and traditional drinking and dog bowl. Then the restrooms have four separate all enclosed family/companion bathrooms. These bathrooms not only have traditional diaper changing stations. Although, most also have one for a large child or small adult changing station along with those chairs attached to the wall. This is great for sitting up infants to toddlers while going to the restroom or dealing with another kid. These bathrooms are one of the most friendly bathrooms I have seen at an inclusive playground.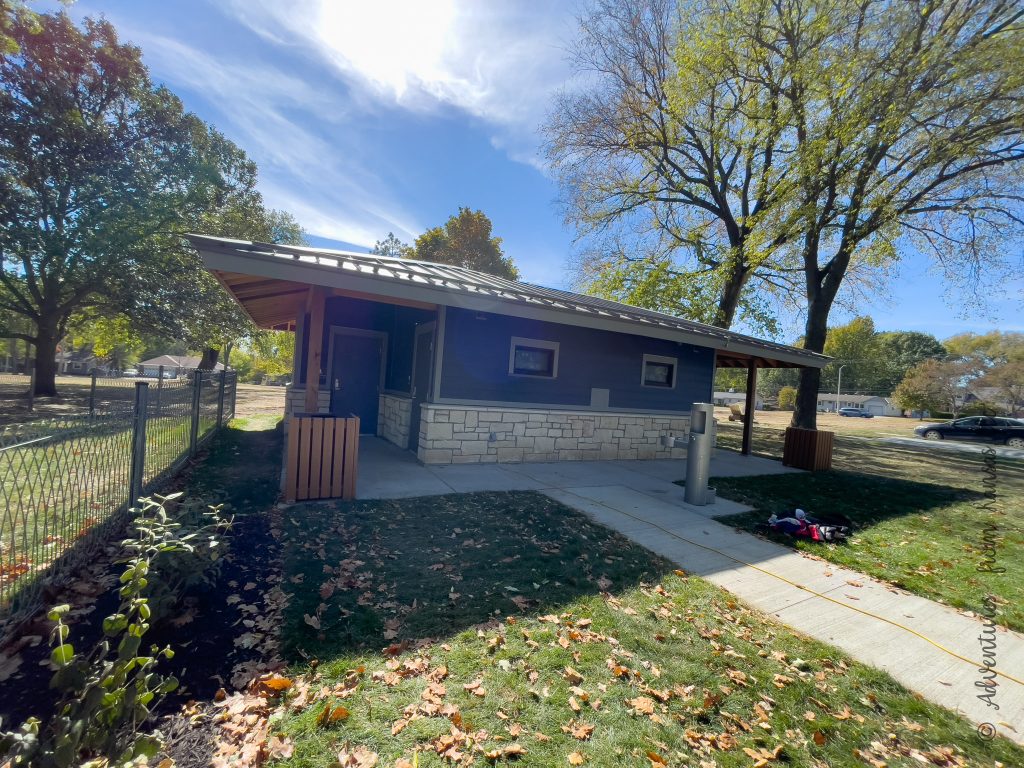 Strang Park Playground
The actual playground area at Strang Park is a fully enclosed playground area. Not only is there a lot to do inside the playground area, but there is also a decent amount of seating too. Wonderful! After entering from the front of the park gate, there are some bright red adirondack chairs and some picnic tables. All of these are situated under a nice shaded tree. There are also 4-top tables for sitting, and on the top of the hill there is a bench. This is also kind of a dislike as I wish there was a second bench up here. Of course, many parents also sat on the hills and tree stumps.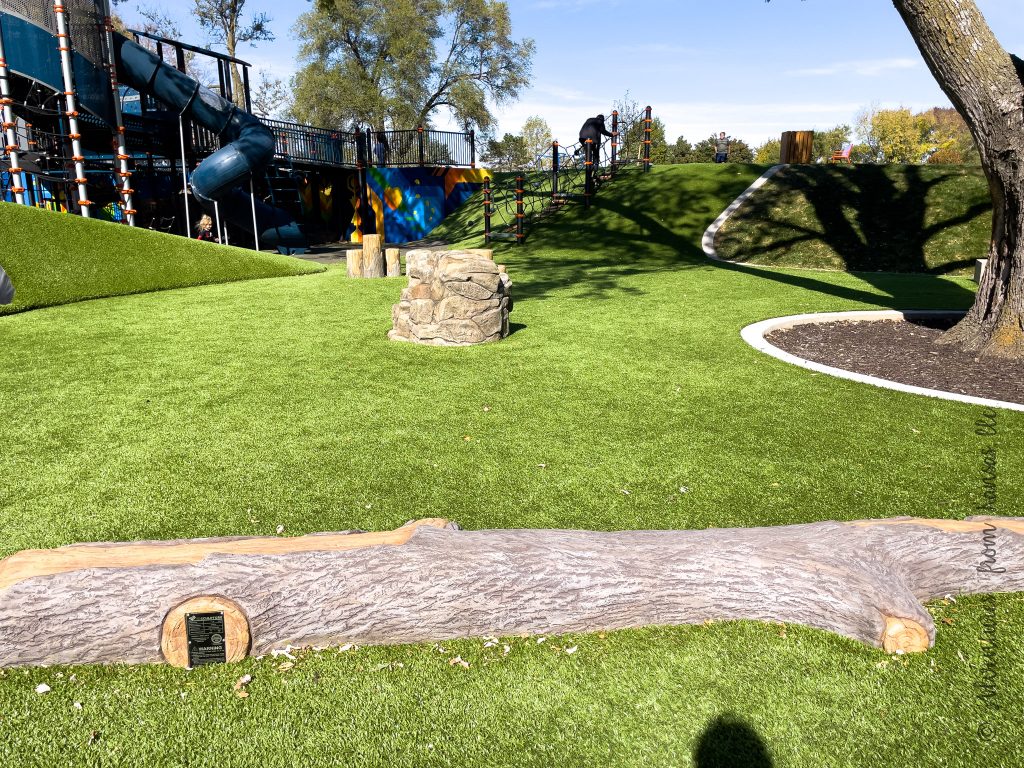 Now, the playground itself has three main areas in my mind. There is the five and under playground, the tall, 30-foot structure playground. And then the area around it and up on the hill, so maybe that's more like four.
Let's start with the area around the playgrounds. You have a wheelchair-accessible back-and-forth see-saw type of thing. Along with a four-person see-saw, they also have some musical instruments such as drums and a xylophone. There is a spinning seat and a miniature stand-up tree-style merry-go-round on the bottom. There is one for wheelchairs, for people to stand or sit on the top of the hill, they also have two mini-trampolines built into the hill. These were high-ticket items for kids as there was always a line. There were many ways up to this area. There is a walking path paved, up the hill with a log bridge-style ladder, climbing ropes, or the playground itself.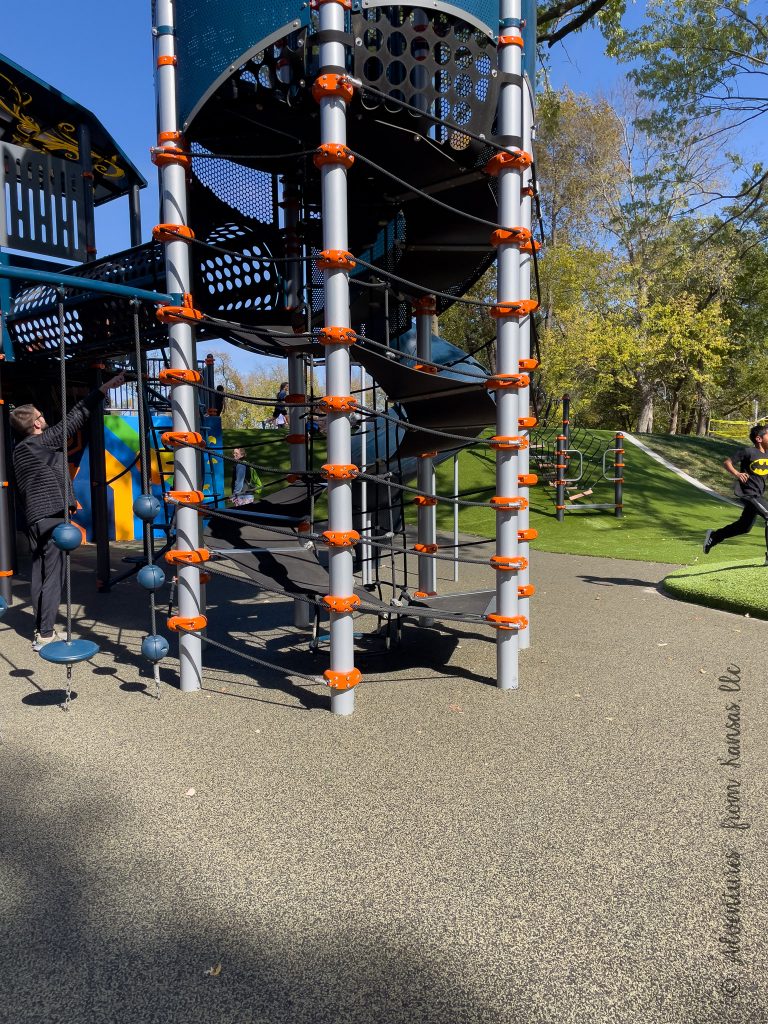 Some other items around the outside of the playground include two infant swings and one large saucer swing. There are three traditional swings and one handicapped swing. Additionally, there is a roller table that you pull yourself throug. There are also climbing hills, rocks, and logs. One of the favorites is a hill you can climb over or go through the two tunnels. This is also what somewhat separates the larger playground from the baby playground.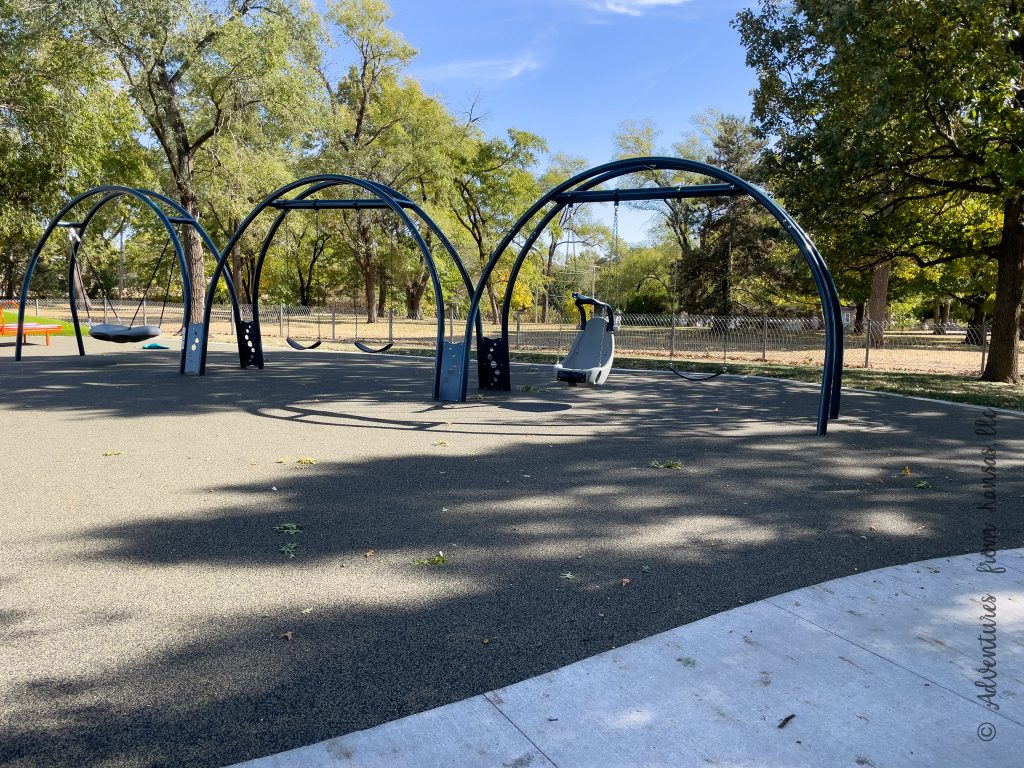 From this top area, there were ways to get to the larger playground with many rubber bridges and squares. This area is awesome for kids to climb. Although, if you have smaller kids this will also be an area you might be worried about as the squares and robes are quite large. This playground has a 30 foot climbing tower with traditional stairs, curved ladders, and rope towers. This is also a playground that took advantage of all the space under it as well by building rock boulders, There are even small rock boulders for climbing, balancing ropes with handles, standing swing ropes, and more. Off of this playground, there is a twin curved slide, and one long corkscrew tunnel slide. There was also a rainbow tunnel.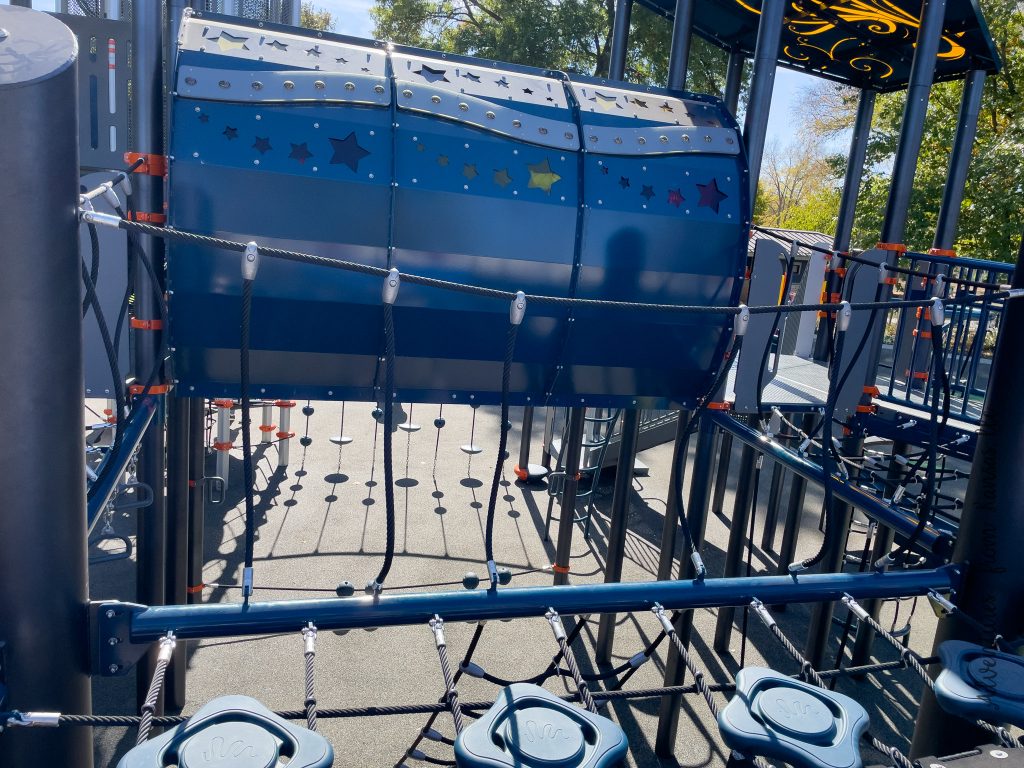 The baby-toddler playground is so adorable with the Overland Park Farmers Market theme. They carry this theme out by having a table with plates of food you can move along the tracks. There is also a picture wall with fruits and veggies pictured. This playground has an area to climb up to a platform to climb through the tunnel to another platform that has a slide off of it. There is also a tunnel area under this playground, talking echoing sunflowers, and gears to play with in this farmer's market cafe.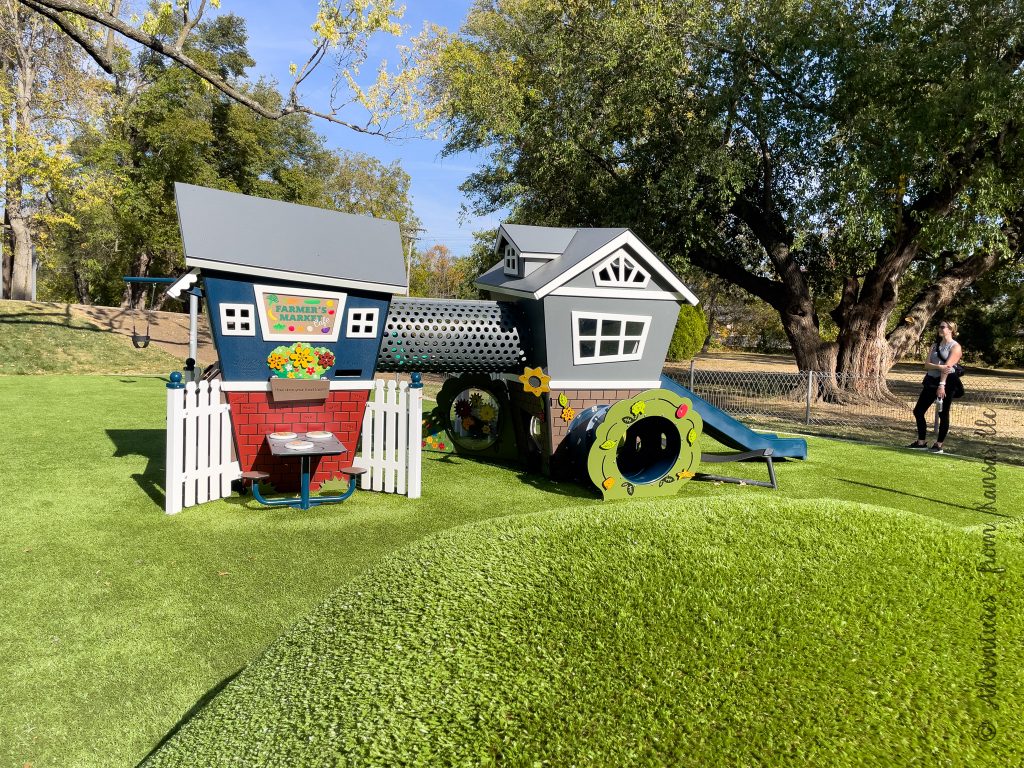 Overall, this is one great new playground with lots of features that I would highly recommend visiting if you are in the area.
Check out the video from the Strang Park.
Look for other parks in Overland Park here.