Have you been Elf'ed and not sure what to do next? Or, maybe you want to start this season's Elf'ed game?
I've Been Elf'ed is a lot like the Halloween game called I've Been Boo'ed! The only difference is the elf, and well, it's Christmas. 🙂 This is a great little game that can hopefully turn into a neighborhood tradition and it all starts with that one special treat!
Instructions on How To Play Elfed!
First, you enjoy your treats!
Next, you place the We've Been Elf'ed Sign On Your Door or Window.
Then, within two days you make copies of the instructions and sign and create a bag of holiday treats.
Now, secretly deliver your treats to two friends or neighbors, that is it!
This is a fun little game to start or play around the holiday season without the person knowing you did it. And don't forget to have fun with it! Not just in the treats that you include but in the way you deliver them. My kids like to dress up with hats and mom or dad's coat before delivering. They like to feel like they're going in disguise and hope that no one knows it's them. Also, it's harder for those video doorbells to figure out who is giving away that special treat! Modern technology has really taken away the art of surprise and made it a lot harder to sneak a special bag of goodies onto a friend/neighbor's porch. So, get creative and have fun with it!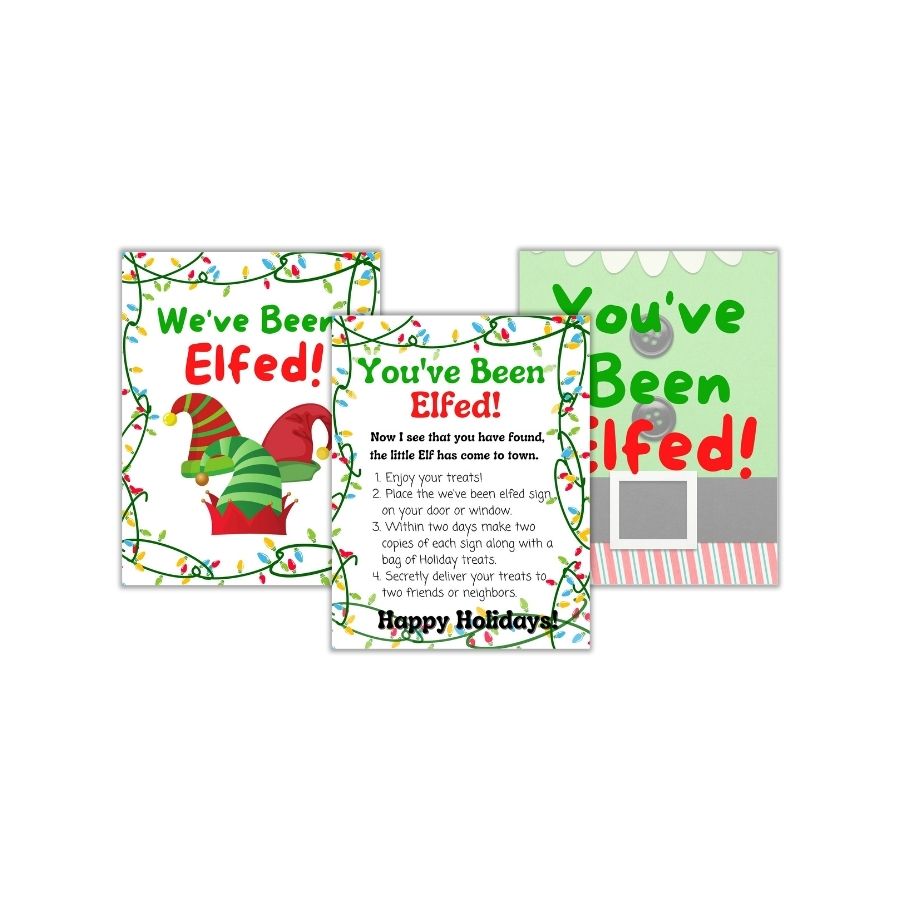 Special Treat Ideas for I've Been Elf'ed Game
The treat doesn't have to be something big, just a token of fun. This game will hopefully be carried forward from one house to the other and on and on! The things you can include are endless. But, to help, here are few ideas:
Holiday pens/pencils
Magic stretch gloves
Capri Sun juice box
Candy canes
Fruit snacks
Rice crispy treats
Popcorn
Since holidays can be tough, you can always browse the Dollar Tree or even look for the cheaper stocking stuffer items at Walmart and Target. Last year, I found hand sanitizer and those color fizzy drops which are fun too.
Are you going to start it in your neighborhood this year?