Celebration Park is located in Gardner, Kansas off of 159th Street and Kill Creek Road. This is an 83 acre community park.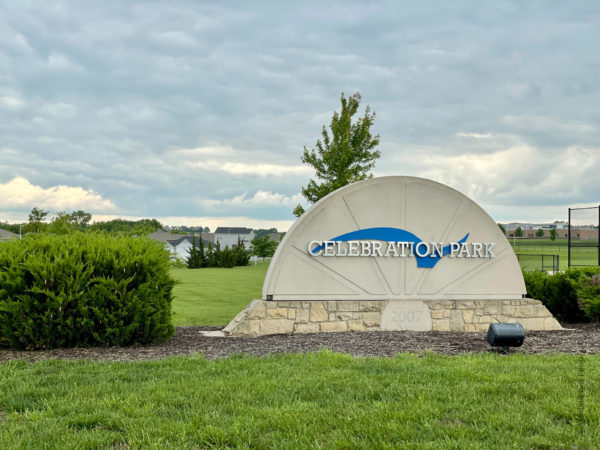 Celebration Park Playground
This playground is partially fenced which makes it nice so a smaller kid can't run too far til you can catch up with him. The playground off from the parking lot starts with a little red barn to play. There is also a bench to sit on to watch them play.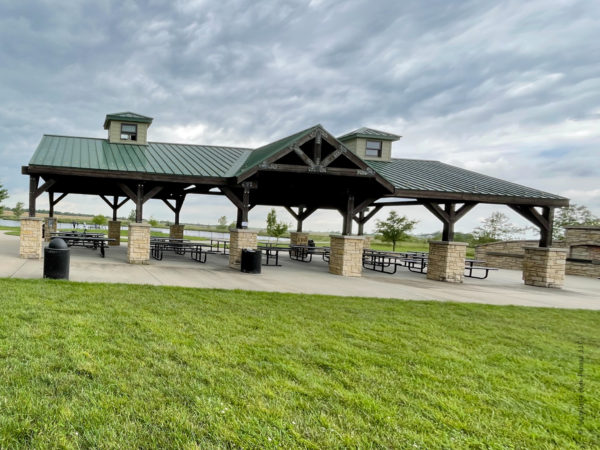 There are also restrooms with picnic tables under a smaller shelter house. Also connected is a shelter that has a grill and picnic tables.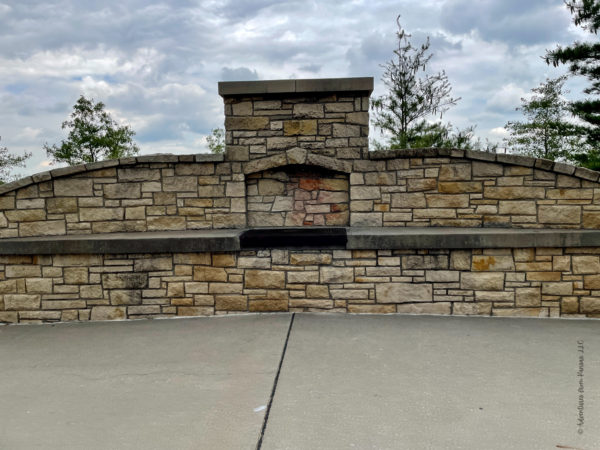 There are a few playground areas. One of the smaller playgrounds features two infant swings and a small rock tunnel to go under or to rock climb over the top. There is also a teeter totter and a spring toy to bounce and ride like on a jet ski. Also featured is smaller playset with double wavy slide and double curve slide. There are steps, cube steps, and an ABC ramp to climb up to be able to slide down the slides.
Another area of the playground features two cranes to play with in the mulch. There are giant rocks to climb and tunnels to go through. There is also a three set of benches which is nice for groups to talk and play. The larger play equipment has a double slide, a straight, and a twist slide. You you can get to these slides by steps, rock wall, and a rock mountain.
There are also four traditional swings, a tire swing, and a giant spider tent web to climb and play on. Additionally, there are also two really long slides built into the hill top. You can get to these by going up the side walk or climbing up rock stairs. There are also a balance beam diamonds.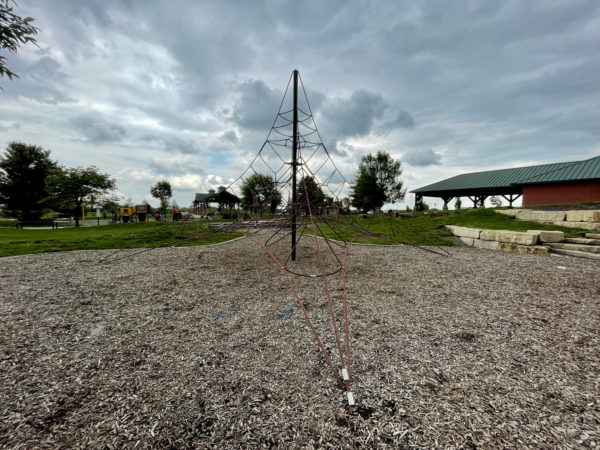 Other Park Features
Not only does this park have a unique playground, it has baseball/softball and soccer fields. There is also a concession stand that is open when there games are being played.
The restrooms and shelters are near the playground that features a nice BBQ grill that is a nicer larger size than most playground grills. It has concrete tables connected on both sides. There is nice size grill.  There is also a ten acre lake that has walking trails around the area. Lots of area also for the green space to be able to play around.
Don't forget to check out other Gardner and surrounding area city parks find them here.