When you have to make so many Christmas presents, quick and easy presents are sometimes the way to go. We have over 45 stockings we hang each year, and they're growing. This year, grandma went with a kitchen theme with rubber and zipper bags. As a homemade gift, we decided on machine embroidery trivets. Using many patterns and letting everyone pick the finished product.
**Disclaimer: Some of the links may pay me a small commission, but at no extra cost to you. Read the full boring legal disclaimer here.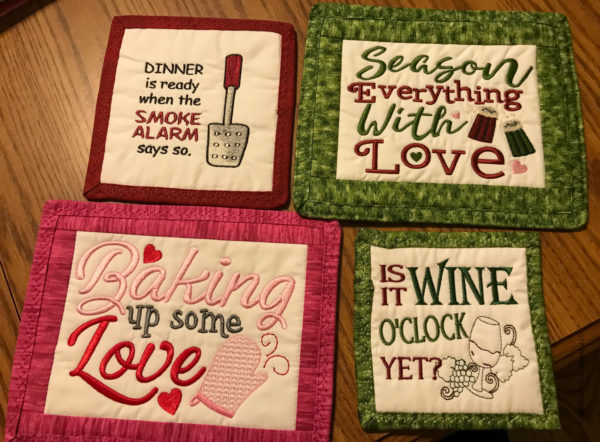 Fabric is from JoAnn Fabrics
Thread from Simplicity Thread Brother
Some of my favorite designs from this came from Etsy and HoopMamaEmbroidery.
A Pinch of this and a Dash of That
Several of the Christmas designs are Anita Goodesign, Dot to Dot, and December Monthly Pack.
As these were presents awhile ago, not all the files are available anymore. You can always check out my favorites list on Etsy though. My Etsy favorite's list includes these and several other styles and types including Christmas, Kitchen, and in the hoop projects.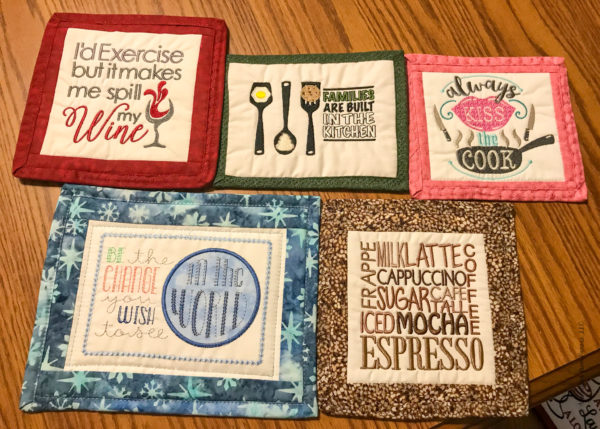 We didn't use a guide to make them, we stitched out the embroidery file the trimmed close to the design leave a quarter inch seam allowance, added a small border of half inch to inch. Then we added the batting and Insul-Bright, added the back. Then using bias tape finishing off the product.
Insul-Bright is used in sewing for items in the kitchen mostly when you are trying to protect your hand or surface from the heat as it has material wove thru it to protect. To make your own bias tape use these helpers.
Hope this gets your creative juices following to dress up your own kitchen or a gift for someone else!