I've been wanting to do a movie blanket embroidery quilt for a while. So, when my daughter found this backing fabric it inspired me to finally get started at least on one of them. The quilt is 7 squares by 6 squares. After making the quilt and needing so many squares, I think I would have made the embroidery patterns larger or picked larger designs so I wouldn't have had so many to do.
**Disclaimer – We may earn a small amount of money from the recommended products at no additional cost to you. Want to see the full boring disclaimer it's available here.
Embroidery Design Squares
The first step was picking embroidery design patterns wanted on the quilt. I decided it needed popcorn, Minnie donut, Cookie Monster, Olaf Cupcake, and magical snow cone, we also purchased a few new designs like the multi candy, 3 lollipops, and Shopkins Chocolate bar. All of the patterns for embroidery and appliqué stitched out nicely for me.
I used white fabric cut 7×9-ish and no sew mesh and hooped them together and stitched out on Brother Stellaire and Brother VM5100. After they are stitched out, using a clear ruler to line them up straight and center cut to 6×8, so with seam allowance you ended up with 5.5×7.5 rectangle.
Borders
Using a blue on blue dot fabric for the border fabric. Cut at 4 inched. Sewed on the first piece, cut add to the other side, then the white, and so on. The pink washed border was cut at 3 inches.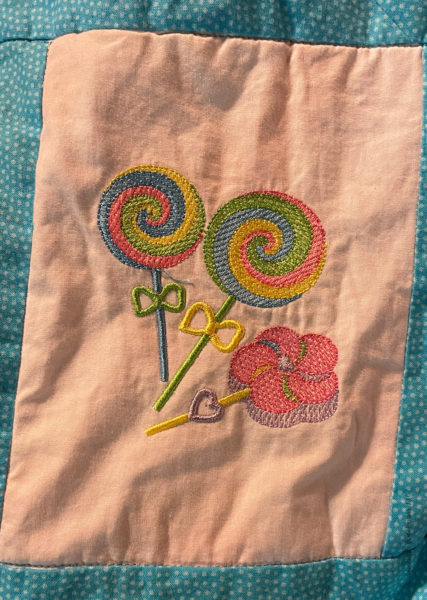 Finishing
Next was adding the binding. Didn't use any batting as the back is a fluffy fabric cutting down a step. Last stop was to sew around the block in the ditch.
When machine embroidering, that best thing to do is have fun with it. You don't have to use the colors they suggest you can always pick your own. Like in the snow cone above the favors are done with varigation thread. Have fun embroidery quilting!