In June we think a lot about needing a gift for our dads, husbands, and other dad-like-figure. There are many other times a year we need gifts for the guys in our life, like birthdays, anniversary, Christmas, Hanukkah, Just Because, etc.
**Disclaimer – We might make a small amount of money from affiliate links in the post, but at no additional cost to you.
Consider this when buying for the men in your life!
When you're buying a gift for your loved ones, we all overthink it because we want to buy something unique, meaningful, useful, and thoughtful. Buying a gift is one of the more difficult things to do. There are many things to consider when purchasing gifts, especially for men.
Things to consider for the guys and men in our lives is the recipient's personality. It is important to know what type of person you are buying a gift for so that you can find something that they will like. For example, don't be buying a six-pack of beer for a non-alcohol drinker.
Another thing to consider is their hobbies and interest. This helps to send you a direction when you think of a specific hobby. Do they like fishing? Hunting? Or, are they maybe a gaming type of guy?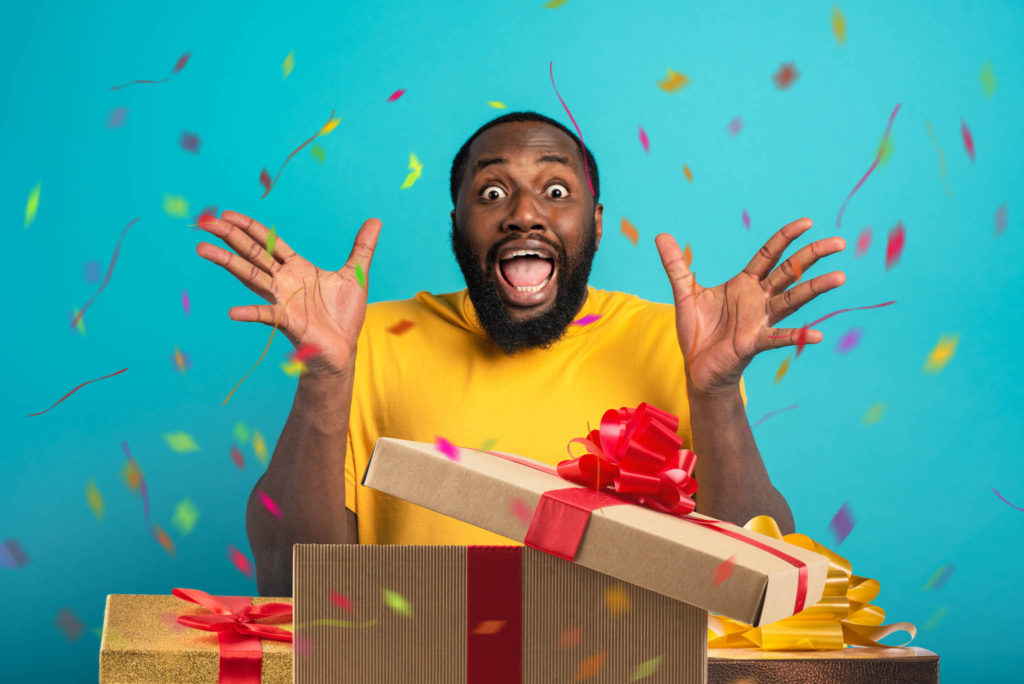 3 Ways to Surprise Him With Something He'll Really Appreciate
Surprise your man with something he'll appreciate by doing something he loves. If he loves cooking, find a local cooking class to attend together. If he loves fishing, pack a lunch and take him fishing for the day at the local parks.
Another way to surprise him is to do something he's been wanting to do but never got around to doing. Has he always wanted to go fly in a small airplane or jump out of it, or maybe he's more of the indoor skydiving type (if you have one of those near you).
The last thing is to give him a gift to show how much you love him. You can give him his favorite book or Blu Ray so he can watch it anytime. You could do something that's personalized.
When trying to surprise him, the best is thinking outside the box ideas including thinking ahead with personalized items. You can always make a gift certificate or coupon to give him to wrap up if you're wanting something to wrap to include in the day. When you combine thinking of their personalities, hobbies, and interest it makes it a winning combination for a unique guy gift!
Some Unique Gifts for Men
These are unique and unusual gifts that you can get for your boyfriend, husband, brother, father, and any other guys in your life. Using Etsy because I believe it is more unique and can be personalized more, and more personality is available there.
If these don't seem to fit, try this search. It includes everything from things with resin to rubs, custom bobbleheads, whisky making kits, beard brushes, funny belly button gag brush, and so much more! You are bound to find something that will fit your guys personalizity and interest.
Finding the Perfect Unique Gift Ideas For Men
The perfect gift for him can be hard to find, but not if you know what he wants or use your dective skills. A man's idea of a perfect gift is usually different than a woman's. Men are often more practical and have less emotional attachment to their gifts. So it's important to use the skills above to help you figure out what to gift the wonderful men in your life, thinking about personality, interest, hobbies.
Pin It To Come Back Again Later!